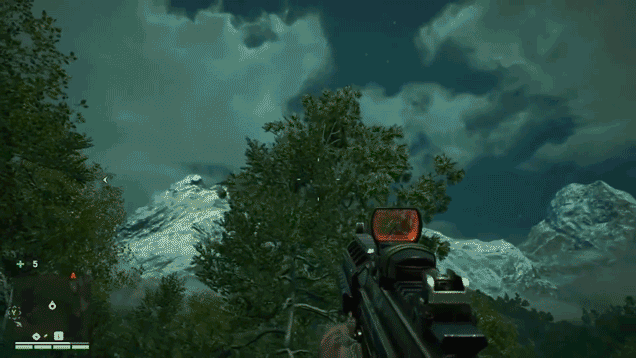 If I had to sum up gamers' reaction to Far Cry 4 in a single sentence, it would have to be: "F**k these birds." Or some variation of that, at least.
That's one of the first things Kotaku's Steve Marinconz said to me when we started playing online. I'd already played 30 hours of Far Cry 4 at that point, but Steve had only just begun. And he was quickly realising the exact same thing I did when I first stepped into Kyrat, the game's mountainous Nepalese-ish setting: the birds in this game are absolutely f**king terrifying.
You spend almost all of your time in Far Cry 4 outside. No matter where you're going, or what you're doing, birds suddenly appear — seemingly out of nowhere — and try to eat your face. The first time it happens its shocking. And then it happens again. And again. It never stops, really.
Giant Bomb's Jeff Gerstmann captures the moment perfectly in this video:
Notice that he's already complaining about the birds, and then another one drops in to remind him, yet again, f**k these birds.
Here is my in-progress Far Cry 4 review: "Far Cry 3 but with insidious birds seriously fuck those birds oh god birds run Run RUN 4/5"

— Jeff Gerstmann (@jeffgerstmann) November 14, 2014
What makes it even worse is that they don't just go for your face either. Oh, if only they were so polite. They also swoop in to steal other animals that you're hunting:
Hell, they might even circle back to try to drop the pig on you afterwards: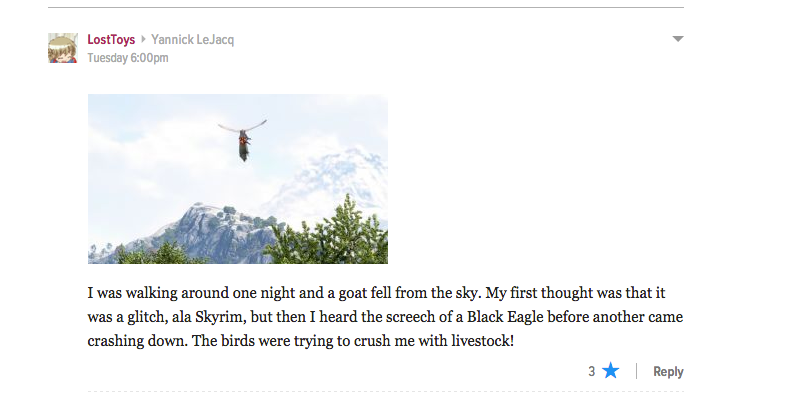 Steve, Gerstmann, and I aren't the only ones who feel this way either. Not by a long shot.
thank you Far Cry 4 for teaching me that eagles, and wildlife in general, are a bunch of pricks

— Rich Lowtax Kyanka (@lowtax) November 20, 2014
Have a good weekend, people of Kyrat. And remember to watch out for those birds.