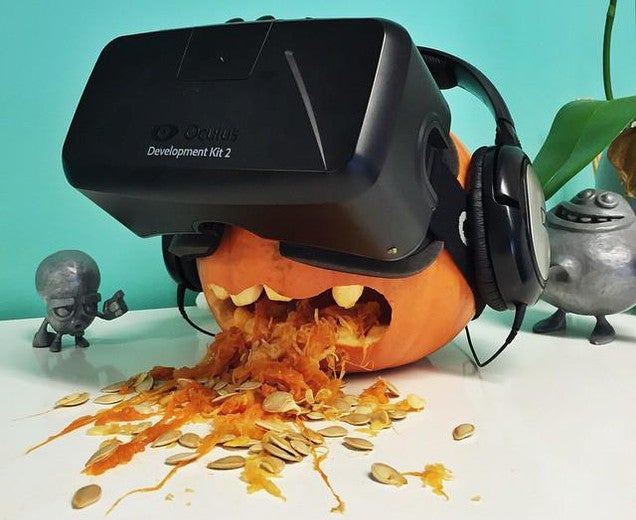 Another year, another set of gaming-themed, carved pumpkins from Halloween. Here are some of the top efforts.
Like this one up here posted on Twitter by @ blue_zoo.
Ahh damn it!! Who let the pumpkin play on the Oculus again?! #happyhalloween #pumpkin #pumpkincarving #oculus pic.twitter.com/dV2OQEqieK

— blue-zoo animation (@blue_zoo) October 30, 2014
Granted, these are some — goodness, not all by any means — of the best pumpkin carvings of Halloween 2014. If you have a wonderful pumpkin you've seen online or one that you've done yourself, go ahead and add it to the comments section down below.
Pumpkin carving time with the boys! pic.twitter.com/FVaxQE2FBX

— Paul Annett (@PaulAnnett) October 30, 2014
Kudos to this Nintendo fan for their hard work at creating a Mario-inspired pumpkin carving! pic.twitter.com/uWQzI4eqNk

— Nintendo of Canada (@NintendoCanada) October 28, 2014
Dude won a pumpkin carving contest with this. Happy Halloween. pic.twitter.com/s5Ggb5Qkj4

— Gautam Trivedi (@Gotham3) October 27, 2014
Great pumpkin carving idea... pic.twitter.com/HavKDv7uER

— Swedish Canary (@SwedishCanary) October 29, 2014
Gastly evolution line pumpkin carving. pic.twitter.com/WFhiX1uNrU

— PokéTrends (@PokeTrends) October 23, 2014
Top photo: blue_zoo