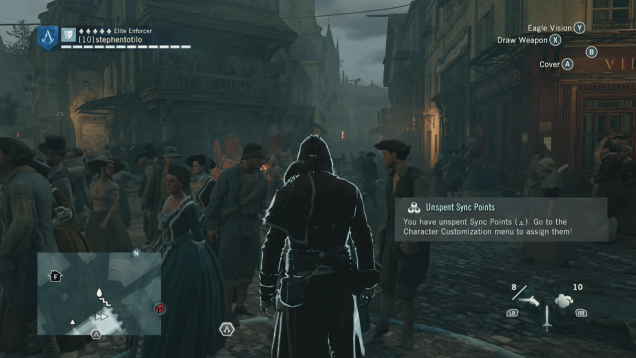 Delayed just one day for most players, Patch 4 for Ubisoft's premiere Q4 2014 release, Assassin's Creed Unity, is out today for Xbox One and PS4 (PC later this week). It's massive.
Ubisoft explained the need for a super-sized patch on the official Assassin's Creed website:
Part of the team's effort to enhance frame rate for players involves replacing and updating portions of the Paris city map where we are seeing issues. This explains the large size of this title update (6.7 GB). However, since a large portion of the patch replaces existing files the net increase to the game's overall size will be less than 6.7 GB.
This new patch addresses just about everything you can think of, from the game's performance in singleplayer to multiplayer matchmaking and more. (Full patch notes below.)
Ubisoft has patched Unity a few times since the game's launch on November 11 launch. While many of the issues I've had with it (I reviewed the game) had nothing to do with technical performance, the game's been a technical mess for others.
Ubisoft apologised for the game's rough performance late last month. Part of that apology was a promise to give a free game to anyone who had paid for the game's Season Pass. Today, Ubi reps said that the free game offer would be made available by Christmas. It also sounds like the start of Club Competitions, a feature that would have groups of Unity players in some way competing with one another, has been backburnered in lieu of work on performance patches.
Company reps have repeatedly pushed back talk about Unity's undated Dead Kings expansion, which will now be free to all owners of the game. The company has said that it was prioritizing getting the game to run well for more players. Dead Kings has been in development primarily at Ubisoft Montepellier, a team we don't think was heavily involved in making the main game.
Here are the details of Patch 4. This Patch is rolling out to PS4 now, and will be available for Xbox One players later today (December 16). PC players can expect the patch later this week.

Patch 4 release date: December 16th

Platforms: PS4, Xbox One

PC coming later this week.

Size: 6.7 GB

Stability, Performance and Save Game

Fixed numerous random crashes both on Campaign and Coop
Implemented multiple optimizations and fixes to improve overall performance
Fixed save issue caused by the companion app on the main menu (loss of data)
Fixed save issue caused by contacts list (crash occurring). Users should now have access to save

Gameplay (navigation, fight, stealth)

Fixed various navigation issues
Fixed issues with lock picking chests
Fixed additional haystack issues

Character, AI and Crowd

Fixed various character, crowd station and NPC issues

Online, Matchmaking, Connectivity and Replication

Fixed various matchmaking and connection issues both in matches and when starting a match.
Fixed various issues with voice chat
Fixed join-in-progress issues
Fixed various replication issues between host and clients
Fixed issues with player rank and COOP/heist rewards
Fixed issues with Helix credits
Fixed issues with the My Club feature

Menus and HUD

Fixed HUD icon issues and issues with map information
Fixed various Initiates issues
Fixed additional issues with notifications

Mission tweaks (campaign, coop and side content)

Fixed various low occurrence walkthrough breaks in both Campaign and COOP
Fixed various NPC issues
Fixed issue with the quest log disappearing for specific side missions

World and 3D

Fixed various collision and mesh issues
Fixed additional issues where player would fall through the world
Fixed specific areas where textures were missing

PC-Specific

Fixed crash on "Quit to Windows" in free roam mode
Fixed crash on accepting multiple "Join the club" requests
Fixed issues with TXAA
Fixed issues with PCSS
Fixed issues with textures on NPCs
Fixed black texture issues on MSAA-4x, MSAA-8x and TXAA
Right Control now can be assigned as a hotkey
Minor UI fixes
Readers who get the patch, let us know how it goes!