Over the weekend, Square Enix announced that Final Fantasy VII was coming to the PlayStation 4. It's not a remake; it's the PC version. Did the internet have anything to say about that? You betcha.

Final Fantasy VII launched on the original PlayStation way back in 1997. For years, gamers have been asking for a remake. In fact, the game is the most wanted PlayStation 4 remake in Japan.
So, understandably, people were extremely excited when they see the words "Final Fantasy VII" flash on the screen at the recent PlayStation Experience event. As Kotaku first pointed out, the crowd reaction to the announcement was, well, best summed up in this GIF courtesy of Mike Fahey: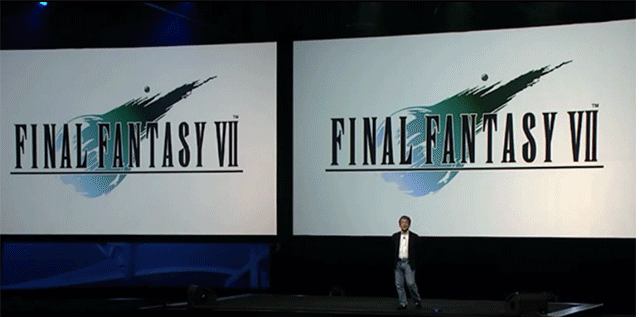 You can relive the disappointment right here.
Folks aren't exactly thrilled by the announcement! As of posting, the official trailer has over 13,000 dislikes on YouTube and 2000 likes.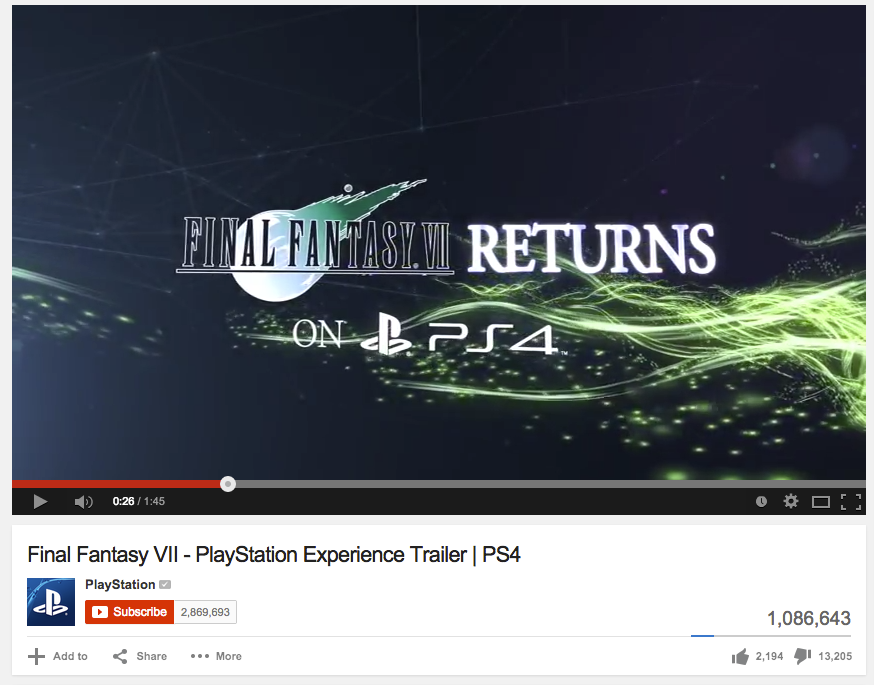 And like the top image created by Twitter user Kawet, people expressed their feelings online. Here's the reaction from around the internet:
//Square Enix in a nutshell with their trolling #FFVII pic.twitter.com/UsBBqDJUNf

— Ichigo Kurosaki (@Kurosakinum1) December 7, 2014
I just hope the fact that FFVII is being ported to the PS4 doesn't indicate a bad sign for PS1 Classics on PSN for PS4.

— Zack Reese (@zackreese) December 7, 2014
https://twitter.com/VideoGamerPosts/status/541612859646820353
https://twitter.com/Foxylary/status/541406609260703744
Why why why #ffvii #finalfantasy7 @extravagaming @REDFOXZERO @Gamer_Snack @jeflump pic.twitter.com/niGBPyrNIk

— farhan albannai (@Far7an_q8) December 6, 2014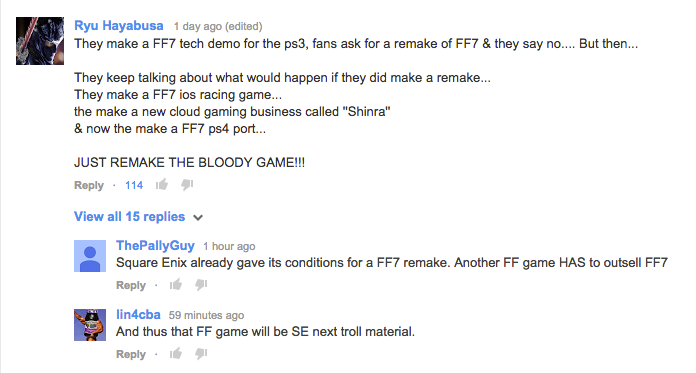 [via Reddit]
Nothing quite like experiencing the sound of thunderous applause followed by sharp silence first-hand when #FFVII for #PS4 was announced.

— MovieDriven (@MovieDrivenHDD) December 7, 2014
FFVII PS4 port pic.twitter.com/s2zpW43ilr

— Aℓice (@sakuraibr) December 6, 2014
Would actually be quite interested in this FFVII PS4 port if it has an improved translation/script… #FFVII #PS4

— Becky Nice (@Beki_Megami) December 6, 2014
Had to watch the FFVII troll by @SquareEnix again just to make sure I didn't dream it. Lol Jesus it was so so bad! pic.twitter.com/y7XcW3ttH6

— The Hermit Gamer (@thehermitgamer) December 7, 2014
Ha, the audience reaction to the FFVII announcement is hilarious pic.twitter.com/ikGr0ytE6p

— Michael T Mc Donnell (@MichaelTMcD) December 6, 2014
Heard about the FFVII bait and switch. Forty keks pic.twitter.com/5Hy8CGchaw

— Dr. Shy Guy (@DrShyGuy) December 7, 2014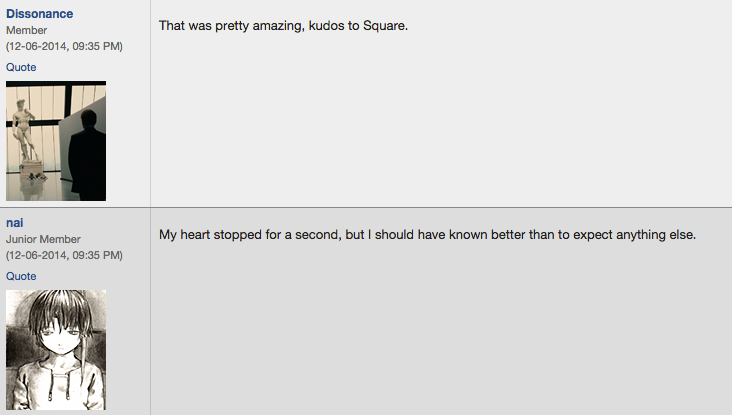 [via NeoGAF]

[via Reddit]
ENOUGH. NO. STOP. #FFVII #PlayStationExperience pic.twitter.com/pJxY2ikHD5

— Christopher ♎ (@zenyrgi) December 7, 2014
#FFVIIgate RT @black_medusa: La mort par humiliation en direct de @puyogk et @YukishGK … pic.twitter.com/8SGlsVKoY2

— Ptit_Lee (@Ptit_Lee) December 6, 2014

[via Reddit]
Square Enix trolls the gaming community http://t.co/zXLQQHu1T1 #FFVIIgate #gaming #troll pic.twitter.com/0KVgRNmWVs

— Han (@HanCilliers) December 8, 2014
ここでスクウェアエニックスの会見でFFⅦがPS4で発売されると発表したときの海外の反応を見てみましょう #FFⅦ pic.twitter.com/a33NRMeRHX

— KuR!rIN (@shunchan1013) December 7, 2014
I just remembered that I joked about FFVII G-Bike getting a port to PS platforms. Clearly I was still aiming way too high. XD

— Joey Chiu (@Shinogu) December 7, 2014
Square's official company line is that they're not remaking FFVII until they make a game better than FFVII (it's true I swear)

— Talk About KHII (@AustinCHowe) December 8, 2014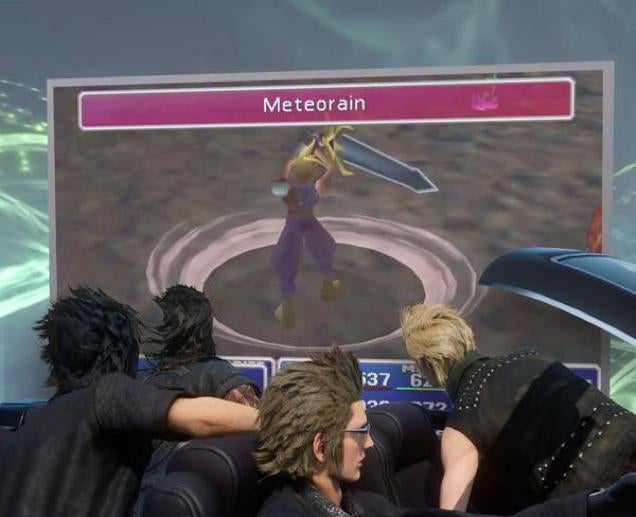 [via はちま起稿]
Picture: Kawet/Twitter