We hope you weren't planning to play many games online on Christmas. Xbox users in North America and Europe are having difficulties logging into Xbox Live today, and PlayStation owners are suffering similar problems. Some Internet troublemakers are claiming they knocked both offline. Bah humbug to this.
While most of our team are away from their consoles today, one of our reporters in California has been unable to connect their PS4 to any online services. No PlayStation Store. No multiplayer gaming. No screencap-sharing. Nothing. Logging into Xbox Live seems like a no-go as well. Even Xbox.com is chugging.
Here's Microsoft's Xbox Live status page, as of 1:45pm ET today: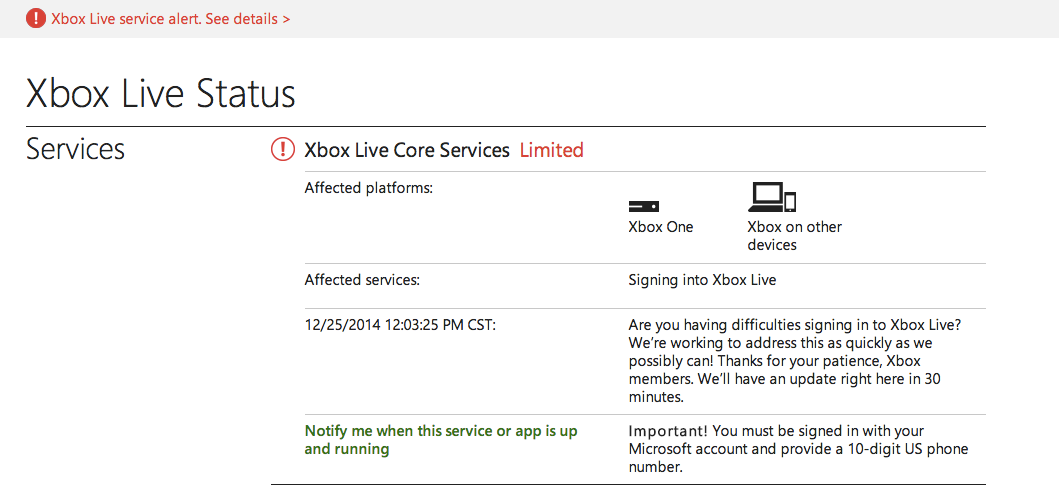 As for Sony's PlayStation Network? https://twitter.com/PlayStation/status/548128782671183872
It's unclear if these issues are due to the Christmas rush of people turning on new consoles and all trying to get them online or if these outages and slowdowns are the result of attacks. One group, Lizard Squad, has claimed responsibility for the Xbox and PSN outages today. They teased plans to do this for days, despite a rival group, The Finest, claiming they'd be able to stop them.
Back in September, Lizard Squad appeared to be responsible for diverting an American Airlines flight carrying Sony Online Entertainment president John Smedley through a fake bomb scare.
We've reached out to reps from Sony and Microsoft to find out more about the outages, who they think is responsible and when they expect service to be restored. If they get back to us, we'll update the story.
One bright spot: Nintendo's online services appear to be working just fine. (And, no, that doesn't mean we're blaming Wario.)