Today the internet lost its collective mind, and so everyone finds themselves arguing about what colour a dress is.

This dress, in case you haven't seen it: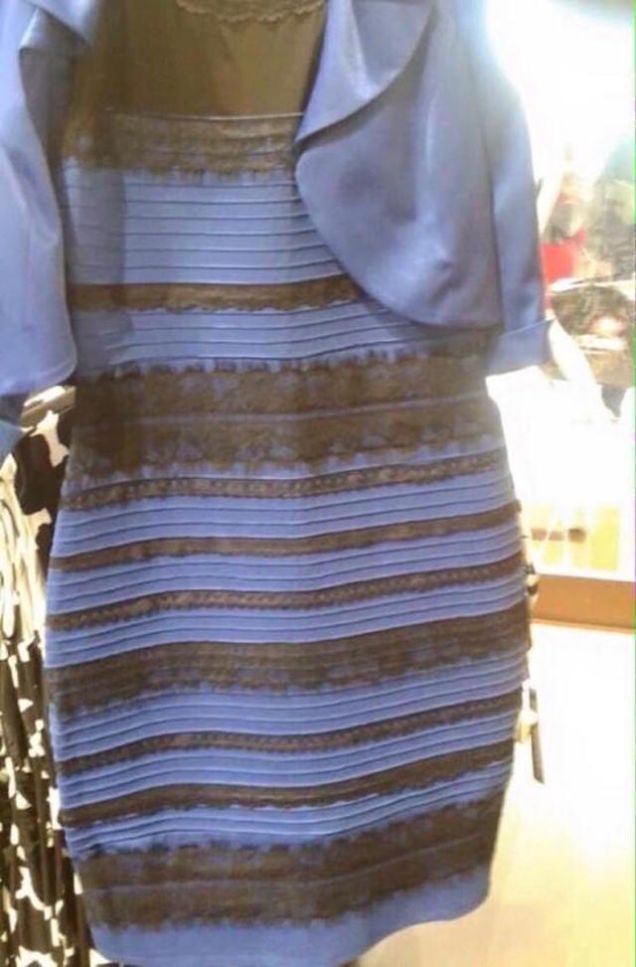 Some people see it as white and gold. Others, black and blue. As a result of this optical madness, the internet is tearing itself apart…and also making jokes, as it tends to do. The dress has become a meme! God isn't real after all.
Here are some of the nerdier jokes about the dress floating around the web:
Is this cape white and gold or blue and black? Either way it looks longer than your average cloak or cape. pic.twitter.com/KejJxM0zQo

— World of Warcraft (@Warcraft) February 27, 2015
Took a picture of my special edition white and gold PlayStation 4 controller! pic.twitter.com/TBueiEYfwC

— Nick Chester (@nickchester) February 27, 2015
you know the only place im fre from the this fucking bull shit dress business?? anime

— paipo no shūringa (@isshikisenpai) February 27, 2015
— Sean McElwee (@SeanMcElwee) February 27, 2015
Professor Layton and the Dress of Controversy. Coming soon to Nintendo 3DS

— Dovi [Sephiroth1204] (@Sephiroth1204) February 27, 2015
Ive been staring at the fucking dress waiting for it to change like its a fucking pokemon tryin to evolve

— Gotenks (@GarrettMcElwain) February 27, 2015
We started the What Colors Are This Dress trending topic to confuse the masses. You can thank us later.

— THE ILLUMINATI (@ThelIluminati) February 27, 2015
The color of the dress is GIF.

— Ian Bogost (@ibogost) February 27, 2015
Do I care about the color of the dress? N   O     O      o      o       o      o      。     。    .    .     .     .

— WSHH (@WORIDSTARHIPH0P) February 27, 2015
TOAD SHUT UP ABOUT THE PRINCESS FOR A MINUTE AND JUST TELL ME… WHAT COLORS ARE HER DRESS?! pic.twitter.com/NWrS0DGiAh

— Eric Bailey (@Nintendo_Legend) February 27, 2015
Is the dress black and blue? Will Goku save the day? HOW MANY SUPER SAIYAN LEVELS WILL HE NEED TO FIGURE OUT THE ANSWER? FIND OUT NEXT WEEK

— Joe T (@BoyInABarrel) February 27, 2015
me because of the dress pic.twitter.com/hAmZ8lrZw6

— Funny Quotes (@FunnyQuotees) February 27, 2015
https://twitter.com/Warcraft
the dress is only 5 hours long

— Ryan Letourneau (@NorthernlionLP) February 27, 2015
Whatever you do, don't look up the results for What Colors Are This Dress on WebMD. Because either way, it'll say you have cancer

— Eliza Bayne (@ElizaBayne) February 27, 2015
IS THIS STAR WHITE AND GOLD OR BLACK AND BLUE?? WE DON'T KNOW WHAT TO BELIEVE ANYMORE pic.twitter.com/W37JsiH7RP

— Rock Band (@RockBand) February 27, 2015
Net neutrality passed, which is huge, but what colour is this dress? We might deserve to lose our rights.

— Devon Bostick (@devbostick) February 27, 2015
The XSEED office is being torn to pieces over a dress…

— XSEED Games (@XSEEDGames) February 27, 2015
Blue and black

— PlayStation (@PlayStation) February 27, 2015
It's not about what color the dress is. It's about ethics in gaming journa

— JAD (@duffellduffell) February 27, 2015
Okay that's enough stupid dress for today. Going to play some games and watch Porn or something idk.

— FurFur (@Furdust) February 27, 2015
I'd rather participate in The Hunger Games than listen to people argue about the colors of a dress

— Spencer Eastwood (@spenceast) February 27, 2015
i come on and the entire internet is fighting about the color of a dress. goodbye.

— proud idjit ali (@jackrabbit323) February 27, 2015
My room mate: "goddamit this dress is on 4chan with SEVENTEEN THREADS"

— Jxremy (@JtThomas59) February 27, 2015
My mom interrupted my anime watching to talk to me about that dress fucking hell smh this meme has gone too far

— Nnnnnnnnsatsuki (@natsatstar) February 27, 2015
This dress shit is more confusing than the time I found my xbox controller in the freezer

— humberto (@OfficialHumby) February 27, 2015
The dress is the color of flaming hot cheetos &cheeto puffcorn bitch i swear 2 god ill murk everyone shut up im trying to play call of duty

— yung cheeto (@cheetosRsoGood) February 27, 2015
People have even found the dress on Amazon, and are leaving silly reviews for it: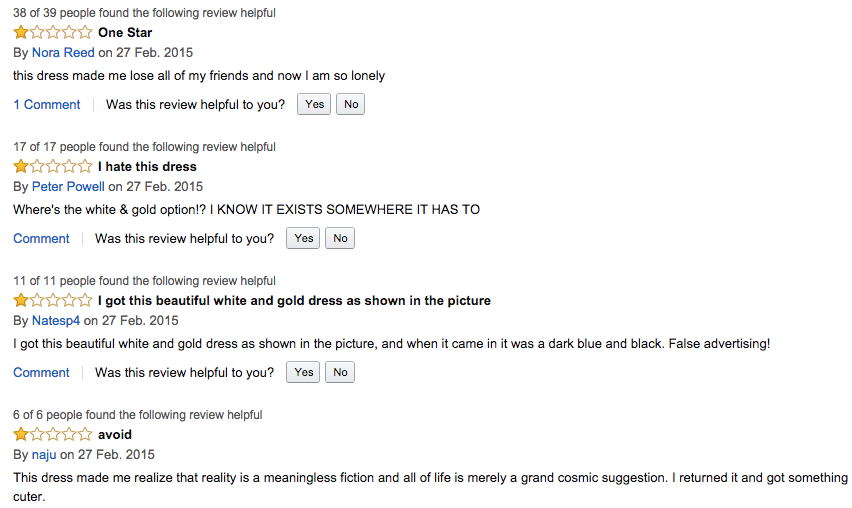 This is how the world ends.
[Top photo source: iCarbons]