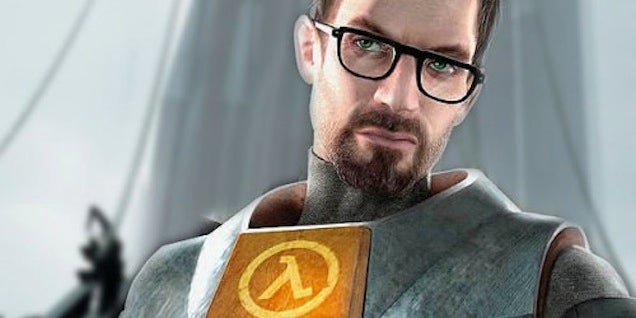 Breathe, people. Relax. Valve isn't holding a press conference today. And despite all the speculation you might have seen on social media or other gaming websites, they don't have some big GDC announcement planned for 3 o'clock this afternoon — 3pm on 3/3 — so please, don't get your hopes up.
The speculation started in earnest yesterday with this BBC article, which incorrectly claimed: "Valve is expected to provide more details about the [VR headset] launch at its own presentation at the Game Developers Conference (GDC) in San Francisco on Tuesday."
From there, the rumours came hot and heavy, mostly thanks to Reddit and gaming people on Twitter:
I like Valve, I like HTC, and I like VR. Today is a good day. And Valve's announcement at 3pm on 3/3 is probably nothing to get hyped about.

— Markus Persson (@notch) March 1, 2015
Valve is announcing something at 3PM on the 3rd day of the third month? Saint Gaben is the lord of trolls.

— Richard Stanton (@RichStanton) March 1, 2015
Valve holding a press conference at 3pm on 3/3 can only mean one thing! They're 100% in on the joke and are just trolling everyone now.

— Ozzie Mejia (@Ozz_Mejia) March 2, 2015
Speaking of Half Life 3. Anyone notice Valve's press conference at GDC is on March 3, at 3 PM. 3/3 at 3

— Ryan Benno (@BryanRenno) March 1, 2015
Valve's announcement is at 3PM on March 3rd? 3/3 at 3?! YOU KNOW WHAT THAT MEANS?!?! 33% off Half Life 2!!! *laughs and cries in corner*

— Philip DeFranco (@PhillyD) March 3, 2015
The running theory: Valve has something big to announce at their press conference today.
The problem with that theory: Valve isn't actually holding a press conference today.
The actual truth: Sergiy Migdalskiy, an engineer at Valve, is holding a GDC presentation on physics optimisation strategies for game programmers today at 3pm. There is no press conference, nor are we expecting any surprise Half-Life 3 announcements there. To quote the presentation: "Topics include numerical integration, contact manifolds, destruction, solvers, networking, and optimisation."
But you don't have to take my word for it. I asked Valve marketing boss Doug Lombardi this morning if there was some secret presser that Kotaku wasn't invited to. "Big mix up," he told me.
The takeaway, as always? Half-Life 3 is never coming out.