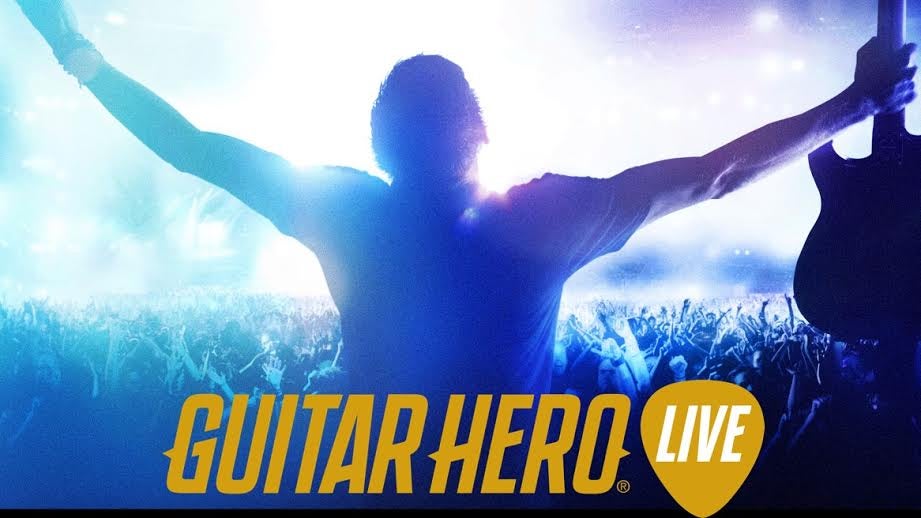 I can't deny it. It feels good to be playing Guitar Hero again.
The old fingers are rusty, my timing is a bit off, but it doesn't take long for these digits to start prancing across the fretboard. The instrument has changed, the game has changed – dramatically some might argue – but the feeling is the same.
It happens in the moment when you hit that 'flow'. When the buttons being pushed in real time feel like they truly represent the music being played on-screen and for a second you believe that you are the sole creator of the music blasting out of your speakers.
When it's firing on all cylinders like this, Guitar Hero is truly irresistible.
---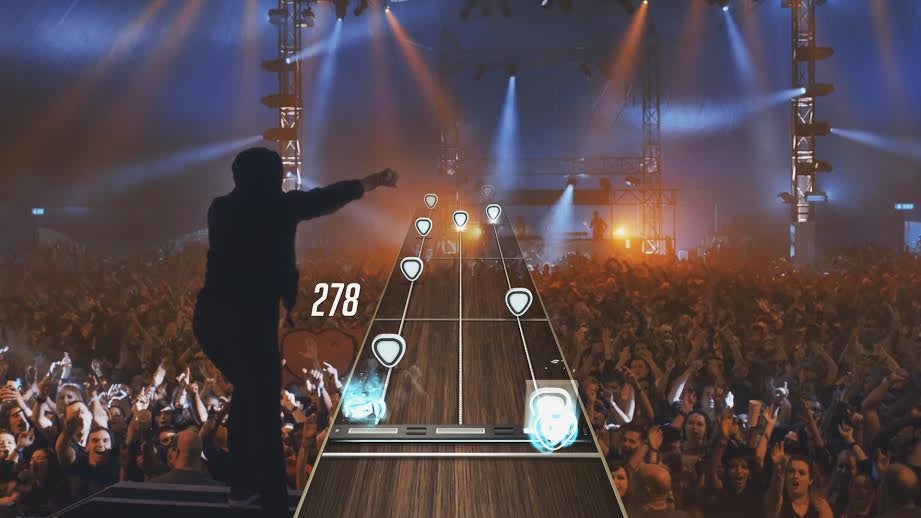 Let's talk about Guitar Hero Live. Firstly, let's talk about the ways in which it's different. The game's trailer would have you believe that the largest change is in the window dressing: Guitar Hero is no longer about watching cartoon caricatures play instruments, it's about real people, real crowds who respond in real-time to your ability to shred on a virtual instrument. That's an interesting change – and one that's long overdue – but its biggest transformation is in the instruments themselves.
Be prepared: you're going to have to relearn how to play Guitar Hero.
Traditional Guitar Hero: five buttons, five different colours across five different frets.
New Guitar Hero: six different buttons, no colours, doubled up on three different frets.
It's an interesting switch — overseen by FreeStyle Games, the folks that created the criminally overlooked DJ Hero. I have feelings about it.
My first thought: why reinvent the wheel? Guitar Hero, in my mind, is like Karaoke. No-one needs to rethink how it works, they just need to ride the wave as it circles in and out of fashion.
My second thought: this sort of makes sense. It removes obstacles. Many players struggle with the fourth and fifth buttons in Guitar Hero and Rock Band. Moving up and down the fretboard is difficult. Using your pinky is difficult.
So what, you might say. Guitar Hero is supposed to be difficult, but Guitar Hero Live does not sacrifice difficulty, it simply creates a new, different layer of difficulty. It's the brain-melding type. At the rookie level, you'll only be expected to use three buttons, no need to alternate between the two sets of 'strings' (for want of a better term), but when you move up the difficulty levels you'll be messing around with weird chord combinations that use the top and bottom set of buttons simultaneously.
It sort of feels like learning to play Guitar Hero all over again.
But sacrifices are no doubt being made here. To begin with, plenty of expert level players are going to feel alienated by this switch. Sure, the skill set is transferable but I did find it weird and awkward at first — to the point where I started screaming at myself (WHITE BUTTONS AT THE TOP, BLACK BUTTONS AT THE BOTTOM!)
But my main issue is this: players don't get that pleasure of moving up and down the fretboard, which was one of the major sources of mastery in Guitar Hero previously. That's gone.
Guitar Hero giveth and Guitar Hero taketh away, but the net gain may be positive, depending on your tastes.
---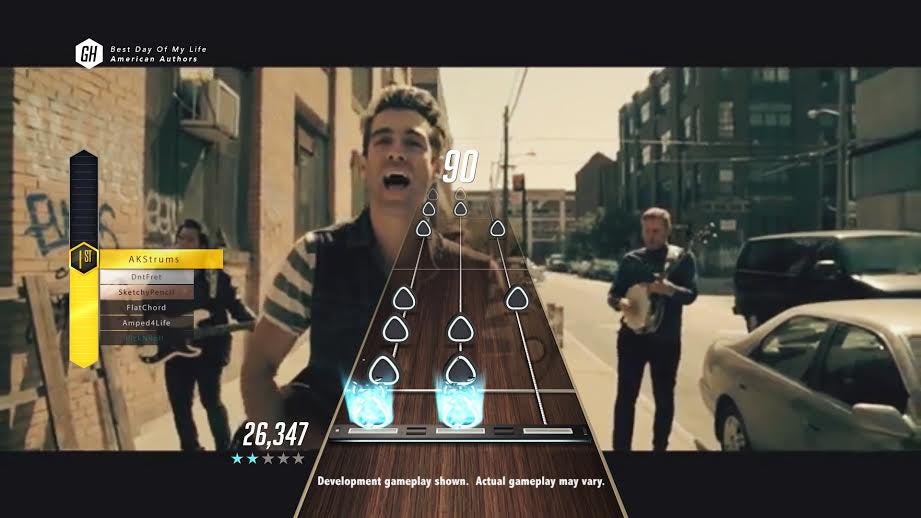 But Guitar Hero also taketh away drums and vocals, and I'm finding that tougher to swallow. It feels like a massive step backwards.
What Rock Band and — later — Guitar Hero did by bringing additional instruments into the mix was create a seamless party game that allowed everyone to get involved. While I appreciate that Guitar Hero Live is trying to reboot the experience and take it back to its roots, I think something magical is being lost in the process. My wife was the drummer in our little virtual band, with my brother-in-law on the bass and his wife on vocals. It stings that I'm going to have to break up the band and go solo. I don't think I'll be alone in that sentiment. To be perfectly honest, I think Activision and FreeStyle Games are taking a huge risk here.
Again there are swings and roundabouts. FreeStyle Games' solution here is to create an video game that works better as a spectator experience. That's where the 'Live' part of Guitar Hero Live comes in: with real audiences being recorded and their reactions being tied into how you perform. It looks amazing in practice but I'll admit: I barely noticed while playing. I was too focused on making sure I hit the correct notes.
That wasn't the case, of course, when I was watching someone else play the game and that's sort of the point here. The playing experience and the spectator experience are two completely different things. It was fun to watch my friend being booed when he sucked. The reactions of your virtual band-mates are perfect. There's a 'resting-bitch-face' bassist in this video game, she. is. the. best.
But no matter how grand the spectator experience, I don't see how it could possibly replace the experience of playing in a well-honed band with three of your mates. How could it? Drunken after-pub get-togethers won't be the same. You won't be able to gather up a team of like-minded buddies at a BBQ on a Sunday afternoon and bust out some Queen while the lamb is roasting. I'm going to miss that experience and I'm sure I'm not alone.
---
Ultimately, it's all about the music. The tracklist is all important here and there is so much about Guitar Hero Live we don't know about yet. We know that Guitar Hero Live will feature a Guitar Hero TV option, which is a model featuring curated playlists that will expand the game's library. We also know that the game will feature tracks from The Black Keys, Fall Out Boy, My Chemical Romance, Gary Clark, Jr., Green Day, Ed Sheeran, The War on Drugs, The Killers, Skrillex, The Rolling Stones, The Lumineers, Pierce the Veil and Blitz Kids.
Some of those sound good. But some of them sound, frankly speaking, terrible. I actually like dubstep, but in no shape or form does it belong in a Guitar Hero game. Also: Fall Out Boy is terrible. Just terrible.
Obviously taste factors into this, and Guitar Hero has to facilitate for players across the musical spectrum, but there is little doubt in my mind that Guitar Hero is making a play for the mainstream. That's smart, but I'm just not 100% sure where I fit, or where fans of previous Guitar Hero games fit. Guitar Hero — in my mind — is about celebrating guitar music, and we know what that means: it means Jimi Hendrix, AC/DC, Led Zeppelin. Really, Guitar Hero should sound a bit like a Classic Rock radio station with some modern hits thrown in there for good measure. It probably shouldn't sound like KIIS.
Or maybe it should? Maybe I'm just an old fashioned Guitar Hero fan that should move out of the way. Once thing is for certain: Guitar Hero Live giveth and Guitar Hero Live taketh away. There are some great innovations in here, and I remain excited for the game, but I wonder what's being lost.