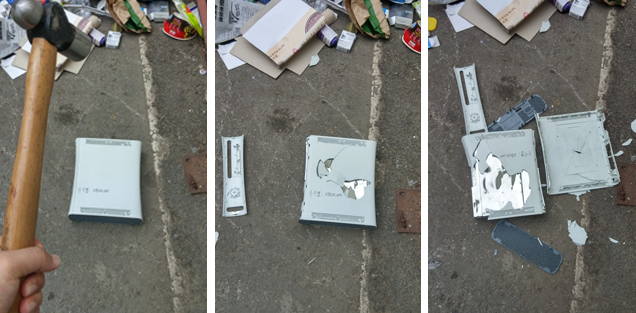 A South Korean gamer known as XBOX∞ is infinitely not happy. Today, he uploaded a post titled, "I got a sledge hammer. Message for Microsoft Korea." The gamer was upset about the Batman: Arkham Knight Korean localisation. Or rather, the lack thereof.
"Arkham Knight for PS4 got an official localised release while the Xbox One version didn't," XBOX∞ told Cnet Korea (via tipster Sang). "I just couldn't stand it anymore as even the Batman game I really liked wasn't localised."
In his original Ruliweb post, which featured the smashed up photos, XBOX∞ rattled off a handful of big name Xbox One titles that don't have Korean localisation (or haven't gotten an official localisation announcement), including Forza Horizon 2, Project Spark, Sunset Overdrive, The Evil Within, Metal Gear Solid V: The Phantom Pain, and Batman: Arkham Knight. Some of these games, obviously, are Xbox One exclusives! The multi-platform titles were released in Korean on the PS4, causing further consternation for the country's Xbox One owners.
But, what's worse is how these releases seem to have been handled. So, for example, Forza Horizon 2 was apparently announced as a Korean language title, but was released, without warning supposedly, as an English game in South Korea. Ditto for Project Spark. The Evil Within and Metal Gear Solid V: TPP, on the other hand, are in English for the Xbox One in South Korea, while The Evil Within got Korean subtitles on the PS4 and MGSV:TPP is expected to be localised for the console as well. The latest one to dishearten Korean Xbox One owners is Arkham Knight, which was released as a retail and digital game in Korean on the PS4, but only as a digital title on Xbox One in, you guessed it, English.
Keep in mind, that you do see games getting official releases in South Korea in English or even in Japanese, but our tipster notes, game companies usually try to get players a heads up in order to manage expectations. That doesn't seem to be happening here, hence the console smashing... Good thing the Xbox One one is getting backwards compatibility! Heh.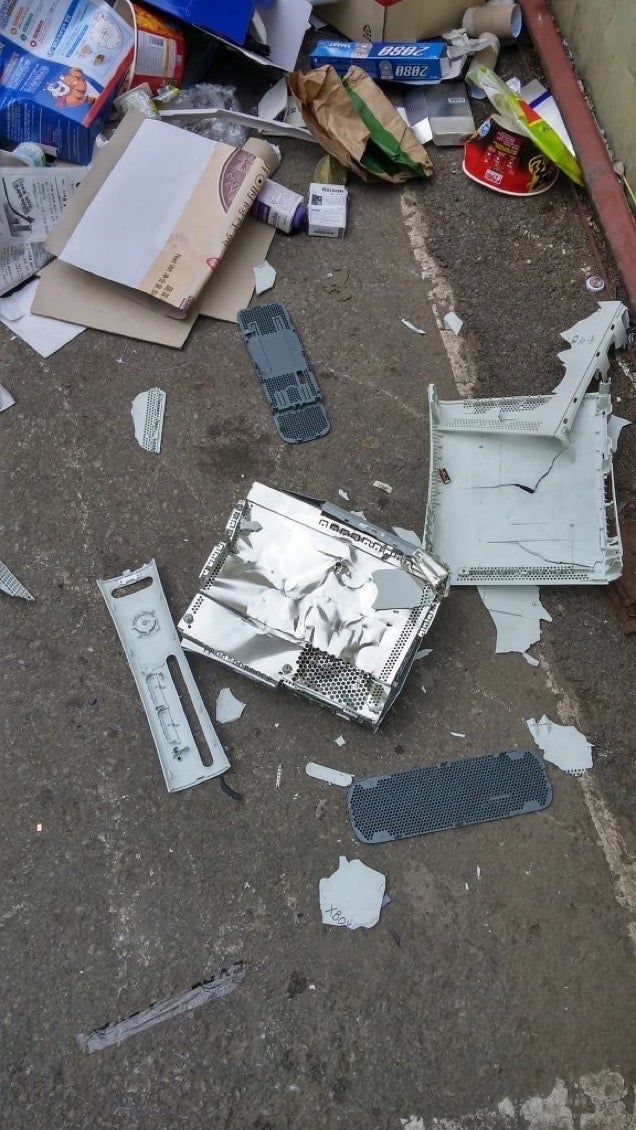 In his post, XBOX∞ wrote that Microsoft Korea should have done something months ago to ensure that Korean Xbox One owners got to play a localised version of Arkham Knight like Korean PS4 owners do. Continuing, XBOX∞ added that he thinks Microsoft should shutdown their Xbox business in South Korea, and he also pledged to take his Xbox One to their headquarters and smash it in front of the building if Microsoft Korea doesn't show more effort in localising games.