If you had given 'GamerMAN1786' a pen and paper, and then asked him write down his dream Sony E3 conference, it might have looked something like the event I just spent the last two hours of my life watching.
Is that a good thing. A bad thing? It's almost exclusively a good thing with — in my humble opinion — a handful of nitpicks.
Let's start with the good. Nay, the gloriously surprising.
The Last Guardian. It was shown at E3. It appeared to exist. It was playable. It looked functional. It looked like a fucking video game and not just an idea that fluttered around the hivemind for the better part of the last decade.
Holy shit. I could not believe that Sony showed The Last Guardian. But they did.
And it was so hard to look upon it with any sort of objectivity at all. Just the fact that it was there felt like some sort of tremendous triumph. You could almost taste the tears. Twitter exploded. Journalists admitted to fucking crying. Here's what I did: I laughed in the awkward way one does when something just feels utterly absurd. The Last Guardian is here. We will play it at some point. It feels like a minor miracle.
This world is crazy.
Okay. Deep breath.
Then there was a game set in a post-apocalyptic world where you play as a tribe of humans hunting down — get this — fucking robot dinosaurs. This is a video game where that idea is treated dead seriously.
It's amazing.
This is the only time I will write this sentence and have it be a compliment: Guerilla Games' dinosaur thing looks, feels and sounds like it came directly from the mind of an eight-year-old boy. In a really good way. I have no idea how this team is going to try and justify robot dinosaurs in their fiction, but fuck it. I'm just going to roll with it.
What else? Man, where do I go from here? Hitman looked alright I guess…
No. Let's talk about No Man's Sky.
Some might have felt as though No Man's Sky was a little bit bland at the conference, a bit of an ordinary demo. I disagree. It was a very real and authentic demo — one that went a long way to explaining precisely what it is you'll be doing in this mysterious, stupidly-expansive universe. I for one am so happy with this being nothing more than some weird sci-fi exploration simulator. I thought No Man's Sky looked incredible.
Then Sony showed other things. This part of the conference is still a bit of a blur to me, because I've been awake since 1am, but at one point I remember thinking to myself: "wow — the sheer variety of experiences on display is doing a spectacular job of reminding me precisely why I love video games". Despite the machine-like efficiency of Microsoft's presentation — which was great by the way — it never quite elicited that same reaction.
Then.
Then.
Things truly went into the realm of fan fiction. Sony started announcing things I thought I'd never see in my lifetime. Things that — I believe — are actually kinda bad ideas. Like a Final Fantasy VII remake. I understand the importance of that game, but really? Shouldn't we leave it alone. Maybe, maybe not. Regardless, it will print money.
Then the Shenmue III thing. Sony literally allowed Shenmue creator Yu Suzuki to use its E3 conference as a massive begging bowl to help fund Shenmue III on a Kickstarter that literally just kickstarted. Instead of, you know, publishing the game or taking any sort of risk whatsoever Sony said "hey, you want it? Chuck Yu Suzuki some spare cash." Again, the crowd went wild.
Fan Fiction. Sometimes Fan Fiction isn't that good. Most of the time it's flat out terrible.
But the Sony E3 conference was — on the whole — fantastic fan fiction with a handful of slip-ups, the Shenmue thing, in my opinion, being the perfect example.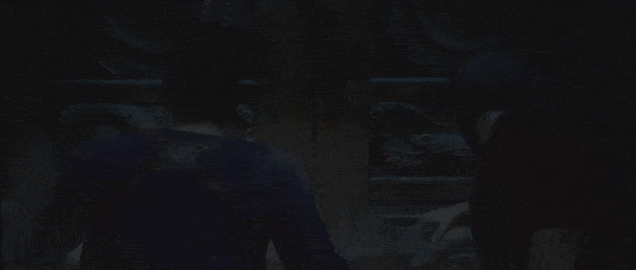 And then somehow Sony's E3 conference managed to end on the perfect note. Uncharted 4: everyone expected it. No-one expected the minor bug that left Nathan Drake rigid, unable to move but somehow, it just added to the authenticity. Uncharted 4 was a real game. This wasn't a video. Things could and did go wrong.
But the trailer itself represented everything that makes Uncharted work so fluidly: its charm, its unique sense of drama and playfulness. Its ability to craft huge, stupidly unrealistic set-pieces but still make them feel believable and grounded. Uncharted 4's demo was, aside from its imperfections, pretty much perfect.
Almost like fan fiction.