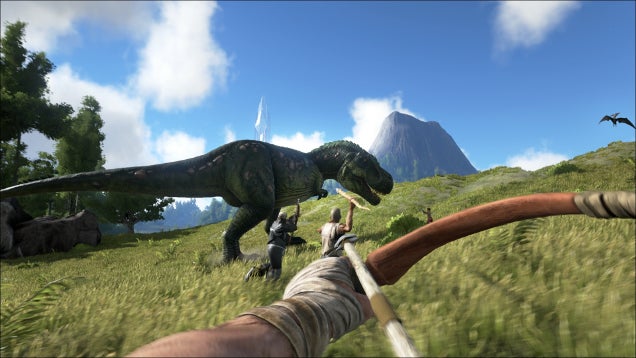 Ark: Survival Evolved looked almost too good to be true when I reported on it, but is the hyper-ambitious dinosaur game any good? Let's find out. Tune in below.
Now, a disclaimer: Ark's servers are packed, and I may not be able to get online today. If that falls through (or after I've played Ark for a while), I'm probably gonna stream a little Lego Worlds, a bit of spooky first-person adventure Homesick, and/or top-down F-Zero-esque racer The Next Penelope.
Watch below, and as always, join the Twitch chat unless you're a jerk with a backed up out-of-order toilet for a mouth.
UPDATE: Stream's over! You can watch a recording below. Spent the whole time playing Ark, which is pretty fun despite feeling kinda light on content. I went from scared, naked man with a torso the size of the King Kong movie franchise to a "master" of the land who hunted 10-ton dinosaurs with a slingshot. Go me.