It's pretty much a given these days that any online game has to have a decent matchmaking system. Getting the algorithms right can be enormously tricky, however.
If you've been playing StarCraft, League of Legends or Dota 2 you'll be fully familiar with the principle of playing placement matches before you become ranked. Surprisingly, that wasn't the case in Heroes of the Storm until the most recent patch, where everyone's Team League and Hero rankings were wiped and you had to play a minimum of 20 ranked matches before you got your MMR wings back.
20 placement matches is pretty extreme though. StarCraft only requires five matches before you get a rank, whereas Dota 2 and League of Legends forces you to play 10 once you're compatible. 20 matches is pretty significant, but Blizzard says it has resulted in much more accurate testing.
Unfortunately, there is still some fine tuning to be done. If you've already played previous seasons, should you really have to slog through another 20 matches again — especially when the hidden matchmaking ratings are still attached to your Battle.net account? Players have been complaining that you don't, and in a blog post early this morning Blizzard agrees.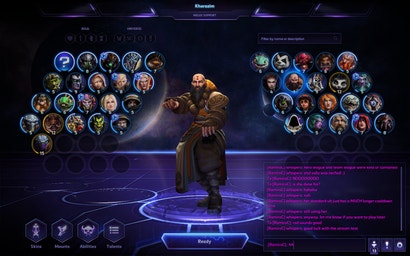 "Moving forward, players who have already played through their placement matches and received a rank during a previous season will not need to play another 20 placements when ranks are reset with future season rolls," a Blizzard representative wrote. "New seasons will only require veteran players to complete a couple of placement games in order to receive their ranks."
The developer has also admitted that some players' ranks could have been artificially inflated due to the matchmaking data not being wiped with each rank reset. To counter that, Blizzard will be making initial placements more conservative in future seasons "so that you receive a ranking that is more closely tied with where your MMR indicates you should be".
Bonus points are also being reintroduced to the higher ranks so the more skilled players can rank-up, reverting a change from the last major patch. "We're going to add bonus points back to the upper ranks so that top players can more easily return to their proper rankings."
Those on the low end of the scale will be affected too. "Among the lower ranks we believe we were a little too careful in giving out initial placements. In the coming days, we're going to improve initial placement for the mid to lower ranks."
What rank are you currently in Heroes of the Storm — and if you haven't tried out the game yet, what's stopping you?