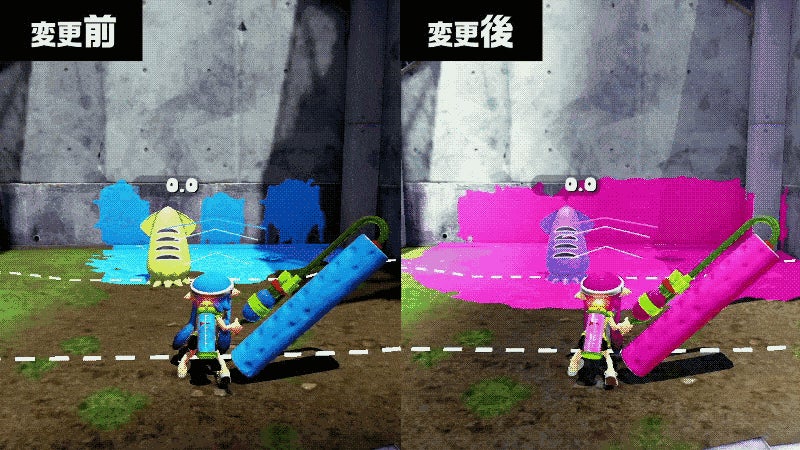 For those who didn't like how some of the Rollers and Blasters were balanced, good news. Nintendo will fix that in an update. For those who did like the way they are now, well, sorry!
The 2.2.0 Splatoon update hits on October 20 and recalibrates weapons that do seem overpowered, such as the Carbon Roller and the Splat Roller.
In the clip, the characters 変更前 mean "Prior to Change," and the characters 変更後 mean "After Change."
And the Dynamo Roller:
Here's how the Luna Blaster, the Blaster, and the Range Blaster will work:
So far, the reaction to the update announcement has been pretty good!
Splatoon patch changes are INCREDIBLE. Will have to wait to test Roller changes for discrepancies ie: what they define as "middle"

— OFF | Bat Nam (@Agosta44) October 16, 2015
SPLATOON UPDATE SOON. ABOUT TO GET REAL TOUGH TO BE A ROLLER AND JUST SWING THE DAMN THING AROUND WILDLY LIKE A JACKASS. BOOYAH.

— deadboody (@donboody69) October 16, 2015
Splatoon is getting such detailed patch notes. Some really good changes in there too. Blaster and Roller nerf, yes. Splatoon, you did good.

— Jonke (@FairyJonke) October 16, 2015
Roller nerfs incoming in the new Splatoon update. The day has come.

— Sylverstone Khandr (@Sylverstone14) October 16, 2015
Thank god the Splatoon team recognized what a trash magnet the Gold Dynamo Roller is, and how much it needed to die. pic.twitter.com/wAXFMEOhtT

— Shasher (@MixMasterMudkip) October 16, 2015
http://t.co/lx33unvWwZ THEY NERFED THE DYNAMO ROLLER PRAISE JESUS

— Pam (@pameatsbabies) October 16, 2015
Blasters can't one shot and rollers can only one shot with the center of a roller splash. Nintendo just fixed everything wrong with Splatoon

— Ghostchamp7 (@Warchamp7) October 16, 2015
You can read the full patch notes here.