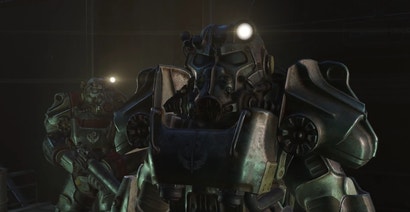 Part and parcel of a Bethesda game is going under the hood and tweaking with everything in sight. And surprise: Fallout 4's no different. If you're playing on PC, it's almost mandatory to muck about with the game's .ini files. Hell, you had to do it with Fallout 3 if you wanted to get the game to stop crashing on Windows 7.
Of course, that's not necessary with Fallout 4. But if you want lots of nice things, including an unlocked frame rate, adjustable FOV, no mouse acceleration, ultra widescreen support and the ability to skip the intro video ... then you might want to read on.
It's a list of tricks contained in this fantastic how-to from Gabi in the Fallout 4 Guides section on Steam. Some people might complain that a lot of these options should have been included in the menus — and they probably will one day — but for now, this is the easiest method.
Before you start, you'll need to find the directory where you installed Fallout 4 and the directory where Fallout 4's base .ini files are located. The former can usually be found in your default Steam folder, unless you chose something else at launch, while the latter is typically in the Documents\My Games\ folder under the user name you logged into Windows with.
Once you've located the Fallout4.ini and Fallout4Prefs.ini files, you'll be able to change the FOV by adjusting the following settings:
fDefaultWorldFOV=XX fDefault1stPersonFOV=XX
Alternatively, you can fire up the console and change the FOV on the fly with the "fov xx" command — where XX is your desired number — although you have to re-enter the change every time you start the game in order for it to take effect. If you can't open the developer console already, this guide from Joseph has the information you need.
In Fallout4.ini, you can remove mouse acceleration by scrolling to the [Controls] section and adding the following line:
bMouseAcceleration=0
In the Fallout4Prefs file, changing the line iPresentInterval=1 so it reads 0 instead of 1 will unlock your FPS. Gabi notes that it will also help some users who are finding their FPS is capped at 30 instead of 60, although they recommend forcing V-sync on in the NVIDIA or Catalyst Control Panel settings to avoid the issues that plagued Skyrim when the FPS ran rampant.
Furthermore, if you want to start the game without watching the intro video you can do that by deleting the GameIntro_V3_B.bk2 file from the Data\Video folder in the base Fallout 4 install directory (typically located under your Steamapps folder).
Lastly, if you want to add support for custom resolutions — for those playing on 21:9 monitors — Gabi recommends tweaking the following settings:
bTopMostWindow=1 bMaximizeWindow=1 bBorderless=1 bFull Screen=0 iSize H=XXXX iSize W=YYYY

Where XXXX is whatever your horizontal resolution is aand YYYY is whatever your vertical resolution is.
It's an excellent guide and if you can spare a minute please go to the page on Steam and give it a nice thumbs up (or even a message of support). The Fallout experience, and experience of any Bethesda game, is greatly improved through tweaks and guides offered by players like Gabi, and they deserve at least a little recognition for their efforts.