The first half of 2015 offered many unexpected riches, with remasters, ports of party Ouya titles and big budget games aplenty. But for many the month of July proved the most special of all, despite being as sparse on new releases as July traditionally is.
As always, all currency conversions are done at the time of writing. If you're looking to pick something up, particularly through the Steam sales, check the exchange rate prior to purchase.
Worms World Party Remastered (PC)
Team17's tried and true formula crashed and burned
It's not often you see people complaining about performance issues in a Worms game, but that's precisely what happened upon the launch of Worms World Party Remastered. Upon launch, and for months afterwards, people complained about letterboxing, poor frame rate, repeated crashes upon trying to set the resolution, a lack of anti-aliasing, compatibility issues and a menu that launches in glorious 640×480.
What on earth went wrong?
It wasn't until late October when Team 17 finally pushed out a patch that, among other things, allowed users with the recommended system requirements to actually run the game at 60 frames per second. I'm not joking: a remaster was actually published in 2015 that couldn't run at 60fps even if you had the recommended system requirements.
In a year where Grim Fandango was brought back to life, players got a taste of Homeworld once again and the Uncharted series got an impressive coat of paint among others, WWPR was a dim light on the retro tunnel.
Journey (PS4)
From the darkness into the misty light
But while WWPR was a sour note in this year of remasters, there were plenty of highlights to celebrate. One of those was the re-release of Journey on PS4, thatgamecompany's magnum opus and one of the more affecting experiences available in a downloadable title.
It's available in retail form too. That launched in October, and I spotted a copy in Big W just the other day. But many will have been able to re-download Journey on their PS4 having owned it on their PS3 previously.
Kirk wrote plenty about what it's like to play Journey again, and I won't echo his experiences here. I will note, however, that there has been increasing rumblings of Journey (along with flow and flower) making its way to PC following Helldivers' PC release. It'd be a hugely interesting move for Sony to make, and given the PC tends to be the natural home for different experiences and avant garde games (Undertale and Cart Life immediately spring to mind) it'll be fun to see how that plays out over the next year.
Five Nights At Freddy's 4 (PC, Android, iOS)
The game that continues to confuse me
Can somebody explain why kids are massively into this franchise? There are videos all over YouTube of kids in the single digits playing through the entire franchise. Maybe it's my own blindness to the horror genre — it's really not my thing. But the final chapter in the FNAF franchise is available, and you can pick up all four games for just over $17.
The fourth chapter of Scott Cawthon's series wasn't well received, although Patricia has a nice breakdown of how the games work, its development and some of the Christian-themed projects that Cawthon made.
But while the fourth chapter was panned, even by PewDiePie, the game was still warmly received on its native platform. It's got a 95% rating from almost 6,000 reviews on Steam. That's a nice contrast against its Metacritic score, but I'm sure I know which one matters more to its creator.
Rocket League (PC, PS4)
Ahh, balls
What more needs to be said about Rocket League? Mark outlined his love for Psyonix's cross between soccer, cars and physics on Christmas Day, and there's not much more about the gameplay I could add. I didn't officially mark it as one of my GOTY picks, although if I had a list (as much as I abhor those things) it would indefinitely be on there.
Earlier this year I had a chat with the head of Defiant Development, Morgan Jaffit, who told me how the team behind Prototype developed some of their concepts and systems by working on Hulk: Ultimate Destruction and Hulk: The Movie Game before then. Psyonix has effectively done the same thing, while doing some contract work for titles like Gears of War and Mass Effect 3 to keep the studio ticking over.
The fact that the game raised over US$50 million is a tremendous success, but I can't help but wonder how much of that was buoyed by launching a) in July and b) through the PS+ service. I personally bought the game on PC after having playing it on the PS4, purely out of guilt: I wanted to give the developers money. Sure, I knew I was giving them money already, but I wanted to give them more because I'd enjoyed the game so much.
Judging by the success of the cosmetic DLC packs over the months, I'm not the only one. If anything, the presence of Rocket League on PS+ is a massive one-up on the service that Games With Gold hasn't been able to match. There might be better titles on a month to month basis, but if I had to pick a single game that I'd still want to go back and play — well, I know which one it'd be.
F1 2015 (PC, PS4, XBO)
The reputation of Codies F1 series has soured significantly
In a year where Project CARS released, Driveclub finally became playable, Assetto Corsa continued to improve and iRacing motored on, F1 2015 was already up against it. The fact that last year's release was painfully phoned in, the work of a studio concentrating more on their next-gen engine, didn't help expectations.
But numerous issues on launch with the PC version, including more crashes than Pastor Maldonado, proved to be the killer. I've been told that patches have significantly improved the state of things since, particularly on the multiplayer side, but bugs still remain and there's no career mode, something that featured prominently in the last few iterations.
N++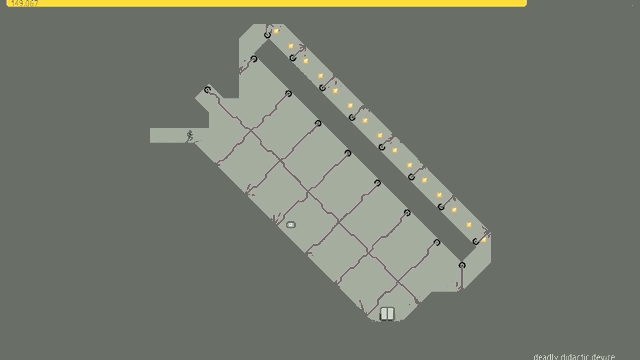 Frustrating but mesmerising
After the explosion of popularity that Rocket League received, some thought that N++ would be similarly well received. We live in a post-Super Meat Boy, Mario Maker world, a world where people are accustomed to punishing platformers and labyrinthian levels.
It didn't happen. Metanet posted on NeoGAF back in August that they literally had no time to contact the press before launch, resulting in a critical lack of launch coverage. "
Possibly we were also a bit idealistic, we figured that everyone would be able to see that N++ was something special, a game with a very high level of craft-personship put into it; we figured that with only 3 people, we would rather put all our energy into making the game exceptional and hope that this would make it stand out and attract attention, but sadly a lot of people seem to be dismissing it as 'essentially N+'," one of the devs wrote.
"We are sadly competing in a market where some indie devs spend literally half of their budget on marketing; IMO this is a sick and sad degenerate strategy to pursue, but [I] guess that's just life under post-capitalism," they added. "Anyway, the net result has been that the game isn't selling very well; if we're lucky then lifetime sales on PS4 will let us break even, but this is a stretch (it would require us to sell about 5x as much as we have thus far, not impossible but not easy either)."
N++'s programmer also resigned shortly after launch, resulting in some serious bugs going unpatched for months. The decision to never put N++ on sale also "[alienated] a sizable portion of the audience", according to a blog post from the makers.
---
That's it for the month of July. Other releases that came to mind include: The Swindle, the first chapter of the King's Quest reboot, Victor Vran, TIS-100, God of War 3 Remastered, Godzilla: The Game, Trove and the PS4 port of The Vanishing of Ethan Carter, which also saw the PC version of the game ported from Unreal Engine 3 to Unreal Engine 4. What games took your fancy in July?