Well technically, they're already here. Star Wars has been a staple of cosplay from the beginning. Has there ever been a geek costume so ubiquitous and instantly recognisable as Leia's metal bikini, after all? The new movies promise to be no different, with a whole new wave of Stormtroopers, droids and lightsaber-wielding goodies and baddies leading the cosplay charge into 2016.
Photo via The 501st Legion
Minor spoilers for Star Wars: TFA follow.
Photo via JJ Armory Inc
So who is going to end up the most cosplayed out of The Force Awakens' new characters? Is that even a question? Rey. It's going to be Rey. If you follow more than one cosplayer's work, it's likely that you're following a cosplayer who is planning their Rey cosplay as we speak. For so long, Leia has been a staple for many female (and male) cosplayers, whether they've donned the senatorial dress, the metal bikini or even the bounty hunter disguise. Is Leia soon to be handing over the mantle of 'most cosplayed' for a new generation of Star Wars cosplayers?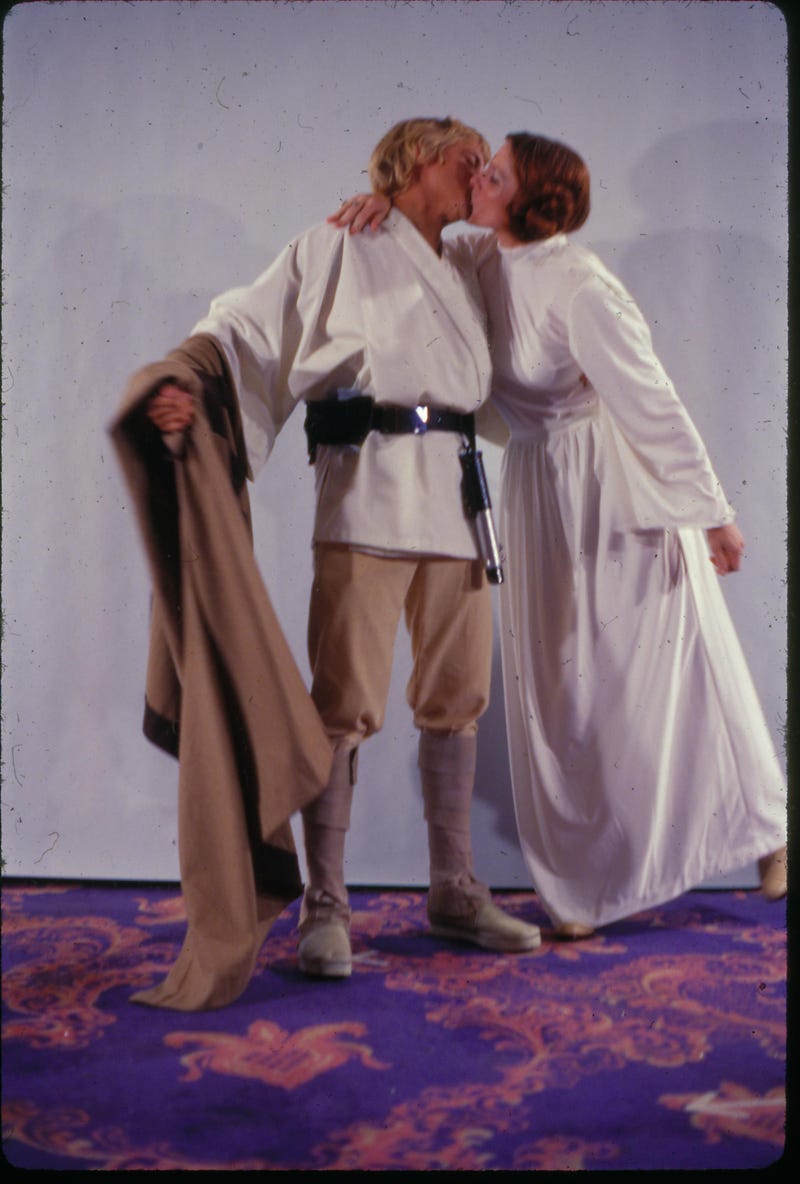 Star Wars cosplay from the 1970s via i09
The Force Awakens is a visual as well as thematic throwback to the original trilogy, and unfortunately this means that the costumed opulence of the prequels will not be replicated either. However, it does resurrect the simplicity of the original trilogy's design — these are costumes that are instantly recognisable, that can be made in a short amount of time and are accessible to any level of fan. Unlike some of Padme's more fantastic costume changes, you won't need an embroidery machine or thousands of beads for these ones.
Rey goes through a single costume change towards the end of the film, and while most cosplayers have made her outfit from the promotional materials, I can't see it being long before her second outfit is made by hordes of rabid Star Wars fans.
Photo credits: Catlin Cosplay, Aspen Cosplay, Pretty Wreck Cosplay, Lost Weasley ChildPhobos Cosplay The runner up for most likely to be cosplayed in 2016 isn't quite as clear cut as the winner, although I'd put my best bet on Kylo Ren. His character might be polarising but his costume is simple, effective and he's got one of the coolest lightsabers seen since Darth Maul's double-ended one. Not only that, but his mask means that cosplayers who worry about accuracy don't have to fret about having a physical resemblance to the character.
Photo via Ghostwaza Cosplay
The Stormtrooper design may have changed but don't worry — the 501st Legion is on top of it. The charitable fan organisation has long had official and unofficial connections to Lucasfilm, and this may be how they already have full squads of new-era Stormtroopers at the ready. These troopers have already appeared at multiple premieres and screenings across the USA, and even across the world.
Photo via The 501st Legion
A couple of years back I joined the 501st on a troop to the Randwick Children's Hospital, and was surprised to note that today's generation of kids, having grown up on the Clone Wars series, were way more familiar with the clone troopers than with the classic Stormtroopers. Never fear — The Force Awakens is here to bring Stormtroopers back to a whole new generation of kids. While Phasma didn't end up having a huge role in the film, she still has an awesome design, and the cosplays are going to roll out, trash compactor or no.
Photo via MProjects
Maybe it doesn't count as cosplay, but BB8 has captured the hearts and minds of even the most cynical The Force Awakens viewer, and I'd imagine you're going to bump into more than a few homebrew rolling astromechs if you venture to any pop culture conventions throughout 2016. Just like the ubiquitous R2-D2 printed dresses that have been popular for some time, I think BB8 is going to end up adorning plenty of nerd apparel in the new year.
Charlotte Something Cosplay by Cat&Crown Artwork
Surprisingly, two of the most popular characters from the new movie are thus far mostly absent in the cosplay world. Poe and Finn, while amazing characters and both a large part of my highlights from The Force Awakens, aren't as likely to be cosplayed in the year to come.
Photo via JJ Armory Inc
Their costumes simply aren't as recognisable as others in the film, unless you happen to have a physical resemblance to the actor. Of course, that's not going to stop everyone. Genderbend Poe, anyone?
Which The Force Awakens cosplays are you most looking forward to seeing next year? Tell us in the comments!