There was plenty of quality titles throughout 2015, with the year also marking the revitalisation of games that saw poor launches in the 12 months prior. (Hello, DRIVECLUB.) December wasn't without its own cache of riches either, with the Wii U in particular getting a couple of gems that ensured owners of every platform ended the year on a high.
Fast Racing Neo (Wii U)
Anti-gravity racers continue to deliver
The second I saw Fast Racing Neo, my mind immediately thought: "Oooh, another Wipeout game. I'll have that." And while it's not quite another Wipeout game — a cross between F-Zero and Wipeout might be more apt — the overwhelming reception was, particularly given the low asking price, Fast Racing Neo was a surprise Christmas gift for fans of high-speed racers.
It looked good, ran great, and while it wasn't bursting at the seams with content it was a perfectly competent little racer that deserved price of place on every Wii U hard drive. I'm quietly hoping that it also gets ported, or is compatible, to the NX whenever that's announced. Of course, another F-Zero wouldn't go astray either.
DiRT Rally (PC)
Proper DiRT
Another surprise return to form came courtesy of Codemasters, who pushed DiRT Rally out of Early Access in December without a great deal of fanfare. The racer was a return to the original Colin McRae style of gameplay than the energy drink, X Games-obsession that riddled DiRT 2 and 3, and the wave of support that greeted its initial launch followed through with the full release.
The consensus is that DiRT Rally is one of Codies' best games in years, and perhaps one of the best rally games of all time. I just hope that being aligned more towards a simulation than an arcade racer doesn't hurt sales too much. A console launch for DiRT Rally is due out in a few months.
Shadow Complex Remastered (PC)
A surprise return
There were plenty of surprises during The Game Awards, one of which included the announcement that Shadow Complex Remastered would be a free download for all of December for those on PC. It was an intriguing move by Epic, undoubtedly encouraged by the desire to get more eyeballs on Unreal Tournament, Fortnite, and the other bits and pieces that will be unveiled on the Epic Launcher over time.
The remaster of the platformer is coming to consoles later this year. It'll be interesting to see what the appetite for it is there, although I can see timing being a key factor in its reception.
Just Cause 3 (PC, PS4, XBO)
Explosions en masse
I remember talking to Just Cause 3's Roland Lesterlin earlier in the year about being in the enviable position of dealing with reduced expectations, at least compared to what is often levied against AAA titles. Just Cause 3's remit was pretty simple: blow stuff up, lots of stuff, and make it easy to blow said stuff up. Why, then, were the most explosive parts gated away behind a bunch of busy work and asinine challenges?
But Just Cause 3, and the series in general, has quite the long tail. Avalanche is going to be giving a talk at GDC in March about the DirectX 12 optimisations built into their engine, so the performance issues that players had on PC — and potentially Xbox One — should be a thing of the past before too long. And the multiplayer mod for Just Cause 3 is in the pipeline as well, which is fantastic to see.
Xenoblade Chronicles X (Wii U)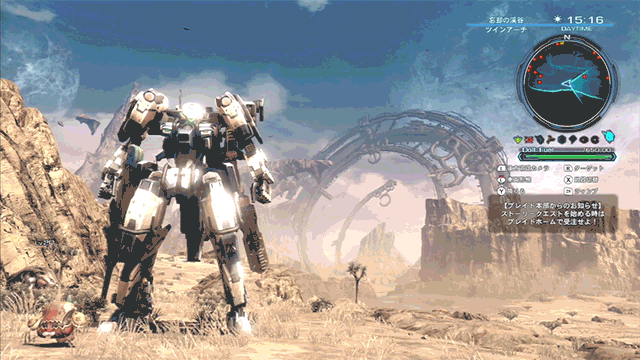 Such a clean suit
As unremarkable as last year's EB Expo was, I'll always remember at least one thing: the way Xenoblade Chronicles X was demoed. It was shunted off into a back corner of Nintendo's booth, hidden in an area where, if you weren't deliberately looking, you could very easily miss it.
On top of that, you were thrown in to a level and left to explore. I was provided no instruction, explanation or given even the most basic understanding of what my character was, could do, or what was even happening on the screen around me.
After fumbling around, my incompetence on full display, I eventually put the Gamepad down thinking that this was the worst possible way to treat what seemed like a thoroughly decent game. And the coverage surrounding its launch only strengthened my instincts. It was pretty (pop-in aside). The mechs were cool. The scale was impressive.
Nuclear Throne (PC, Mac, Linux, PS4, PS Vita)
The next great roguelike?
Nuclear Throne still crashes far too much for my liking, and not just on the one PC either. I've tried it on my Steam box — the game has crashed repeatedly, without fail. My main rig, a Windows 10 machine, has had more success. But it still crashes quite frequently there too.
Nuclear Throne might be one of the buggiest games I've tolerated in recent memory. But that hasn't stopped me from thoroughly enjoying its roguelike brand of run-and-gun action, with or without a controller. It's genuinely fantastic.
I haven't reached the Nuclear Throne yet. But I'll keep trying. Because it's a game with tight controls that, as one user described, is kind of like The Binding of Isaac on steroids.
While you play characters that look like steroids.
Rainbow Six: Siege (PC, PS4, XBO)
Riot shields have a better reputation these days
Someone once described Rainbow Six: Siege as an excellent multiplayer shooter that was inadvertently being sold for full price, and the more and more I watched the game's development the truer that seemed. Nathan and Junglist unabashedly enjoyed their time with the game, but it's becoming increasingly clear that competitive multiplayer shooters simply won't have a long shelf life — at least on PC — if they continue to ask for $60-70-80 at launch.
It especially doesn't help if developers are then trying to have their cake and eat it too with microtransactions on top of that. That doesn't mean Siege is a pay-to-win kind of game — it's certainly not — but the perception is irrevocably poisonous. That's furthered by the problem that, unlike the many free-to-play shooters out there, major AAA multiplayer games will cycle out every one or two years.
Siege, by all accounts, is a perfectly serviceable, competitive shooter. But the odds are stacked so heavily against it, and Ubisoft haven't done themselves any favours. That's a shame for a game that Junglist valued as "one of the best" of 2015.
---
That's it for December. Other releases in the final month of 2015 included the atrocious Devil's Third on Wii U, Terraria on the 3DS, Guilty Gear Xrd -SIGN- on PC, the PC port of HELLDIVERS, Fat Princess Adventures, Final Fantasy 7's PS4 re-release, Hatoful Boyfriend: Holiday Star, Underrail, a Western launch for Yakuza 5 (PS3) and the Horizons expansion for Elite: Dangerous. What marked December for you?