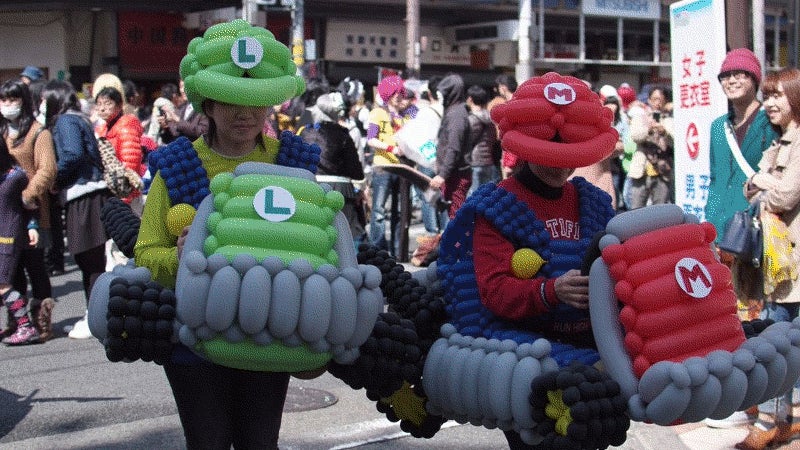 Imagine so many cosplayers and people to see them that busy Osaka streets are shut down completely in celebration of Japanese nerddom. That's awesome. This Sunday saw the 12th annual Nipponbashi Street Festa in Osaka, Japan. This year, like in the past, the streets are closed off for pedestrians. By that, I mean cosplayers, photographers and those keen to absorb the festivities.
I went to the first Street Festa ages ago and each year, the event gets bigger and bigger.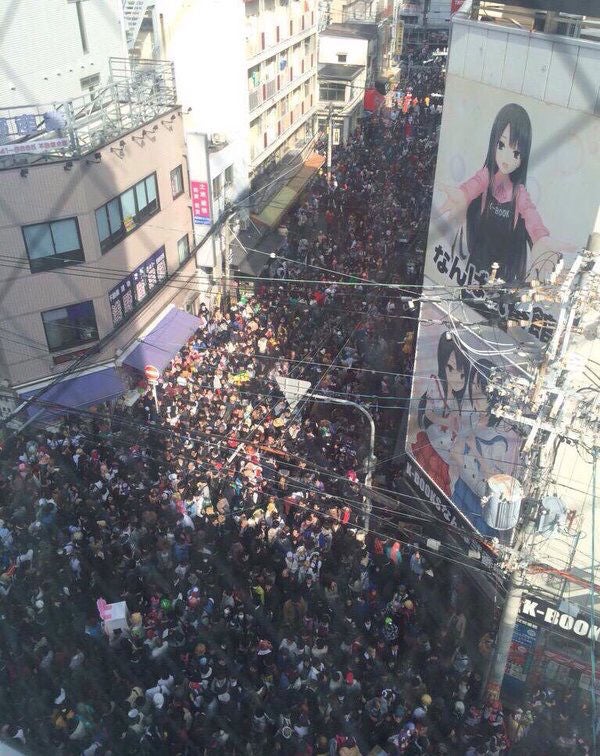 Things can get incredibly crowded at peak hours. [Image: 2ch]
Via Twitter, here are some of the best Street Festa cosplay and goings-on of this year.
今回のストフェス、これを、見に来たのだ! pic.twitter.com/1dteORQ6v7

— コスプレNEWS 3/21ワーフェス (@cosplay_news01) March 20, 2016
なゆぺったん(@nayupettan )
水銀燈#ストフェス pic.twitter.com/TEK5bI0dnN

— けーたろ@3/20ストフェス (@ketaro_ovn) March 21, 2016
家族経営の(株)ダークサイドにピカチュウ先生がコンサルタントしにきたっぽい #ストフェス pic.twitter.com/5OwMk6gkpt

— ポンポン@西京極ラム子 (@bln7an) March 21, 2016
#ストフェス resume pic.twitter.com/Mc5Mweigdi

— じゅりー (@maaya444) March 20, 2016
気のせいかもしれない#ストフェス pic.twitter.com/ucR60GcqY0

— 純生 は側にいたい(迷い中) (@haehae_san) March 20, 2016
フリーザ様が部下の遺影を持っておられました。#ストフェス pic.twitter.com/3Bgznj6bbS

— The Laughing Man (@t_l_m0911) March 20, 2016
イカはイカでもよっちゃんイカチームでした あの後無事にもう1人のよっちゃんには出会えたのだろうか(掲載許可済) #ストフェス #ストフェス2016 pic.twitter.com/RTtzG8AUO9

— 紫電@イナGO霧野制服 (@shiden_you) March 21, 2016
part2#ストフェス pic.twitter.com/qS7a96pPmE

— やの (@hitode20) March 20, 2016
アンパンマンのコスプレ怖すぎたwww #ストフェス pic.twitter.com/39eS8Wkyer

— ななりん@final両日 (@sevenrinrin) March 20, 2016
彩菜さん@ayana9932

撮影させて頂きありがとうございました

#ストフェス pic.twitter.com/r7YiREyc8v

— まさおANK (@ANK9650) March 21, 2016
Minesweeper... #ストフェス pic.twitter.com/2deqTWFI5w

— Ahmed アーメッド (@coollead) March 20, 2016
ドラゴンクエスト ダイの大冒険 クロコダイン
ク、クロコダイーン!!#ストフェス #ストフェス2016 pic.twitter.com/AcMDNuq2ve

— 56 ストフェス (@rockro56) March 21, 2016
趙雲:ゆりあさん 関羽:らがさん 伯符:ヤモさん 呂蒙:りこぴんさん 呂布:なちゅさん 馬超:レジさん
関西でこんなに豪華な一騎当千合わせが見れるなんて! 皆さんハマってますなー#ストフェス2016 pic.twitter.com/UoZEA57uNF

— タ~くん (@tarkun152) March 21, 2016
脳内イメージでは船のマストを掴んでます。#ストフェス2016 #ストフェス pic.twitter.com/P49Q6Nz5UB

— 二代目GMふわのつぼみ☆ストフェス (@HuwaNoTsubomi) March 21, 2016
《武器製作》@kuidaore1987 様
《撮影》
1枚目:@hiromunba 様
2枚目:@kanesada3422 様
3枚目:@teriswwwww 様
4枚目:特設撮影スペースにて#ストフェス#ストフェス2016 pic.twitter.com/Mpl53wMtAu

— [email protected]ストフェスFF10ユウナ (@s_ondine) March 21, 2016
この素晴らしい世界に祝福を!
めぐみん
くろねこさん @kuroneko_cos
撮影ありがとうございました~~#ストフェス#ストフェス2016 pic.twitter.com/cSrGb0arCL

— VALKEN_ZERO@ストフェス (@VALKEN_ZERO) March 21, 2016
しんこさん所から拝借して、昨日のストフェスの速報ですー!!
TERAのキャスタニック♀のカンパニーアバターです٩( 'ω' )و

下手ですがツノがんばりました!!#TERA #ストフェス2016 #ストフェス pic.twitter.com/O9BdXnp1MC

— べにのつばさ。ストフェスTERAキャス子 (@Rei_Lan929) March 21, 2016
あと 三角 ガルパン デレマス? 5部一行 #ストフェス pic.twitter.com/DQyeFzByfu

— 翔馬 (@S_Gtyapin) March 21, 2016
ゴミ拾いをする次元と五ェ門
(クリーンアップパレードにて)#ストフェス #ストフェス2016 pic.twitter.com/nYiNBkYpkj

— 三次元大介 ストフェス (@3_Jigen_daisuke) March 21, 2016
これはいけない #ストフェス pic.twitter.com/1YUIR1OSLL

— ヴぇすた (@s_h_lll) March 20, 2016
ONEPIECE / コアラ
茶々さん ( @kagetsuomi)#ストフェス#ストフェス2016 pic.twitter.com/6xu6A80VVf

— エル (@OtherLhurgoyf) March 21, 2016
ファルコンに羽根がクオリティ凄高過ぎる……! #ストフェス #ストフェス2016 pic.twitter.com/d8NyrYAI6B

— かんな(そぅ。) (@kanna03) March 20, 2016
モンスターハンター
ジンオウガ装備
空帆さん @aho30115
撮影ありがとうございました~~(冬コミ以来 お久しぶりです)#ストフェス#ストフェス2016 pic.twitter.com/ZE4L7Cx9Ez

— VALKEN_ZERO@ストフェス (@VALKEN_ZERO) March 21, 2016
sunny day song...♪*゚#ストフェス2016 pic.twitter.com/IC6CjU70fu

— 彩月りり@ストフェスSDS花陽でした (@r_stk06) March 20, 2016
この写真すごい好き。
他にもツーショット写真あったら欲しいところ。#ストフェス 2016 pic.twitter.com/5didQMGE6B

— ディアンマ@ストフェス終わっちゃった (@Diar_mma) March 21, 2016
完成度が高かった#ストフェス pic.twitter.com/GDlA2Ch7Ar

— ポディ君(まいぴぃ)@ストフェス激疲れた (@newtype0011) March 21, 2016
艦これ
扶桑改二
まりーさん @marie_iroha
撮影ありがとうございました~~(フル艤装 凄いっすわ!!)#ストフェス#ストフェス2016 pic.twitter.com/iRAuyvIPn1

— VALKEN_ZERO@ストフェス (@VALKEN_ZERO) March 21, 2016
三次元大介さん(@3_Jigen_daisuke )今年も人気でした#ストフェス #ストフェス2016 ストフェス2016の写真保管場所→ https://t.co/259jK9N2Qt pic.twitter.com/nyGJ4Q7WFe

— Taichi Andoh (@19760611) March 21, 2016
クロノトリガーのカエル#ストフェス #ストフェス2016 pic.twitter.com/ytGnJvyEJ2

— よこっち (@yokocchi_os) March 20, 2016
かっこよすぎるやろおおおおお!!!#ストフェス2016 pic.twitter.com/82bmI84vsl

— あきお (@moki_aki) March 20, 2016
日本橋ストリートフェスタ

名前がわからない人たち#日本橋ストリートフェスタ#ストフェス#portrait pic.twitter.com/tAjwIW50pc

— コータロー☆激務の為休止 (@Lensmiya4412441) March 21, 2016
個人的にすっげえなぁ!と思ったマリオカートのバルーンアート。 #ストフェス #ストフェス2016 pic.twitter.com/wcn1pv8yFx

— うえむ@アラフォートリニティ (@shockn55) March 21, 2016
巴マミさん お名前わからずです。気に入っている一枚です#ストフェス #ストフェス2016 ストフェス2016の写真保管場所→ https://t.co/259jK9N2Qt pic.twitter.com/3nGaqTqFRX

— Taichi Andoh (@19760611) March 21, 2016
昨日のチャンピオン#ストフェス2016 pic.twitter.com/NDaUH7Km4q

— DOMiNIC (@fragile_dominic) March 21, 2016
デスノート リューク 今年もお疲れ様です!#ストフェス #ストフェス2016 pic.twitter.com/XnpVWNtBfs

— 56 ストフェス (@rockro56) March 21, 2016
思ってたよりはドラゴンボールキャラ少なかったけど見つける度にテンション上がってしまったなー(*≧ω≦*)
初出しゴジータの低クオリティは許してやって下さい…^^;#ストフェス pic.twitter.com/PwrKMFoSj7

— りょっぺ☆3/20貴様を倒す者。 (@ryoppepan) March 21, 2016
イッテイーヨ!!!#ストフェス pic.twitter.com/h6QdWjW27p

— 橘 直人@ストフェスDHマッハ (@tachibana_naoto) March 20, 2016
昨日はお疲れさまでした。
撮影させていただきあとがとうございました!^_^#天使りのあ(@noanoarinoa)さん#あやもも(@sorega_arede)さん#ストフェス#ストフェス2016 pic.twitter.com/xIwiN2CtBF

— やんべ (@shanbian_i) March 21, 2016
ポケモン交換しました。
会いたかったから嬉しかった(`・ω・´)✨

ピカチュウコラボ❣️#ストフェス2016 #こうめピカチュウなう pic.twitter.com/oUi9D3Sfqu

— こうめピカチュウ (@koume_0x0) March 20, 2016
#ストフェス
昨年より進化したダグトリオ

2週目で見たときは地面に埋まってました pic.twitter.com/s1I0gDhMEm

— りょ〜さん@REBEL休止中 (@kkxmn) March 21, 2016
龍神丸、どうやって運んだんだ
すげー pic.twitter.com/Sb23HwMLho

— 因幡の黒うさぎ (@rabi_inaba) March 20, 2016
さぁ!お前の罪をかぞえろ!#ストフェス#ストフェス2016 #仮面ライダー pic.twitter.com/OubwNAxqOu

— ユータ@カメライダー (@tani_cbr) March 21, 2016
日本橋ストリートフェスタで見かけた猫 #ストフェス … https://t.co/eyLva4w0O0 | https://t.co/1Ynh40VCJv pic.twitter.com/EG2RN73NpF

— viper0 (@viper01x) March 21, 2016
キラキラチューン / ようよう#ストフェス#アイドルステージ pic.twitter.com/tdN87U7sS7

— すまふりー(財布紛失) (@smafree02) March 20, 2016