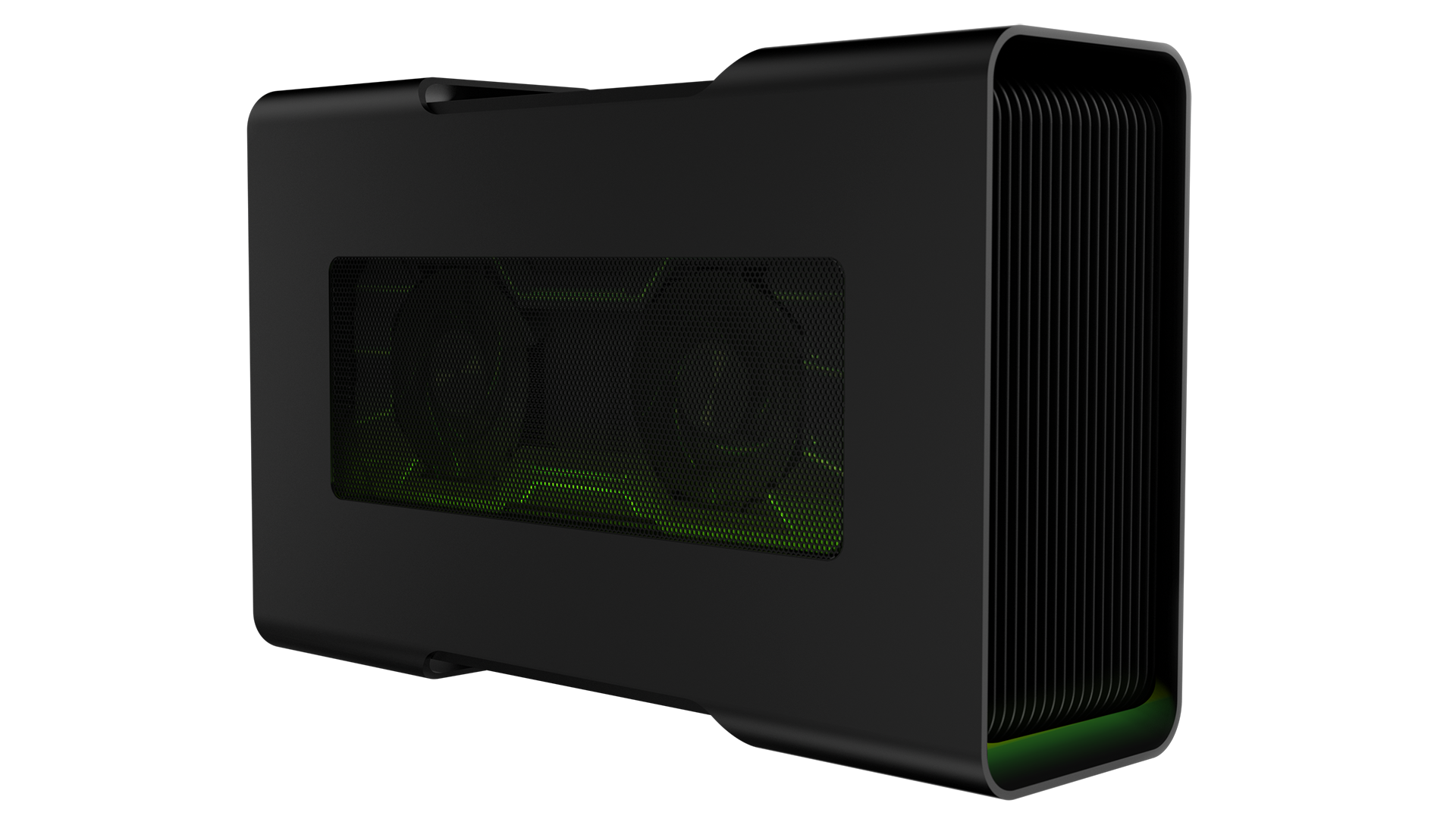 Revealed a couple months back at CES 2016, Razer's Core is a plug and play way to add an external graphics card to the company's line of skinny notebooks. Now it has a $US499 ($669) price tag, an April release date and AMD's blessing. Similar to products like Alienware's Graphics Amplifier, the Core houses and powers desktop graphics card, allowing (currently) the Razer Blade Stealth Ultrabook and the latest Razer Blade access to greater graphics capability as well as four USB 3.0 and a gigabit ethernet port.
Unlike offerings like Alienware's, which use a proprietary cable and require the attached laptop be rebooted in order to access the extra power, the Core uses a Thunderbolt 3 connection, allowing for a plug and play connection between system and box. Just plug the cable into the laptop, and you've got access to the graphics card.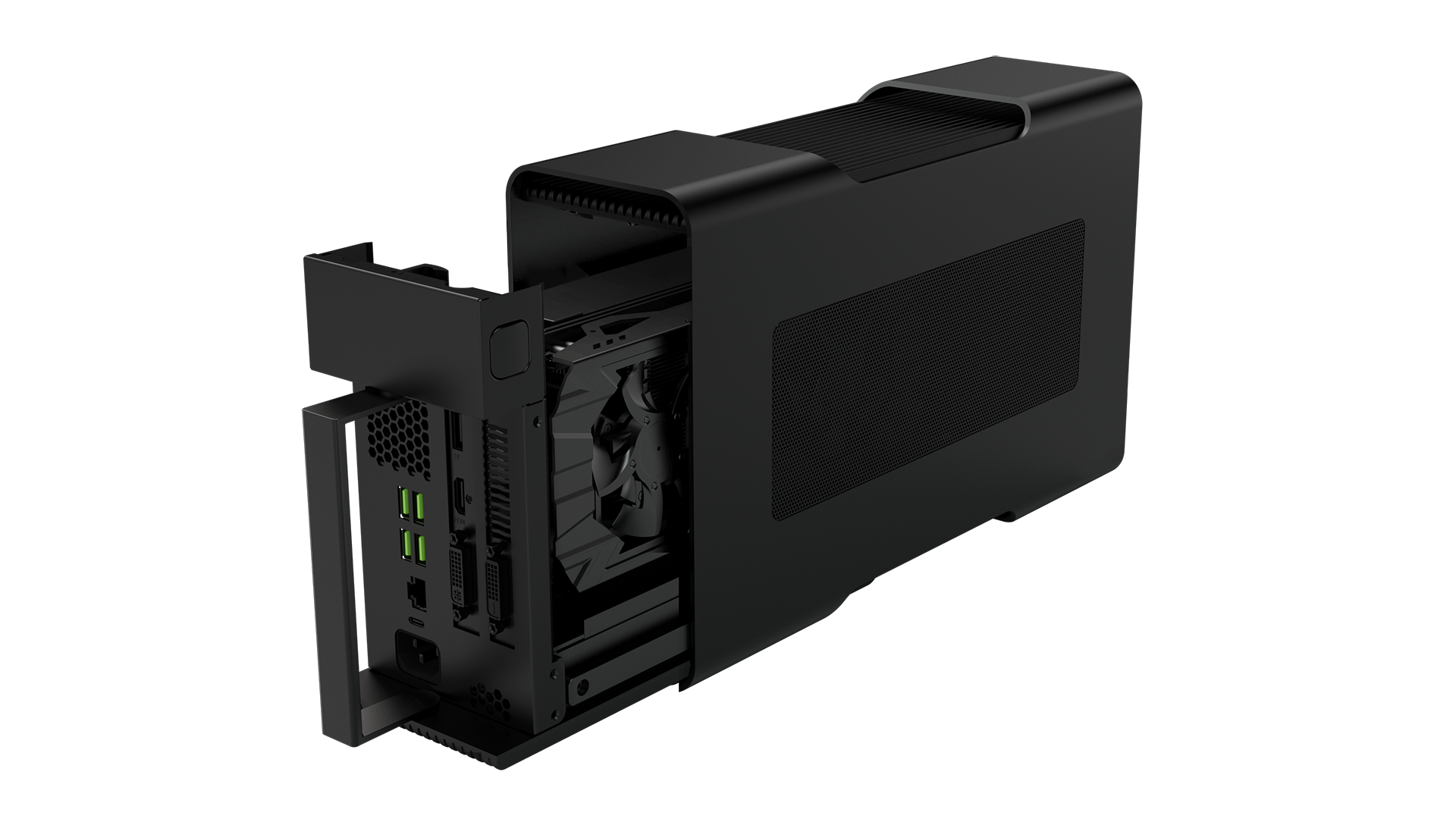 Pictures of boxes are a bit more exciting when the boxes are open. It's a very cool piece of hardware, and AMD seems to agree, tossing in their hat so hard they knocked NVIDIA cards back to beta status.
"We believe powerful external GPUs are thrilling for gamers that have longed to connect serious gaming performance to an ultrathin notebook," said Raja Koduri, Senior Vice President and Chief Architect, Radeon Technologies Group, AMD via official announcement today. "With the advent of AMD XConnect technology, that dream is a simple and intuitive reality. Together, the Razer Core and AMD XConnect for Radeon graphics are the ultimate intersection of performance, simplicity and design."
Qualified AMD Radeon graphics cards (AMD XConnect supported with Blade Stealth):
AMD Radeon R9 Fury
AMD Radeon R9 Nano
AMD Radeon R9 300 Series
AMD Radeon R9 290X
AMD Radeon R9 290
AMD Radeon R9 280
Supported NVIDIA GeForce graphics cards (as part of beta program):
NVIDIA GeForce GTX Titan X
NVIDIA GeForce GTX 980 Ti
NVIDIA GeForce GTX 980
NVIDIA GeForce GTX 970
NVIDIA GeForce GTX 960
NVIDIA GeForce GTX 950
NVIDIA GeForce GTX 750 Ti
NVIDIA GeForce GTX 750
It kind of feels to me like "beta program" should be in quotes here, and might not be there if there wasn't an AMD partnership happening here. Or maybe I'm just making the graphics card market battle more exciting in my head.
The coolest thing about the Core (aside from the two colour-changing lighted areas) is that with a non-proprietary connection, theoretically the box could wind up working on any notebook with a Thunderbolt 3 port. Just a thought.
The Razer Core is up for preorder in the US store today, with units shipping in April. The price is $US499 ($669) for the box alone or $US399 ($535) bundled with the Razer Blade Stealth ultrabook. Those who've already purchased the Stealth can score the discounted price as well. Unfortunately it hasn't hit the Australian store just yet, and Australian pricing has yet to be revealed.
Now I'm off to Photoshop the top image of this post into the chest of Decepticon Soundwave.