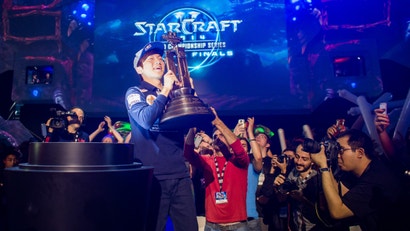 He's not even 20. But over the last few years, Lee "Life" Seung established himself as one of the world's most dominant StarCraft 2 players.
Life found himself in the spotlight for the wrong reasons earlier this year though when he was taken into custody by the Changwon District Prosecutor's Officer. The Zerg player has since been charged for receiving 70 million won for deliberately throwing two KeSPA Cup matches last year.
A translation from a report produced by the Changwon Regional Prosecution Service's special investigation division has been posted online by TeamLiquid.
According to the translation, nine people have been indicted on charges of match fixing. Two of those were current players: Life, who received 70 million won for two matches, and Jung "Bbyong" Woo Yong.
Here's the headline quote:
One top-class StarCraft 2 PROGAMER, a GSL champion and WCS runner-up in 2015, is charged with receiving 70,000,000 won (approximately US$62,000) to manipulate two matches. Four BROKERS are charged with using personal relationships to solicit match-fixing. Two FINANCIAL BACKERS are charged with providing cash in compensation for match-fixing. One individual responsible for the placing of bets is also charged. These eight individuals have been indicted and arrested.
Kwanghee Woo, former TeamLiquid editor-in-chief, put the amount of money Life received in context:
The fee to throw matches in the KeSPA Cup (70,000,000 won) was seven times the prize money for first place (10,000,000 won) ?

— Kwanghee Woo (@SaintSnorlax) April 21, 2016
Every StarCraft match is a best-of-three, so it's not entirely clear which map prosecutors allege Life threw. Here are the matches in question: and just from the reaction of the casters alone, the second match undoubtedly raises some alarm bells in retrospect.
This isn't the first match fixing scandal StarCraft has had before, but it's a disaster for the scene now considering Life's status. He was at the pinnacle of StarCraft 2 after winning a GSL title four years ago against Jung "MVP" Jong Hyun, who was one of the most dominant Terran players in the game's earlier days.
Since then, he's only continued to slaughter his competition. Life went on to win the GSL Blizzard Cup, the MLG Winter Championship, IEM tournaments around the world, DreamHack Open events and the WCS Global Finals. He's placed highly in KeSPA tournaments as well. Those matches above? Life ended up finishing in the top 4 for that event as well.
But here's the rub: for his 3rd-4th place finish, Life only received a paltry US$1822. It brings the amount of money being offered into much sharper context, and it illustrates a festering problem that South Korean esports — and StarCraft — has never been able to fully extricate itself from.
Individual games, after all, are fair easier to rig than a game of League of Legends or Dota. And there's also the other question: if there isn't enough money in StarCraft to stop world champions from being attracted to match fixing, what does it mean for the health of the scene in general?