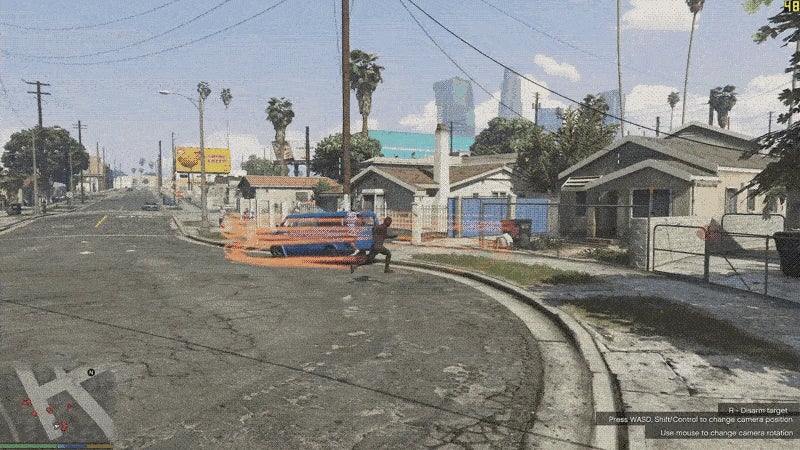 Dayshot: Here's a GTA V mod, in case you ever wanted to run so fast that you create a tornado and suck up all nearby objects. In GTA V. This script mod which, of course, turns you into The Flash, was made by JulioNIB (via DSOGaming), he of legendary status in the modding community and purveyor of many similarly amazing GTA V mods. Here's a list of features for this particular one:
Super speed + slow motion (move keys pressed)
Bigger super speed + slow motion (move keys + shift pressed)
Hyper auto increasing super speed + slow motion (move keys + shift pressed + aim)
Slow motion when running can be deactivated in the mod menu
Super jump, bigger speeds = bigger jumps
Wall run, this feature don't work in some windows because the game don't respond to the raycasts :(, so, will work in big part of walls, but in some buildings may not work well
Auto healing
Walk over water
Supersonic punch attack (bigger speed = bigger damage)
Tornado attack
"Heart Attack" attack
Thrown Lightning attack
Basic melee attacks
Delayed light/blur FX that "follow" player char. when moving
Rays that "follow" player when moving
Hijack vehicles, for helicopters you can try to jump close then hold F
Possibility to customise the FX/rays colours in the mod menu, the setting is saved in the actual Suit .ini file
And a video:
Check out JulioNIB's blog post for download & installation instructions if you wanna play yourself.
Dayshot showcases some of the prettiest, funniest game-related screenshots and art that we can find.