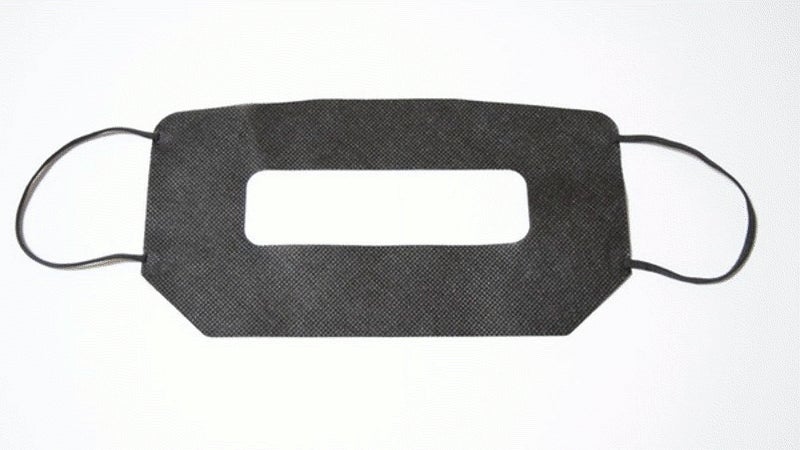 Your face can get grimy. So can other people's. Disposable sanitary guards for VR headsets sound like a very good idea. Our colleagues at Gizmodo Japan previously spotted "VR Masks" at SXSW, and they can now be purchased for sets of 100 masks for 2980 yen ($35).
moguraVRさんからVR体験用マスク100枚セット届いた!
クイックポストでポストに配達してくれるので一人暮らしにはありがたい。
眼鏡の人はマスクの上にかけると良いかな? pic.twitter.com/tVJi7roY5a

— afjk(エーエフ) (@afjk01) February 5, 2016
These masks are specifically for VR demos, but you could certainly use them at home, especially if you want to keep your headset as clean as possible.
さっそく使わせてもらいました。装着への抵抗感が明確に薄れる!
さらにこれを使うと、なんと体験者の数を数えることができます。
ちなみに女性のみで11人でした。便利ー!

VR体験用マスクhttps://t.co/6cbSOGNE7R pic.twitter.com/jKcLEoZC1G

— はいぬっか (@hinzka) February 8, 2016
Japan-based Engadget writer Mat Smith also recently spotted the masks while checking out a VR demo in Tokyo. The masks, apparently, are also helpful for those whose skin gets irritated by the VR headsets.
First time: anti-VR skin disease mask. Japan! https://t.co/GuDENw2Rhi pic.twitter.com/YhySsnCqHi

— Mathew (@thatmatsmith) April 5, 2016
@Brian_Ashcraft At a VR event in Tokyo. Apparently they're used for other things beside VR grossness block. (Need to stock up for E3.)

— Mathew (@thatmatsmith) April 5, 2016
[GIF via Yahoo! Japan | Gizmodo Japan]