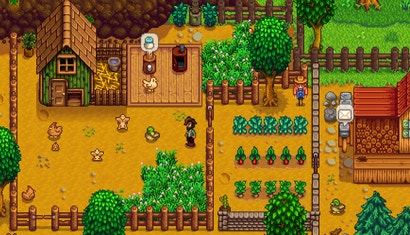 This year has already had a few standout indie titles already. But there's no doubt that out of all of them, Stardew Valley is perhaps the most successful. The Harvest Moon-esque RPG sold hundreds of thousands of copies a fortnight after its launch, and it's since gone on to break the magical mark: 1 million.
A representative for Stardew Valley's publisher, Chucklefish Games, told Polygon early this morning that the game has sold 1.007 million copies to date. Around half a million copies of the game were sold just in March.
Stardew Valley has also struck a chord amongst modders, with fans patching the game to make the characters more diverse, updating the UI, and many of the game's mechanics.
The game's latest patch added unique dialogues during festivals and a range of tweaks to fruit trees, lightning strikes and characters. The game's creator, Eric Bardow, also announced on Twitter that Shane and Emily would be the game's next marriage candidates, following a public vote on Twitter.
[Polygon]