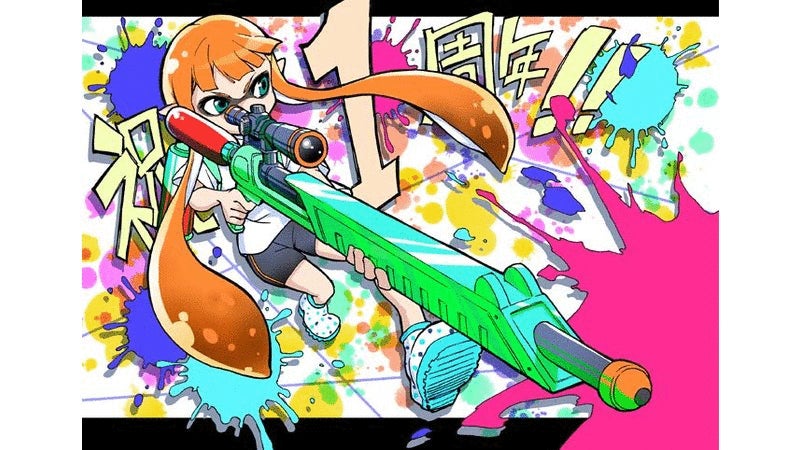 A year ago, Splatoon was released in Japan. Players fell in love, got damn good and the game became a hit. With the recent anniversary of its release, folks online in Japan are celebrating.
Images: yamadakotaro | yuki_usa1111 | shiero_379
(Nintendo is also celebrating by, as Famitsu reports, announcing a Splatoon Wii U bundle that comes with a download for the game and Squid Sister Amiibo figures.)
Below, is a sampling of some of the fan art that marks the game's first anniversary.
スプラトゥーン発売1周年おめでとうございます!
こんなに長く楽しめてるゲームは初めてです。
沢山の楽しい出会いをくれたスプラトゥーンに、感謝の気持ちを込めて。#Splatoon1周年 pic.twitter.com/JGEEinbHTD

— はなこ あお (@hanako515_ika) May 28, 2016
#スプラトゥーン1周年
!だいすきだ! pic.twitter.com/ekrhOOtPfo

— かめ (@kmk826) May 27, 2016
加工してみた!
ほんとにスプラトゥーン一周年おめでとー!! pic.twitter.com/SZeFSoamNc

— いけちゃん (@ikadaru08) May 28, 2016
#スプラトゥーン1周年
生まれてきてくれてありがとう!本当におめでとうございます! pic.twitter.com/Jtavc2G6yi

— まれみち (@maremichi) May 27, 2016
本垢にも載せたけど、こちらにも#スプラトゥーン1周年 #スプラトゥーン pic.twitter.com/oWo3qYns0C

— シエロ(イン率抵) (@shiero_379) May 28, 2016
初めて遊んだワクワク感、今でも忘れられない
1周年おめでとう、これからもイカよろしくSplatoon!#スプラトゥーン1周年 #Splatoon pic.twitter.com/MkWVekhkra

— あいた (@Aita_T_R) May 28, 2016
#Splatoon #スプラトゥーン #スプラトゥーン1周年
おめでとう!飽きるまで楽しくやるよ! pic.twitter.com/ZqYp7wDJLe

— 二次ヲタ (@saiya1127) May 28, 2016
スプラトゥーン1周年おめでとう!
スプラトゥーンのおかげといっても過言でないほど今の生活が充実してますありがとうございます??#スプラトゥーン1周年 pic.twitter.com/zpAwaUfluJ

— やまこ_RSF (@yamako_822) May 27, 2016
#Splatoon1周年 スプラトゥーン祝☆1周年!夏にイカちゃん可愛いから始めたけれど、絵はもちろん、チームに入ったり大会出たり。こんなに大人数でエンジョイできるゲームも無いのではないかと思います!夜のザップ杯もがんばるぞう〜! pic.twitter.com/CfYYFTjPU0

— ☃*プ57でした。 (@yuki_usa1111) May 28, 2016
1さいのお誕生日おめでとう!たくさんお友達ができた!おとうさん、おかあさん楽しいゲームをありがとう!#スプラトゥーン1周年 #Splatoon pic.twitter.com/zgqqPhCrzm

— おひつでごはん (@ohitsu_pikapika) May 27, 2016
何とかシオカラーズのアミーボ予約出来たッ!
スプラトゥーンラテアートまとめ!#スプラトゥーン1周年 pic.twitter.com/magNTypId7

— Sugi (@Nowtoo) May 28, 2016
おめでとうございます! #スプラトゥーン1周年 pic.twitter.com/qJS7oJXqcG

— め ば リ @ガタガタ (@mebari1050) May 27, 2016
スプラトゥーン発売1周年おめでとう!まだまだ楽しみます!!#スプラトゥーン1周年 pic.twitter.com/hTdFv8Yj9L

— れたじ (@middi_le) May 28, 2016
スプラトゥーン一周年おめでとうございます!(一度描いてみたかった)  #スプラトゥーン1周年 pic.twitter.com/1KqqBDVo1x

— 山田孝太郎 (@yamadakotaro) May 27, 2016
スプラトゥーン一周年!おめでとう!!思いでのギアたちとその他もろもろです! #スプラトゥーン1周年 pic.twitter.com/qEqD4grLny

— よしこ (@sayu_0503) May 28, 2016