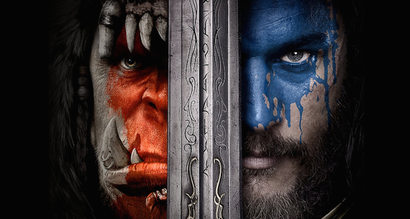 Don't look, but expectations for the Warcraft movie are on the slide. Any films based on video games generally aren't high to begin with, but the more footage of Warcraft we see, the cheesier it looks.
If you were equally concerned about how the movie was tracking, then I've got bad news: Travis Fimmel, one of the main stars, isn't helping.
The Australian, a former underwear model turned Stormwind heir, was profiled by The Red Bulletin ahead of Warcraft's worldwide release in early June.
As you'd expect, the profile covered some of his past, such as growing up on a farm and starring as King Ragnar in Vikings. And then it turned to the Warcraft film — where Fimmel didn't exactly cover himself in glory.
"To be honest, I had no idea what I was getting myself into," Fimmel said when asked about acting for such a CGI-heavy film. "It is such a different way of acting, not talking to someone sometimes. You're actually talking to air. It's hard. I bloody suck at it."
According to the profile, he hadn't heard of Warcraft prior to signing on, and he isn't much of a gamer at all — but he "needed a job", so naturally he accepted.
You can't really blame someone for taking work if they need it. And Fimmel comes across as a laid-back, self deprecating kind of fellow in the piece.
But while it might be nice to give a pass to another Aussie, we've all seen enough movies where actors couldn't quite get the hang of talking to a green screen. It looks wooden and dull. And hearing one of the main stars freely admit that it's not really his forte doesn't exactly inspire a great deal of confidence.