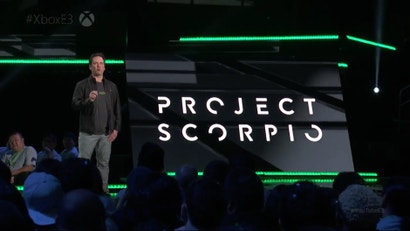 E3 wasn't really going to start this year until Microsoft's conference this morning, and it was expected to be a big one. Sony had already revealed that they wouldn't show off their new hardware this year, so all eyes were on Microsoft. And show things they did. Here's what you missed.
The unusual part, however, was just how leaky things were. The entire schedule pretty much broke on Twitter half an hour before the conference, and even before then all of the big ticket items were being discussed online. Here's what Microsoft showed.
Microsoft Announces Project Scorpio, 'The Most Powerful Console Ever' The obvious one: a new Xbox One console coming next year.
The New 2TB Xbox One S Will Retail For $549.95 In Australia There's a slimmer version of the Xbox One as well, the Xbox One S. $549.95 if you want it. If you want a standard 500GB Xbox One model, the new RRP locally is $399.95.
A Look At Final Fantasy XV's Massive Titan Boss Fight Big coup for Microsoft in getting the marketing for this. Final Fantasy XV is looking really good. Hopefully some of that Midas touch wears off.
The Witcher Getting Standalone Card Game Spin-Off Standalone Gwent. No surprise here.
Rare's Pirate Co-Op Game Sea Of Thieves Looks Dope It's so good to see Rare making non-Kinect games again.
Forza Horizon 3 Heads To Australia Was literally saying to Mark the other day that we were due for another Forza Horizon game. Nice to see it's based in Australia. Forza Horizon 2 was solid.
ReCore Shows Off Gameplay Footage, Dog Robots ReCore continues to look cool.
Gears Of War 4 Will Have Cross-Play And Cross-Buy On Xbox And PC Low expectations here, which will probably result in me having more fun than I expect. It's served me well for the Gears series so far.
State Of Decay Sequel Coming Next Year I hate zombie games and I'm not a huge fan of survival sandboxes. But I really got into State of Decay in a way that I genuinely cannot understand. It was glitchy but tons of fun. I'll happily play the sequel.
Scalebound Looks Crazy, Features Giant Enemy Crab Looked tops when it was first announced last year. Still looks tops.
Look Who Showed Up In Gears Of War 4 Of course he is.
Crackdown 3 Has Been Delayed Real shame, this. It was looking promising.
Microsoft Will Let You Design Your Own Custom Xbox One Controllers This is neat. Third party vendors doing this aren't going to be thrilled though.
Microsoft's E3 Conference Was All New Consoles And Old Video Games If you're after some perspective on the whole thing, Mark has his wrap-up here.