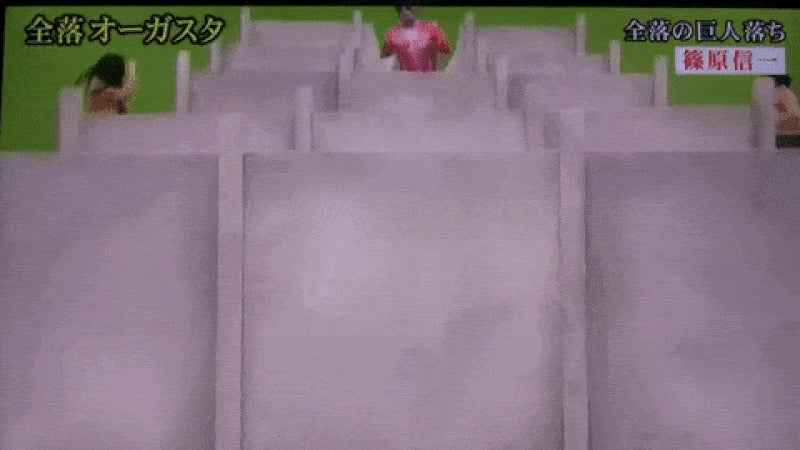 It's such a simple idea: Famous Japanese people unknowingly walking, running and falling into holes. [GIF via とんねるずのみなさんのおかげでした | FujiTV]
Above, that's Olympic silver medallist judoka Shinichi Shinohara. These days, he appears on Japanese variety shows and in television commercials. Recently, he was told to show up in Attack on Titan make-up to shoot an ad. Then, this happened:
全落の巨人落ちw 篠原信一の最高傑作✨✨✨#とんねるず #みなさんのおかげでした #全落オーガスタ pic.twitter.com/mnztbsBoW4

— もののふchan☆ (@rizutan09) June 23, 2016
Of course, it wasn't an actual commercial (though, he has appeared as a Titan in real ads due to his size and distinctive facial features). Instead, it was part of a TV program hosted by the comedy duo Tunnels. The show sometimes pranks Japanese celebrities.
Have a look and do not try at home, outside or anywhere else, really.
全落女王のIKKOに笑い殺されるところだったwwwwwwwwwwwwwwwwwwww#全落オーガスタ pic.twitter.com/a9GrakcmdF

— けんと (@ef1401bc48c8497) June 23, 2016
逃げるハンバーグ師匠、熱々のナイスイwwwン⛳️?✨#とんねるず #みなさんのおかげでした #スピードワゴン #井戸田 pic.twitter.com/Pe9v5Ew2at

— もののふchan☆ (@rizutan09) June 2, 2016
全落オープン新技爆誕✨
D難度:ダレノガレ #みなさんのおかげでした pic.twitter.com/vG2PFrGu8R

— もののふchan☆ (@rizutan09) May 27, 2016
岡村の6連続水落ww
 #とんねるず #動画  pic.twitter.com/PHHRTyAm55

— とんねるずのみなさんのおかげでした (@xwwh4lg4) June 14, 2016
めっちゃ良い人w #きゃりーぱみゅぱみゅ #みなさんのおかげでした #九十九里浜 #全落 pic.twitter.com/Qd37yjymY4

— ふじわらさん (@sunfishFujiwara) May 26, 2016