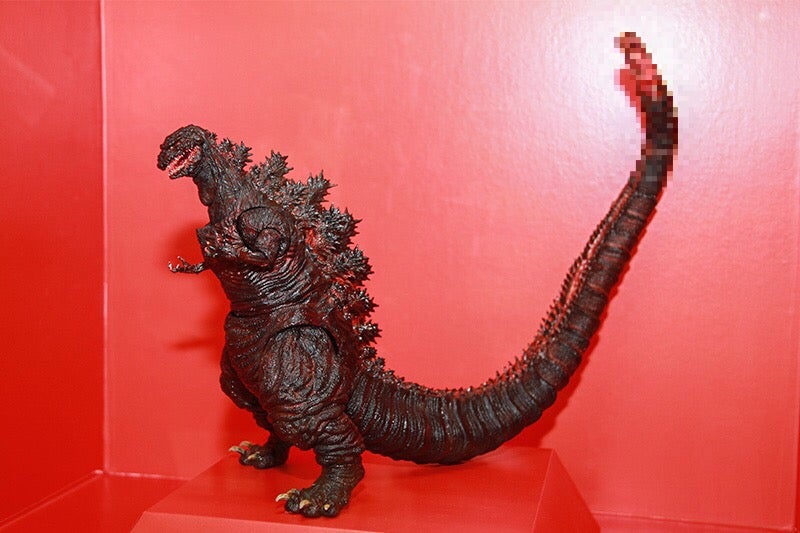 Japan is making a new Godzilla movie. It's called Godzilla Resurgence and looks awesome. Recently, a collectable new Godzilla was unveiled in Japan, and damn, does its tail appear, ahem, not work safe. [Image: Nippon.com via 2ch]
We got glimpses of Godzilla's tail last spring in a new trailer, and people were quick to notice.
Though Godzilla's tail in Resurgence is long probably the longest out of all the suits he better destroy buildings and jets with it

— Charlie Zaraki (@Symnal6) April 14, 2016
Godzilla's tiny arms and huge-ass tail infuriate me

— Win. (@ChoooneW) April 14, 2016
that shot of godzilla's tail sweeping overhead though, holy shit. It's rare that everything comes together and makes a shot feel so REAL

— KingKibble (@KingKibble) April 14, 2016
Is that a giant marine animal (whale?) melted into #Godzilla's tail? pic.twitter.com/gZOOD40lBF

— GMAN (@GMANonScified) April 14, 2016
The character's new collectible gives a good look at the tail, and uh... Below is an image from Nippon.com: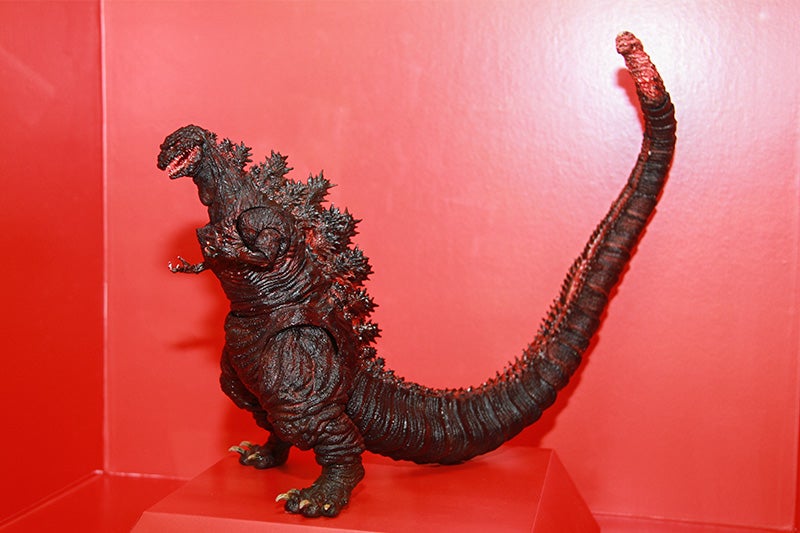 [Image: Nippon.com] Oh my.
No wonder that on 2ch, Japan's largest bulletin board, people have been comparing the tail to male genitalia.
Via Twitter, here are more images:
ゴジラ(2016)、長く伸びた尻尾の先端に凶々しい造形、異形な爪、血のように赤みを持った体表、正に怪しい獣。非常に美しい。 #東京おもちゃショー #シンゴジラ pic.twitter.com/QKZJpMYlik

— くるす (@krus_hiromu) June 12, 2016
モンスターアーツのシン・ゴジラ
尻尾本当に長いし大きさも今までのアーツのゴジラと比べて大きめだから一万越えるのも納得だわ
良い具合に気持ち悪い造形でグッド pic.twitter.com/i1cAQrHI6E

— GEKO (@orokamo) June 11, 2016
S.H.MonsterArtsのシン・ゴジラ
痛々しい皮膚と裂けた口、長い尻尾が異彩を放っている pic.twitter.com/3b9yZ7keuU

— 中山中 (@dorako4) June 11, 2016
庵野監督版「シン・ゴジラ」、
尻尾が想像以上にアレだ(;´Д`) pic.twitter.com/u6iA2bKdlA

— LuckyShell(吉貝) (@kIcHiKaI) June 11, 2016
The tail that appeared in the most recent trailer seemed far more tasteful and slightly less penisy.