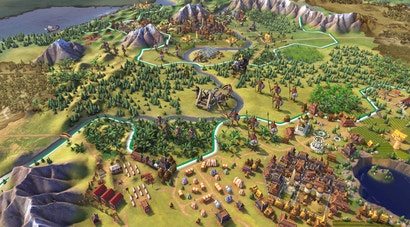 When my primary school briefly explored the possibility of an educational video game, their choice was decidedly uninspired: Myst. Most of the kids hated it, and the teachers could barely understand it.
Today, I wish I was back in primary school — because nuking Gandhi just became a legitimate school activity.
It's all thanks to CivilizationEDU, which Take-Two, Firaxis and 2K has just announced will be released next year as part of a bid to bring Civilization 5 to North American high schools. It'll be a modified version of the iconic turn-based strategy game, focusing on the opportunities for critical thinking, analysis, planning and the way various societal systems interact.
"CivilizationEDU will provide students with the opportunity to think critically and create historical events, consider and evaluate the geographical ramifications of their economic and technological decisions, and to engage in systems thinking and experiment with the causal/correlative relationships between military, technology, political and socioeconomic development," the companies said in a press release.
The move is part of a partnership with GlassLab Inc, a not-for-profit developer which has produced a range of educational spinoff titles, including SimCityEDU.
According to the release, teachers will be have an online dashboard with which they can produce reports following their students progress. The reports will also include "how in-game accomplishments relate to problem solving; developer diaries; gameplay tutorial videos, and instructional resources."
CivilizationEDU will be available as a digital download next year, but only through specialist services and not traditional marketplaces like Steam.