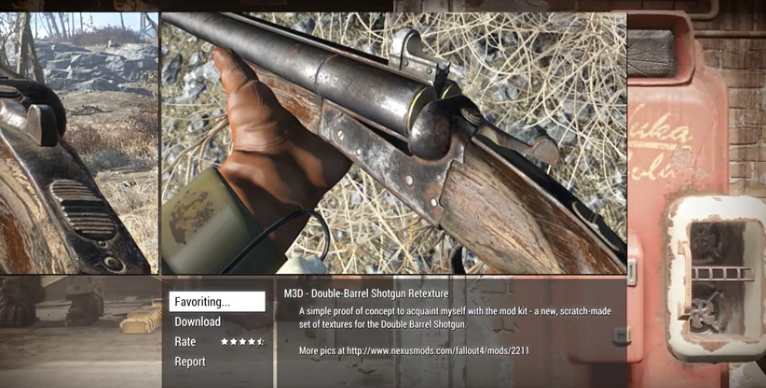 The closed beta for Fallout 4 mod support on PS4 is looming, with part of the effort involving updates to the game's world-building Creation Kit. The latest improvements arrived last Wednesday and included an interesting tidbit — crafters will need to link their Steam and Bethesda accounts together in order to upload mods.
The announcement is up on Bethesda's official forums, with the relevant section below:
Uploading mods to Bethesda.net requires Fallout 4 ownership via a Steam-linked Bethesda.net account. To link your Bethesda.net account, start Fallout 4, select Mods, and log in. This automatically links your Bethesda.net account to your Steam ID.
Apart from the obvious bookkeeping benefits for Bethesda, there's a policing upside too — the developer can enact harsher penalties on those who find a way to abuse the system, say by stealing content or uploading nefarious mods.
A banned Bethesda account isn't the end of the world... but your Steam account? That's quite the ouch. The decision of course would rest with Valve, but I'm sure Bethesda has enough sway with the company to implement this if it wants.
For modding enthusiasts, PS4 mods still carry a few creative caveats:
PC textures are used. Memory and performance issues may occur. We are working with Sony on optimal texture exporting support in a future update. Sound files are currently not supported. PS4 sound format is a proprietary format. We are working with Sony on sound file processing support in a future update. PS4 Mod Storage limit is approximately 900 MB at present. Please do not upload mods larger than 900 MB. We are working with Sony to increase this limit.
It's mentioned that the closed beta is "close to ready", which isn't that surprising considering PS4 mods were originally slated to arrive sometime this month.
Creation Kit 1.5.4 Update: PS4 Mod Upload Support and New Security for Uploading Mods on Bethesda.net [Bethesda]