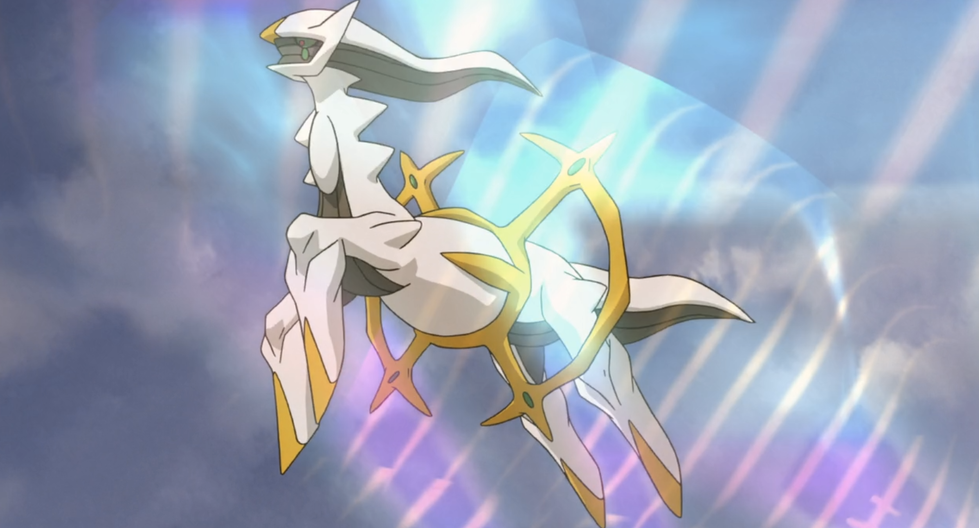 The first thing I noticed after initially booting up Pokémon Go was that 70 per cent of the landmarks near me were churches. Considering that I'm not a religious person, this has proven to be kiiiind of awkward. I am not alone in feeling this way. Image credit: Pokemon Wikia
Actually, a lot of Pokémon Go players are being directed to churches so that they may collect new monsters and more items within the augmented reality game. Given Pokémon's rocky history with spiritual matters, not to mention the sheer touchiness of religion, this has turned into a strange gameplay experience: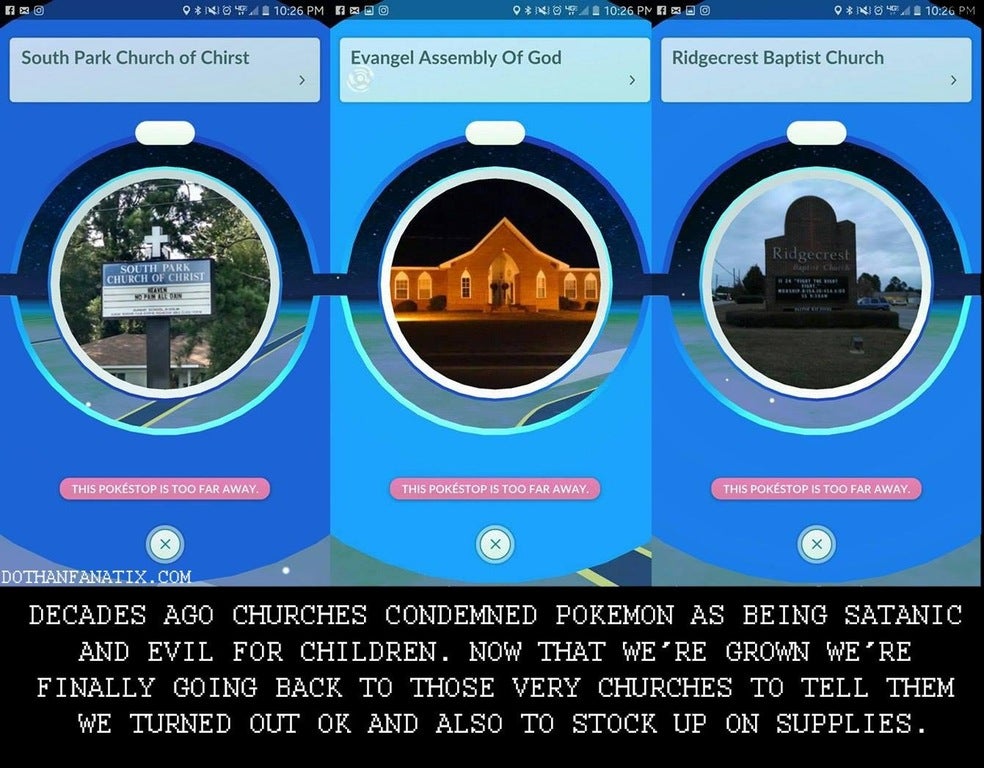 Image credit: Fanatix_phil
In response to this Pokémon Go quirk, many players are taking to social media to joke about their experience with churches, and it's a hoot. Here's a small taste:
My first two pokestops on Pokemon Go were at a church and thought God was telling me something. Then my 3rd was KFC and I knew he was right

— Jared Smith (@_jaredsmith13) July 7, 2016
you want me to go to church? #PokemonGO pic.twitter.com/WV6cMhSzzL

— Dazzler (@nabokovcocktail) July 7, 2016
Actual photo of me lowkey trying to catch Pokemon around a church. #gottacatchthemall #PokemonGO pic.twitter.com/kepRui6Hlq

— 호모 키티 (@andyh00ker) July 7, 2016
I need Pokéballs for #PokemonGO, and the church next door is a Poké Stop, but a funeral is going on #decisionsdecisions #gottacatchemall

— Jack Williams (@JWillsNH) July 7, 2016
"You went to the Baptist Church?"

Yeah, to DESTROY a Caterpie. #PokemonGO

— That One Ever. (@EVERsaur) June 17, 2016
My nearest gym is a CHURCH. I'm gonna be praying a lot more often ?? #PokemonGO

— ️emily️ (@harryizard) July 6, 2016
>tfw the first time you went anywhere near a church was because it's an item drop zone in Pokémon GO.

Yeah man I love Jesus.

— XD (@coffey_joe) July 6, 2016
Help, Pokemon GO is trying to make me go to church. I DON'T NEED POKEBALLS THAT BADLY, OK?

— Crispy (@CrispyLovesYou) July 7, 2016
#PokemonGO literally telling me to go to church

I have sinned pic.twitter.com/Maj9FbLFHU

— ☆Doop Cat-Climax!☆ (@doopypaws) July 7, 2016
I find it shady that I have to go to church to catch a ponyta #PokemonGO

— Lisafer (@_lisafer) July 7, 2016
PokemonGo: Take more walks and go to church.

— The CynicalHound (@CynicalHound) July 7, 2016
This game is trying to make me go to church #pokemongo pic.twitter.com/h3SX4uHMNE

— ☠Terrible Horrible☠ (@thelfr) July 7, 2016
Pokemon Go (To Church)

— thirstiest d.va na (@golbette) July 7, 2016
I haven't been to church in years #PokemonGO pic.twitter.com/vrDY9zCebn

— Emmie EmEm (@emxutaxmine) July 6, 2016
nice try pokemon go but you cant make me go to church pic.twitter.com/E3zjP1BFzf

— kenneth (@KennethAballa) July 6, 2016
Downloaded Pokémon Go and it told me my nearest shop was in our local church down the road. Nice try, God!

— ✨ Reaperfox ✨ (@Reaperfox) July 6, 2016
Pokemon GO: Forcing your kids to go to church has never been this easy. pic.twitter.com/l3DB8y2U0r

— Kevin Enriquez ❌ (@KevEnriqz) July 6, 2016
So the church next to my house is a PokeStop in Pokemon Go which means I can finally tell my grandma about all the time I spend at church.

— Bebo (@GameWireWarrior) June 9, 2016
Bah, the nearest poke-center in Pokemon Go is a church. Fuck that. :O

— Starbeast (@DrgnExile) June 7, 2016
Our first Pokemon GO gym is at the local church. pic.twitter.com/rEAwDWAAnn

— Verv (@Semecora) July 7, 2016
I feel like #PokemonGo is trying to tell my gay ass something, making the nearby church a gym. pic.twitter.com/KjA3pXgGbq

— Lil Maplewood (@MayoMaple) July 7, 2016
What if #pokemonGO is just a conspiracy to get young people go to church?

— Yocchan (@ninryu) July 7, 2016
walked to a spooky church at 3am to catch pokemon. pokemon go has changed everything 10/10 would recommend

— Pappy (@DaylanDeAngelo) July 7, 2016
Pokemon go keeps trying to make me go to this abandoned church and I ain't about that

— disorder (@NaeNaeAllDayDay) July 7, 2016
That moment when every pokemon center in pokemon go is a goddamm church.

— Fernando (@xCpTxNoNo1) July 7, 2016
I LITERALLY HAVE TO GO TO CHURCH TO GET POKÉBALLS AND ITEMS IN #PokemonGO LIKE GAME PLEASE. ARE TRYING TO TELL ME SOMETHING??

— Alyssa (@My_9_cats_and_I) July 7, 2016
MFW after scoffing at religion all my life, #PokemonGo will be the thing that makes me go to church pic.twitter.com/WOLBJ9QeWZ

— Sofie B. Game (@sofieballgame) July 7, 2016
Got it working in the end & made some progress today. My first Gym is a church. Time to spread the sin ??#pokemongo pic.twitter.com/VaSP1a9kHB

— Marley Salt Prince (@PonderMoofin) July 7, 2016
One of my Pokestops for PokemonGo is the Presbyterian church
Does that mean I have to convert

— King Rat (@insidemyfire) July 7, 2016
"Sorry im late for work, but I was hunting a #ghastly in my local church." True story. #PokemonGO @Pokemon pic.twitter.com/byw7gqIisJ

— Goat. (@HeatherPhetish) July 7, 2016
Pokemon Go gives me a reason to go to church every day cause the village church is a pokestop.

Video games are incredible

— Laci (@laciduspenna) July 7, 2016
pokemon go has me walking to church at 7am

— charlie (@ddeimos_) July 7, 2016
Thank you jesus for these Pokeballs bless pic.twitter.com/0nEA6z45aR

— ✨follow ur sin✨ (@acosmos) July 7, 2016
Why so many churches? This is just a guess, but I'm assuming it is because they might turn out to be safer to visit than your average locale. The GPS system that the game uses is also simply marking many of the man-made landmarks near players, and, well, some players just happen to live near more churches than anything else. Regardless, guess I better brush up on the good word of Arceus, our lord and saviour.