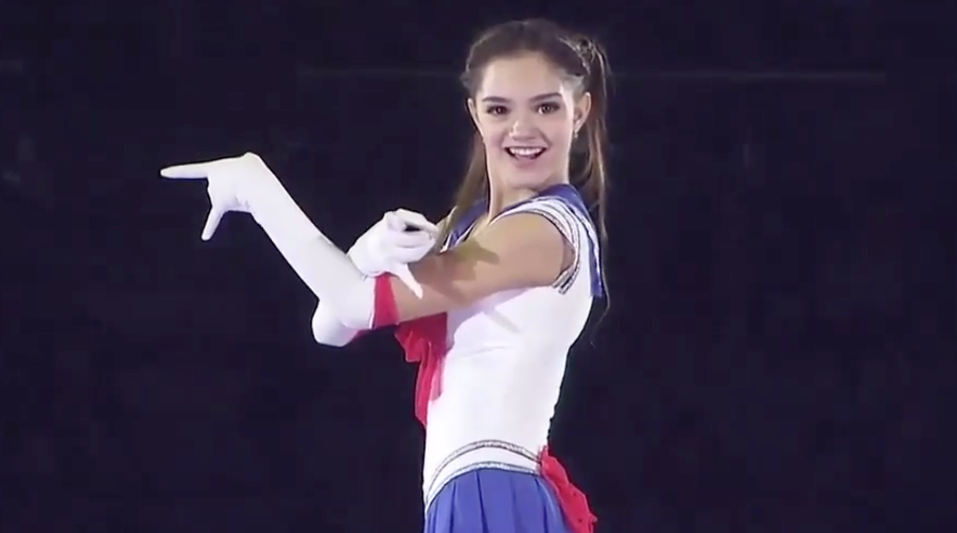 This is Evgenia Medvedeva. She's a 16-year-old champion Russian figure skater. And she totally loves Sailor Moon.
[Image via kobachiba01]
She not only watches the anime, but recently did a special Sailor Moon themed skate program:
エフゲニア・メドベージェワ「ドリーム・オン・アイス2016」
セーラームーン エキシビション動画

可憐ですな。セーラームーンが本当に大好きなのが良く判る。#フィギュアスケート #メドベージェワ #ドリームオンアイス pic.twitter.com/jGOK0zDZxB

— こばちば(´・ω・`) (@kobachiba01) July 9, 2016
Which made news in Japan:
メドベージェワちゃんが本物過ぎる件。 pic.twitter.com/diIJczSGTA

— ネガソニック・モンマゴウ・ウォーヘッド (@monmago) July 2, 2016
Medvedeva is also studying Japanese and can apparently sing the Sailor Moon theme in its original language.
衝撃を受けたメドベージェワのセーラームーン衣装。違和感なく着こなせるのは流石としか言いようがない https://t.co/mVmOsBXIGW pic.twitter.com/4UVOArsQWD

— フィギュアスケートまとめ零 (@xxredse) July 2, 2016
Her Instagram and Twitter are filled with Sailor Moon photos.
Moon prism, make-up!?? #GN #SailorMoon pic.twitter.com/LSnvV0TJoF

— Evgenia Medvedeva (@JannyMedvedeva) April 29, 2016
She also recently met Sailor Moon creator Naoko Takeuchi:
Why just skate for gold when you can skate in the name of the moon?!