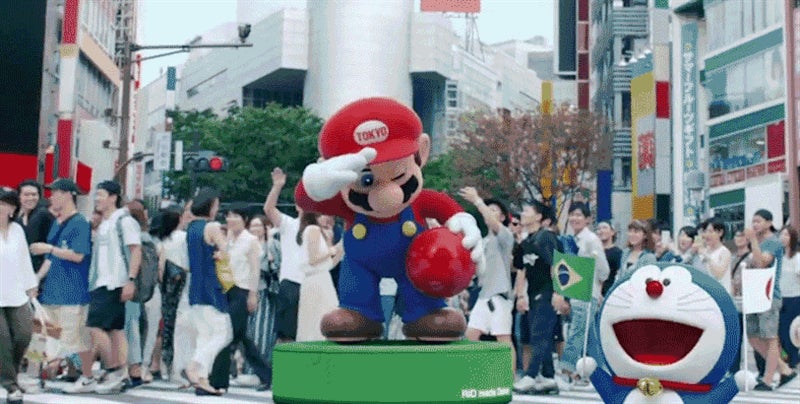 During the 2016 Rio Olympics' closing ceremony, Japanese Prime Minister cosplayed as Mario. Well, sorta. You probably thought it was cool. Beat Takeshi did not. [Gif: Deadspin}
On a recent episode of his current events show Takeshi's TV Tackle (via Daily), the famed actor, director and comedian said the Prime Minister's appearance "wasn't good".
"Although Mr Abe showed up as Super Mario, whichever way you think about it, unless he came out as Ultraman, Pikachu or Godzilla, it was no good. There really isn't that much of an impact."
Mario is neat and all, but Ultraman costumes are fantastic. For example, imagine him in this.
未来は変えられる #ulden #ウルトラマンオーブ pic.twitter.com/BaDzYNjbSU

— 草々太郎 (@coretechhakai) August 20, 2016
Takeshi isn't criticising Mario per se, but rather, the Prime Minister's showmanship.
Continuing, he explains, "It's no good wearing a business suit. It's no good unless you wear an Ultraman costume. You gotta have that connected to wires." Takeshi added that the politician could then fly in.
Like this, I guess?
スペシウムゼペリオンに変身中でもカラータイマーが点滅している細かさ。#ウルトラマンオーブ pic.twitter.com/Q4dM9eztvR

— おこめ@ガンバライダーガンテツ (@okome9497) August 20, 2016
Yes, like this.
Ultraman might not have the same international recognition as Mario, and I personally love how the Tokyo Olympics is turning out to be the geekiest yet, but, safety and security concerns aside, he might be right about the wire-flying bit.