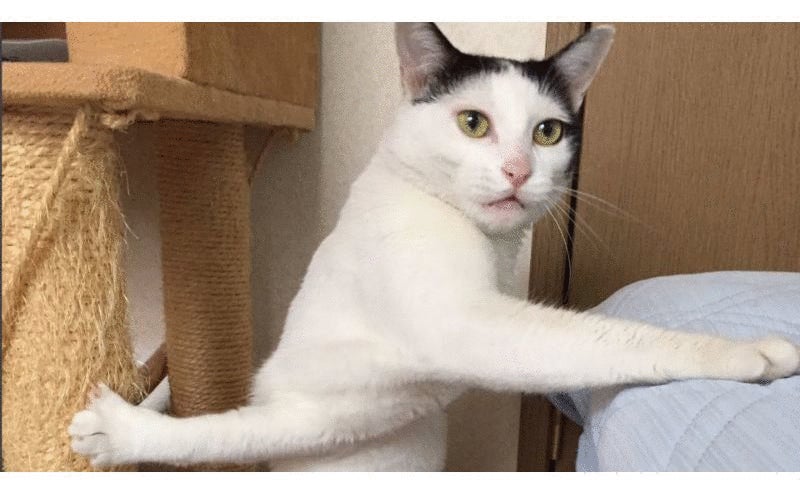 You know you've made it if Pewdiepie retweets you. Congrats, stuck cat, you've made it!
[GIF via aktfps | nikukyu_inc | dinoshas]
Twitter user Aktfps snapped an amusing photo of a poor feline friend with its claws stuck in a scratching post and on the bed. Don't fret, the cat is ok, and this tweet, IT Media reports, racked up 30,000 retweets in its first four hours of going live.
キャットタワーとベッドに同時に爪が引っかかってしまった猫ちゃん pic.twitter.com/tzgFKW7YST

— akt (@aktfps) August 13, 2016
There is something either incredibly profound about this tableau or it's just prime fodder for fan art and Photoshops.
キャットタワーとベッドに同時に爪が引っかかってしまった前川 pic.twitter.com/ENL3xEiIIo

— ノビタ (@nobita_4) August 14, 2016
オリンピック出場決定https://t.co/0LC0aGqW7t pic.twitter.com/fzyOfVOLjI

— まさトピアGO (@masaK9) August 13, 2016
@aktfps @pewdiepie pic.twitter.com/OfBCXs25Mb

— Dinoshas (@dinoshas) August 13, 2016
全盛期の小室だ pic.twitter.com/JGoOPDU6wf

— サドルとペダル (@Pedalandsaddle) August 13, 2016
@aktfps so my friend did it too. @StreetFighter pic.twitter.com/HW96iFB8Tu

— Super Shotgun (@Super_Shotgun) August 17, 2016
@dinoshas @aktfps @pewdiepie つい対抗しちゃいましたw pic.twitter.com/6X25XB9yMq

— ニクキュー (@nikukyu_inc) August 13, 2016
@aktfps greetings pic.twitter.com/Hn3Nx5Kqbi

— ktysysl (@ktysysl) August 15, 2016
@aktfps pic.twitter.com/2l8AgvoGWK

— ひつよう#間取りメーカー (@hitsuyo) August 13, 2016
from RUS with love @nikukyu_inc @dinoshas @aktfps @pewdiepie Многозадачная кошка Ван-Дамма pic.twitter.com/JFtC4tvSl1

— Телеканал Че (@chetvru) August 15, 2016
@aktfps pic.twitter.com/1d4DBQucqg

— ひつよう#間取りメーカー (@hitsuyo) August 13, 2016
猫ガイル QT @aktfps キャットタワーとベッドに同時に爪が引っかかってしまった猫ちゃん pic.twitter.com/gUwzIZcOFt

— juː a.k.a ゅヽ(´ー`)ノ ぅ (@odorah) August 15, 2016
@aktfps Ok, here we go pic.twitter.com/uNgyP3KFOc

— Super Shotgun (@Super_Shotgun) August 15, 2016