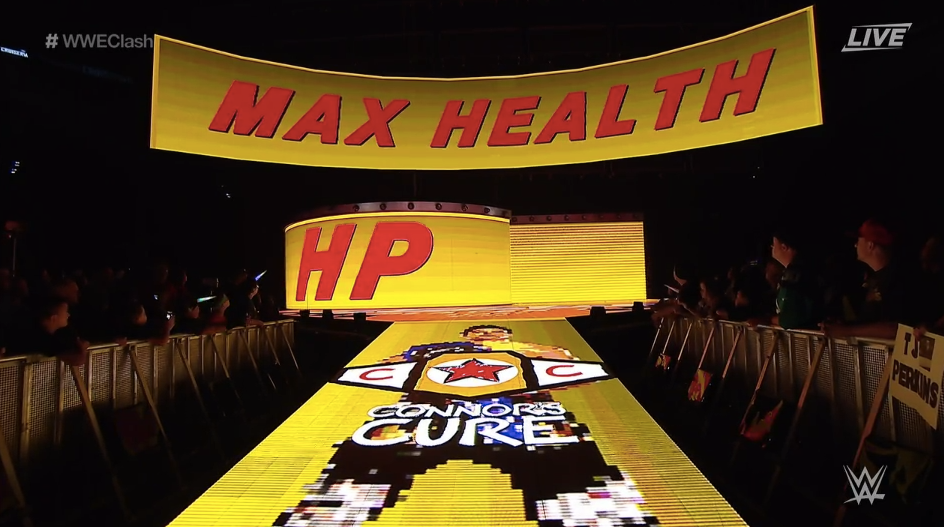 It looks like WWE cruiserweight champion TJ Perkins is going to give Xavier Woods a challenge for the title of top video-game-crazy pro wrestler. Woods may have a popular YouTube gaming show, but Perkins now has a killer gaming-themed ring entrance.
Perkins' new entrance was part of Sunday night's Clash of Champions WWE special. Note the health bar, the power-ups and the eight-bit look (via r/squaredcircle user SgtDrP3pp3rs):
And if that was all too subtle for you, the official name for his official theme music? "Playing With Power."
Whoever runs the official Mega Man Twitter account was impressed:
Congrats to @MegaTJP for the win at #WWEClash and we love the new entrance! Fight on champ, for everlasting peace!

— Mega Man (@MegaMan) September 26, 2016
So was Woods:
And yes, I'm extremely jealous of @MegaTJP entrance theme. It's absolutely fantastic!!!

— Austin Creed (@XavierWoodsPhD) September 26, 2016
And so was fighting game legend Justin Wong (who Perkins retweeted):
Ok... @MegaTJP intro is the best! 8-bit intro! Let's go TJ Perkins!!!! Win win win! #WWEClash

— Justin Wong (@JWonggg) September 26, 2016
Perkins has been Tweeting and retweeting about the entrance (and his successful title defence) since last night. And while he may follow an Overwatch meme account, it sure sounds like his tastes run more old-school. As he Tweeted back to Woods:
Pixels is our blood.. @XavierWoodsPhD https://t.co/6jZZBK3w31

— ??TJ Perkins?? (@MegaTJP) September 26, 2016