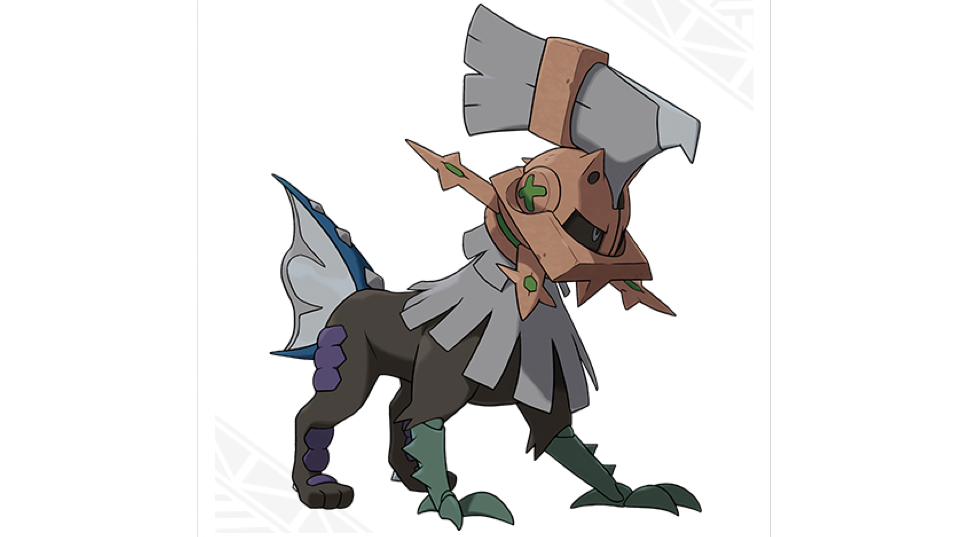 The latest Pokemon Sun and Moon trailer features a rather unusual Pocket Monster, even by Pokemon standards, called "Type: Null". There are already theories about what exactly is up with this Pokemon. [Image via Pokemon Company]
Where to start? Type: Null is one odd name, there's that medieval-looking thing it has going on, and it appears to be a chimera.
Here is the official description of a rather abnormal-looking Normal-type Pocket Monster:
This Pokemon wearing a mask has been dubbed "Null," meaning nothing.
The shapes of its front and hind legs are clearly different. The reason is that Type: Null was constructed to synthesise the strengths of various Pokemon, enabling it to adapt to any situation.
The mask fitted to Type: Null's head is a piece of equipment designed to control its latent powers. It's extremely heavy, so it also serves to hinder Type: Null's agility.
Hrm. The character has already evoked interesting reactions and theories:
? Anyone else noticed how Type: Null's "Arceus Ring" have Zygarde Hexagons as well? https://t.co/EisLradWwQ

— The Hooded-Guru ? (@StaticPowah) September 7, 2016
Type:Null looks like Jangmo-o with a bunch of weird experiments done to it. pic.twitter.com/9vDUgG5ot3

— Chef Lu [email protected] (@Chef_Lu_Bu) September 6, 2016
Type: Null is made up of the parts of different Pokemon like this is some dark shit.

— ARIEL (@arielnano) September 7, 2016
Any one else think type: null's base was an absol #PokemonSunMoon #typenull pic.twitter.com/P3pIXHgpUq

— PAB (@wyvern_masher) September 7, 2016
Type: Null is a freaking chimera. Fullmetal Pokemon confirmed.

— 「Brennan Williams」 (@GREATBLACKOTAKU) September 6, 2016
So.. Type null was an attempt to recreate Arceus? https://t.co/ghONnGbghA

— Zinogre mom (@MomMod2k16) September 7, 2016
Type: Null looks like a chimera that was supposed to recreate god. Sun/Moon is Fullmetal Alchemist. pic.twitter.com/0WtWWMy3FU

— Nathan Sharp (@NateWantsToBtl) September 6, 2016
Type: Null is interesting and all but Digimon did it first pic.twitter.com/qofGAEs0Po

— Typing of the Red (@Jiikae) September 6, 2016
that actually seems entirely reasonable with type: null and arceus

— martyn? (@ixaIis) September 7, 2016
There are more theories on YouTube, too, about the character and how it fits into the larger picture of Sun and Moon:
Interesting, but this could be a lot about nothing. Literally.