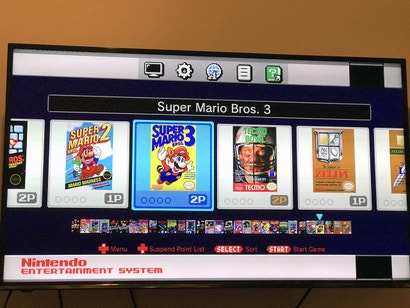 If you want to see this glorious screen on your TV come Christmas, then you'll need a Nintendo Classic Mini NES. And if you want to get one of those without paying an exorbitant amount to a hawker on Ebay, you'll need to buy from a retailer.
EB Games tried to kick off their second round of pre-orders yesterday, only for their site to crash in a fireball of disappointment. So the retailer is reopening pre-orders today.
The link is to pre-order is here.
Because EB couldn't handle the flood of interest, and their Twitter was essentially a rolling apology to customers more or less saying there's nothing they could do about it, today is the second opportunity to get in on the second round of pre-orders for the mini Nintendo console.
Yesterday they said that they had increased their server capacity to handle "anywhere up to 60,000 simultaneous customers" on their website. Given how much EB made a point of saying how few units they had, I'm pretty sure that means that the second shipment today will be gone in a couple of minutes.
If the site doesn't crash again, at any rate. 60,000 isn't a whole lot of people, especially if everyone rushes to the site at the exact same time.
Remember: everything kicks off at 12:00 PM AEDT (10:00 AM for Perth, 11:00 AM in Queensland and 11:30 AM in Adelaide).
Image: ebgames.com.au
For those looking to get extra controllers or accessories: try and buy them now. The same link will take you to pre-orders for the Mini NES when they're open, too.
To speed up the process, you might as well go and sign up for an EB World account. It will allow you to have your billing and shipping details saved automatically, which should shave some crucial seconds off the buying process. (And if EB are expecting more than 30,000 customers at least to be hitting the site at its peak, every second counts.)
In the interim, re-read all the fury from customers who couldn't complete their orders yesterday. I swear you won't see history repeating today. Honest.