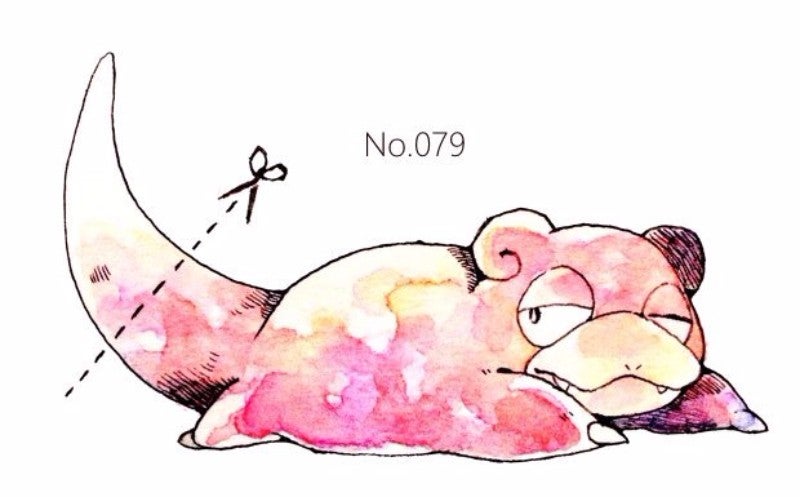 Slowpoke tails are nutritious and delicious! We've known that since Pokémon Gold and Silver. And now, we get to know that some more.
Previously, Slowpoke tail plushies went on sale in Japan.
ヤドンのしっぽってどんな効果だっけ pic.twitter.com/Ib2Wyys4dH

— ʚ[email protected]/26 E-173ɞ (@sakura11377692) September 11, 2015
Time for Alolaaaaaaa ♪v(⌒o⌒)v♪ pic.twitter.com/rl7aVskHbx

— slowpokes (@bellicife) November 18, 2016
And in Sun and Moon, we have this...
mm...slowpoke tail stew.... pic.twitter.com/vvEY8GUv3T

— brooklyn ☆ (@angeIjoe1123) November 20, 2016
Why is Slowpoke's Pokedex entry solely just the best way to eat it??? OMG??? RUN SLOWPOKE, RUN FOR YOUR LIFE. pic.twitter.com/3AQatwkvLY

— Steph (@ObscuredByCloud) November 20, 2016
Goodness.
OH GOD SLOWPOKE'S POKEDEX ENTRY IS ABOUT THE BEST WAY TO EAT IT NOOOOO #PokemonSunMoon

— Erika Harlacher (@ErikaHarlacher) November 21, 2016
Also I caught a Slowpoke like, ok cool, then I read that ALOLANS EAT SLOWPOKE TAILS.
THEY EAT THE POKEMON.
WHAT.

— Jenn (@sallyslytherin) November 19, 2016
But we've known people eat slowpoke tails since gold and silver https://t.co/3VhQGYTsZI

— Prime (@oblivious247) November 21, 2016
There's more.
So they're retconning Team Rocket's "cut off Slowpoke tails and sell them" plan to be less horrifying? Lame. pic.twitter.com/X3SXLYXEpw

— Zuldim (@Zuldim) November 19, 2016
Huh, I thought cutting off and selling Slowpoke tails was illegal or heavily frowned upon in the Pokémon world. pic.twitter.com/Ni9PKPRqOf

— Gay Werewolf Santa (@ZoroarkWizard) November 19, 2016
This is grim stuff!
ヤドンのしっぽ✂ pic.twitter.com/ACmv9kYiHj

— はくこう (@_siramine_) May 30, 2016
これも今見れば何がしたかったのかランス様、ヤドンのしっぽの時点でかっこよさ皆無ですよ気づいてくださいランス様、ランス様 pic.twitter.com/SNdik328Q7

— 志祈@ポケモン? (@shiki_0778) October 26, 2015