Once again, the tireless bargain hunters at Lifehacker have trawled the depths of the internet to find you the best geeky gifts for Christmastime. Whether you're shopping for a gamer, a film buff, an avid reader or a pop culture fanatic, you're going to find plenty of gems in this epic loot guide which covers every budget. We've also included online shopping links for all 60+ products.
The following geek goodies have been sourced from a variety of online stores with prices starting at just $4. Some products are only available from international sellers, but you should still get them in time for Christmas if you order in the next few days.
You should also keep an eye out for special holiday promotions in each store. For example, ThinkGeek is offering 20% off orders over $40 (use the discount code 'SEASON') as well as free international shipping for orders over $150 (use the discount code 'GIFTYSHIPALL'.) Red Bubble is knocking 10% off for new members. And so on and so forth.
We've endeavored to link to the cheapest stores for each product (including shipping), but you might be able to find a better deal if you hunt around. Happy shopping!
$4 – $25
If you're looking for a secret santa gift that your co-worker can actually use, look no further.
---
This one's just cute, mmkay?
---
The Doctor Who TV Christmas special has become a traditional part of the holidays for geeks the world over, which makes this the perfect gift idea. You can also get Dalek and Cybermen variants.
---
Most sun shades are plain and boring. This sun shade turns your car into the Millennium Falcon.
---
It's River Song's diary from the sixth season of new Doctor Who. But even if the Whovian in your life proscribes to the classics, it's still a Tardis-shaped journal. What's not to love?
---
What do you get the Dungeons & Dragons fan who has everything? A mug fashioned into the shape of a 20-sided dice, natch.
---
"I love the Power Glove. It's so bad." Get out of my dreams and into my cart!
---
[clear] Stick hot liquid into this mug and watch Mario spring into life.
---
Remember when companies used to produce colouring books for kids based on highly inappropriate action movies? This is in the same vein. Plus, the film takes place at Christmas so it's perfect!
---
Instead of vegeing out while drinking your morning coffee, build some crappy LEGO.
---
Remote Play is a mobile app that lets you play PS4 games on select Xperia smartphones and tablets. To get the most out of this application, you need a mount for your phone and PS4 controller, which is where the GCM10 comes in. (See it in action here.) The mount is compatible with screen sizes 4-to-8 inches.
---
We've discussed at length which Pokemon we would most like to eat: this cookbook is the cruelty free version. Instead of catching, butchering and cooking pokemon, it explains how to create fake ones out of various foodstuffs. Bless.
---
This two-disc Blu-ray of Mad Max Fury Road comes with both the theatrical cut and the visually stunning Black & Chrome Edition. There are also a bunch of special features. Not bad for 20 bucks.
---
You're looking at a 165-piece Skeletor statuette with 8-bit stylings. It doesn't get much geekier than that.
---
Teach kids the importance of saving money while also giving them nightmares. The sculpt is based on the original Xenomorph from the 1979 horror film Alien, complete with the creepy skull details you barely see in the movie.
---
This is a Star Wars graphic novel set between A New Hope and The Empire Strikes Back. Guaranteed to make any Vader fan wheeze with excitement.
---
If you know any pre-teen Minecraft fanatics, this is the gift to get them: in addition to mimicking the game's pixelated aesthetic it also lights up.
---
$25-$50
Divided into six chapters, this is a great gift idea for any die-hard Game Of Thrones fan who also happens to be a gamer. The game follows events and characters not covered in the books or TV show but there are still plenty of familiar faces and voices, including Natalie Dormer (Margaery Tyrell), Peter Dinklage (Tyrion), Lena Headey (Cercie) and Kit Harington (Jon Snow). It's available for PS4, Xbox One, PlayStation 3, Xbox 360, PC, Mac, iOS and Android.
---
We featured this one in last year's guide but felt compelled to bring it back. If you know a Star Wars-loving couple who live in the same house, you won't find a better gift than this.
---
Stan "The Man" Lee (the co-creator of Spider-Man, Hulk, Fantastic 4, The Avengers and countless other super heroes) gets the biography treatment in graphic novel form. 'Nuff said!
---
Blake J Harris' Console Wars gives a fascinating insight into the battle for video game supremacy waged between Sega and Nintendo in the early '90s. It focuses on the exploits of Sega America's CEO Tom Kalinske and his gung-ho team of marketers, strategists and engineers. A movie adaptation is currently under development (ironically from Sony) with Seth Rogen and Evan Goldberg tipped to star.
---
If you can stomach the vulgar slogan, this T-shirt basically turns you into a Krang-operated android called NT-01 Cerebral. Instant cosplay!
---
We changed our minds. This is the geekiest thing on the list.
---
The life and times of Gary Gygax; creator of Dungeons & Dragons. The biography every geek should own.
---
From Kotaku's own Brian Ashcraft and Luke Plunket comes this glossy celebration of all things cosplay: it contains a detailed history of the phenomena, interviews with the biggest cosplay celebrities, tips on creating your own costumes and over two hundred photographs.
---
We've written about this t-shirt before. It still makes us giggle.
---
For the Khaleesi/Khal in your life. The tin contains a severed plush dragon's head but this thing will look much funnier unopened in your pantry.
---
AT-AT and Ewok Dog Costumes [$30], [$36]
Can a pet dog be driven to murder its owner? Buy this and find out!
---
Does exactly what it says on the tin. A tome to all things Murray.
---
"ENGLISH, MUDDY FUNSTER, DO YOU SPEAK IT!"
---
This is a fascinating business book from the co-founder of Pixar Animation Studios, Ed Catmull. Drawing insights from the studio's famous "Braintrust" sessions, Catmull explains how to build a creative culture in the workplace that will lead to better profits. A great gift idea for white collar relatives.
---
112 pages of amazing Labyrinth art, made extra poignant by David Bowie's untimely demise. A perfect gift for any Goblin King fanatic.
---
Between Pokemon GO and Pokemon Sun and Moon, 2016 was the year of the Pocket Monster. Celebrate with these adorable Poke Ball bowls.
---
Makin' pancakes, makin' bacon pancakes!
---
Behold: a twelve-foot multicoloured scarf modeled on the fourth Doctor's. I know it's Summer in Australia but this is still the best gift a Whovian could ask for.
---
Anyone who is keen to see the new Star Wars movie will be sure to love this lavishly illustrated tome. It contains 200 pages of art and facts about Rogue One's universe and characters.
---
Yes, the Tomb Raider franchise really has been going for 20 years. (If you were around for the first installment; yes, you really are that old!) This deluxe 360-page hardback book charts the rise, fall and rise of Lara Croft across gaming and pop culture.
---
This 320-page tome is chockablock full of classic strategy guides and features from Nintendo Power magazine. Best of all, it's designed to resemble a NES cartridge. How cool is that?
---
This is a lavishly illustrated coffee table book that collects the best conceptual artwork from the Star Wars universe; from Ralph McQuarrie's designs for the original trilogy to the latest video game output.
---
This hardcover book from DC Comics celebrates all things Wonder Woman over 300 pages. With the movie just around the corner, this is a fine gift idea for Wonder Woman fans new and old.
---
In addition to hundreds of pages of sumptuous game art, this book includes in-depth interviews from the creative minds behind many of the featured images.
---
Is there a single product on this God's green earth that doesn't have R2D2 slapped on it?Once we could have said teapots. Not any more.
---
This clever book presents itself as an official Weyland-Yutani document (AKA the sinister mega-corporation that pulls strings from behind the scenes in the Alien franchise.) It contains extensive information on the characters, locations, vehicles, and weapons from the movies, along with an in-depth breakdown of the Xenomorph's life cycle – all written completely straight as if all this stuff really happened.
---
The first book in George R R Martin's A Song Of Ice And Fire saga now comes in an illustrated edition. There are 73 black-and-white illustrations, plus eight colour plates by various artists.
---
$50-$100
God I want this. This deluxe coffee table book contains 352 pages of fabulously retro Atari art spanning 40 years of gaming. If you know a gamer over 30 or a serious collector, this is the gift to get.
---
This rug will really tie the room together.
---
5.0.3
Remember Zelda? She's back. In Monopoly form.
---
Black Milk is the king of geek-friendly leggings and lycra wear. Their collections include everything from Marvel superheroes to fantasy sagas like Game Of Thrones. Prices start at $60.
---
[clear] This cute skirt contains over 250 tiny LEDs that sparkle like stars. For the stargazer in your life.
[clear]
Endlessly quote Ghostbusters while assembling the Ecto-1 with your kids and/or significant other. If there's a better way to spend Christmas morning we'd like to hear it. (Contains 508 pieces.)
---
Property trading doesn't actually exist in Westeros, which is owned by feudal lords. But whatever. This is still cool.
---
You're not a real Game Of Thrones fan until you've plastered George R R Martin's face into every conceivable crevice on your body. It is known.
---
Remember Zelda? She's back. In Chess form.
---
Ever wondered what a Star Wars stormtrooper transported to Feudal Japan would look like? Wonder no longer! This fully articulated action figure boasts a range of weapons and stands an impressive eight inches tall.
---
This is the holy grail Christmas gift of 2016. A worldwide units shortage coupled with online sales snafus has made this console frustratingly difficult to get hold of. Target will apparently be selling new stock this Monday. You can find additional buying tips here.
---
$100-$150
LEGO has clearly run out of TV shows and movies to adapt into plastic blocks. So it's turned to the Fab Four instead. Groovy. (Contains 553 pieces.)
$150+
The Xtreem SkyRanger Video Drone is suitable for both indoor and outdoor use and shoots video at 720p, giving you a bird's eye view of flights on your smartphone. Here are the features and specs.
---
This was the #1 toy on everyone's Christmas wish list last year and it's as great as ever: a remote control droid that you operate with your smart phone. So cute!
---
It's that stupid broadsword/lightsaber from Star Wars: The Force Awakens. You know you want it.
---
The Star Wars Sixth Scale Collection does exactly what it says on the tin. For cashed-up uber geeks only.
---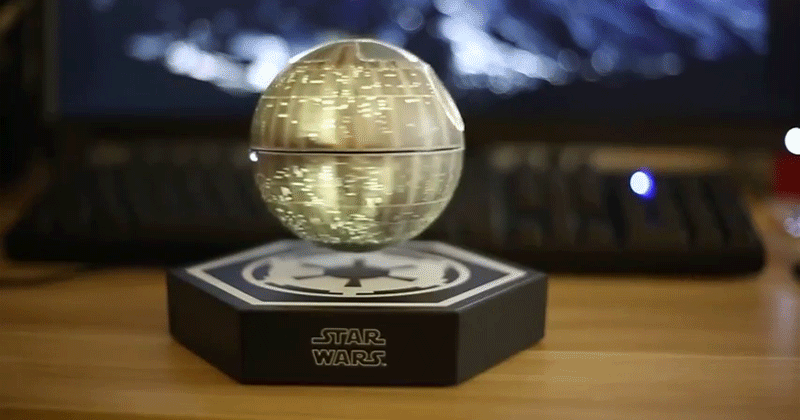 It's a revolving Death Star-shaped wireless speaker that floats. Ready your Imperial March MP3s.
---
This is no cheap, plastic Pip-Boy replica: it comes with functioning buttons, speaker, display and on-board software that pairs with your phone or tablet via Bluetooth.
---
A deluxe coffee table book of original concept art for a little indie flick you may have heard of.
This self-contained drone is small enough to fit in your pocket and is designed for selfie addicts who have evolved from the stick. It sounds gimmicky but it's actually a very impressive piece of kit: you can watch us play around with one on this Facebook video.
Super-Rich Only
Life-size R2-D2 [US$$7450]
This is a to-scale R2-D2 sculpt that comes with screen-accurate lights and sounds and even an inbuilt holographic projector. At this price, Kenny Baker better be included.
This story originally appeared on Lifehacker