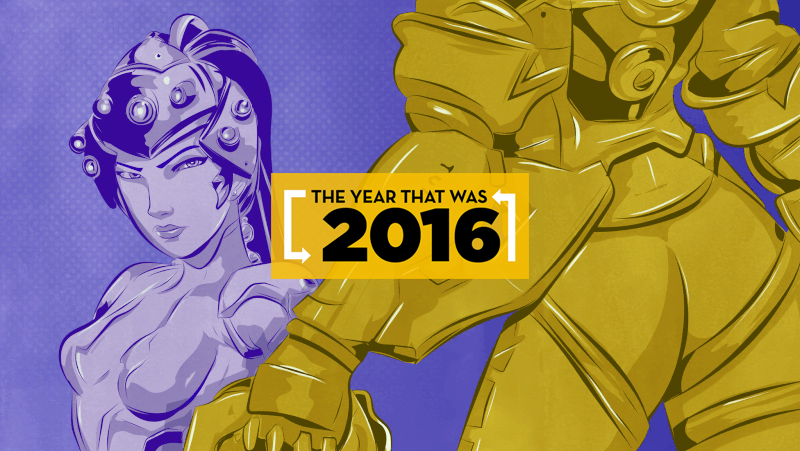 2016 was a big year for nerdy perverts. Overwatch alone probably started an entire sex industry, VR porn became the face of virtual reality and more games tackled raunchy subjects.
More than anything, 2016 felt like the year horny fandom took over the internet. We talked more about the characters people wanted to kiss and fuck than ever before, and we still probably didn't cover most of it.
Here's a look at our biggest sex stories of the year. May the thirst never be quenched in 2017.
Inside The NSFW World Of Fallout and Skyrim Nudity Mods
Skyrim Porn Has Gotten Millions Of Views On Pornhub
Let's See How Long It Takes Senran Kagura To Make You Uncomfortable
A NSFW Look At Every Game Twitch Has Banned
People Are Thirsty For Pokemon Sun and Moon's Hot New Professor
A Sex Video Game That Always Lets You Say 'No' [NSFW]
Overwatch Players Are Turning Support Into An Erotic Experience
Steam's First Uncensored Sex Game Is Actually Pretty Tame
Watch People Lose Their Shit Trying Out VR Porn
Sex Game's Safe For Work Mode Dresses Characters In Christmas Sweaters
Would You Fuck This Video Game Sex Machine?
And Now, The Inevitable Final Fantasy XV Porn Parody [NSFW]
One-Punch Man Sex Game Gets Discounts Right
It's Not Easy Putting A Gay Sex Game On Steam
Inside The Surprisingly Big Overwatch Porn Scene
VR Sex, As Predicted By An Australian Games Magazine
'The Big Erect One Looks Weird': What It's Like To Make Fallout 4 Dick Mods [NSFW]
Not Even The PS4 Can Save Heavy Rain's Terrible Sex Scene
Japanese 'Gore Erotica' Is Slowly Catching On In The West [NSFW]
Pokemon GO Nudes Are A Thing Now [NSFW]
A BDSM Game That Let Me Explore A New Type Of Sexual Experience [NSFW]
Dungeons & Dragons' Gradual Shift Away From Monster Boobs
Four Years Later, Mass Effect Fans Are Still Trying To 'Fix' Tali's Sex Scene [NSFW]
Genital Jousting, As Told By Steam Reviews [NSFW]
Two Years Later, The Sims 4 Sex Mods Have Gotten Intense
Sex Game Cancelled After Taking In Five Figures A Month On Patreon
Vagina Video Game Devs: Apple Asked Us To Change Everything For App Store [NSFW]