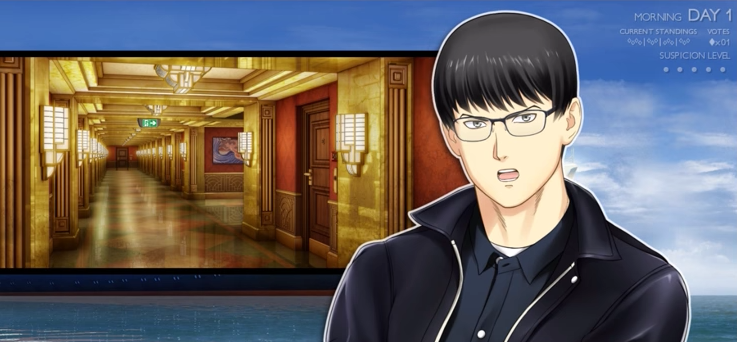 Ladykiller in a Bind
Kinky at face, Ladykiller in a Bind is not fucking around about fucking. But it's also not kidding about consent. Yesterday, developer Christine Love removed sex from a potential plot branch after players expressed discomfort.
Ladykiller in a Bind is an uncensored, queer, BDSM sex game that is now sold on Steam. Its alternate title says it all: "My Twin Brother Made Me Crossdress As Him And Now I Have To Deal With A Geeky Stalker And A Domme Beauty Who Want Me In A Bind!!." In Ladykiller, the protagonist, a lesbian woman dressed as her brother, hooks up with various women with various proclivities on a cruise. There are two male-bodied characters she can pursue, too.
Ladykiller's President (a man) is the sworn rival of the protagonist's brother, whom the player impersonates. In the game, he reveals himself to be a manipulative jerk. In a sexual context, his dark side is a lot to handle. The scene in question's script describes the encounter as a "hate-fuck." Essentially, the President manipulates the protagonist into giving him a blow job, but context surrounding the scene adds some nuance.
"Let me hear you say 'YES!'. Come on, where's that ENTHUSIASTIC CONSENT?" he says. He puts his hand on your character's neck. Begrudgingly, she's into it. The scene escalates. The script is online and, frankly, I found it hard to read. The scene was prefaced by several warnings and an opt-out button. Even reaching the scene takes a lot of effort.
In her latest Ladykiller patch notes, Love says that she removed the scene "due to strong player feedback." She adds that the scene has been "completely rewritten and now has a different tone."
Her explanation:
"The original goal of the scene was to demonstrate a darker — certainly not safe IRL — fantasy to contrast with the safety of the Beauty's arc. But even after multiple revisions, clearly a lot of players were extremely uncomfortable with its presence, and still ended up being blindsided — I think I failed to account for the player's context, and I'd rather the scene be gone than make anyone else uncomfortable."
Love said "no comment" when asked how many fans requested edits to the President's sex scene. Early on, Ladykiller warns that, "In real life, all power exchange must be negotiated."