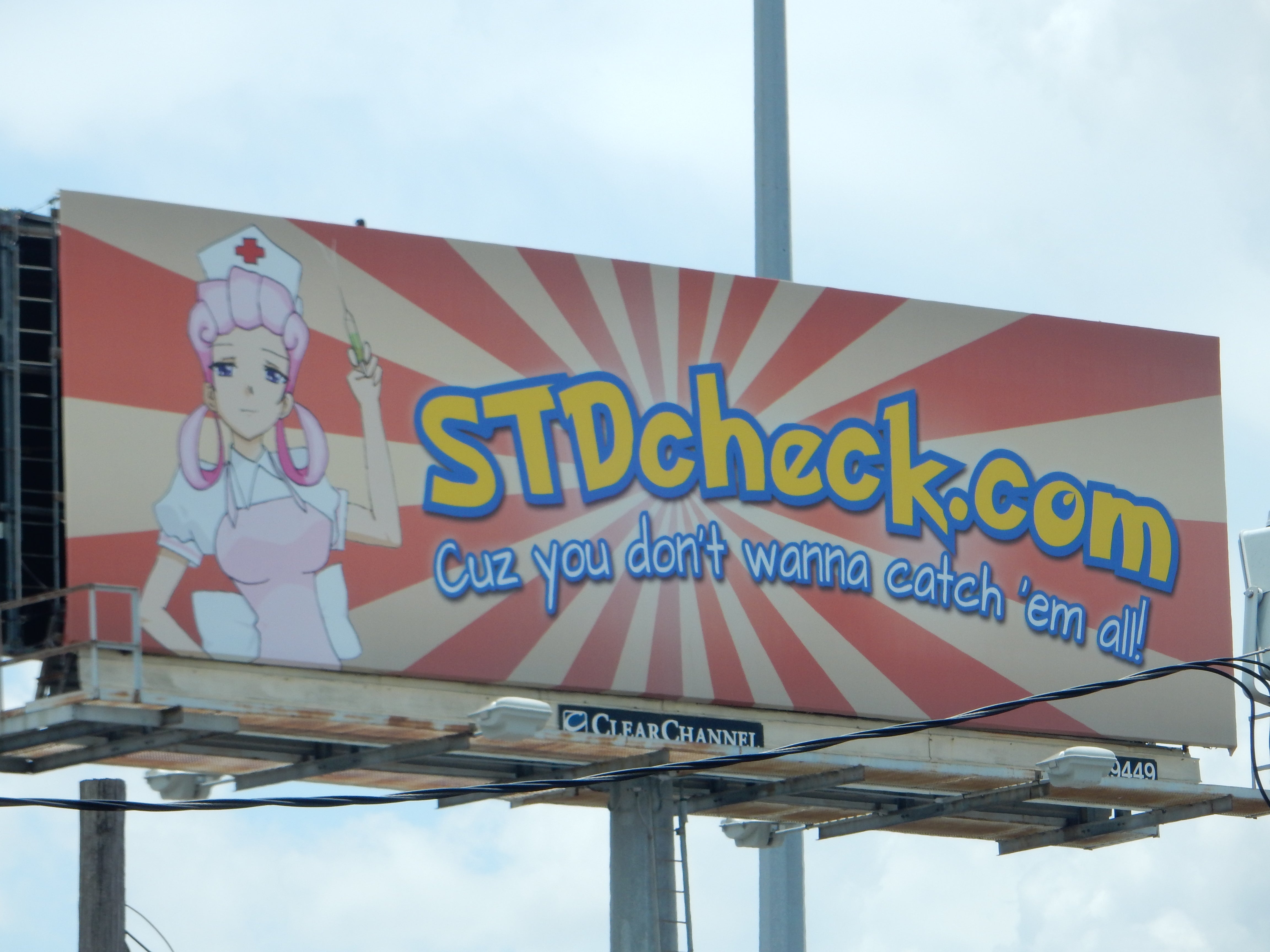 The above image is not new. It's been floating around online for a while, so it shouldn't be surprising. What might be, however, is just how often Pokemon is used for STD awareness.
The billboard is part of a free STD check campaign, which also ran another series of Pokemon-themed notices last year in several locations in the US. Recently, Redditor blueveinedlion uploaded one of those posters on r/pokemon.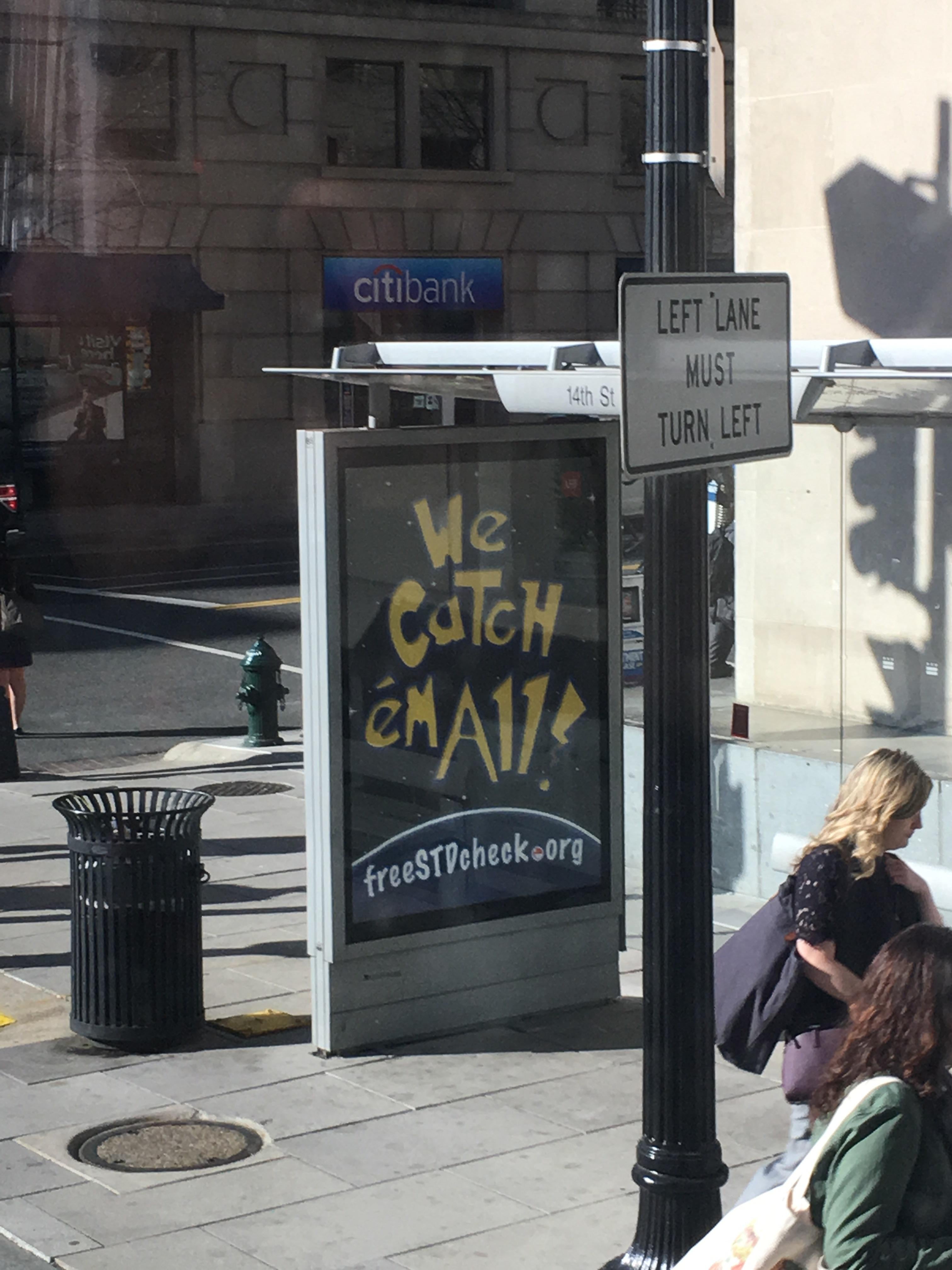 [Image: blueveinedlion | r/pokemon]
Here are more images of the campaign.
Clever advertising for an STD clinic hijacking Pokemon Go trend spotted in Washington DC! pic.twitter.com/6aFi8ubsHo

— Mike Coleman (@DigitalEmerald) November 9, 2016
Gotta catch'em all #PokemonGO #pokemon #std pic.twitter.com/hoJrBAePia

— Je suis Esdras (@HolaSoyGermama) October 3, 2016
A get STD tested Pokemon-themed Ad, "We catch 'em all." Whut? pic.twitter.com/cLRbI8gXQf

— Raksa (@yo_raksa) September 15, 2016
Seen A STD Sign In Hollywood, That Read "Gotta Catch Em All" In Pokemon Font || pic.twitter.com/OfE7PcEyl7

— MackWop (@MackWop) July 29, 2016
This isn't the first time Pokemon has inspired a campaign to catch, no, combat STDs.
Catch Pokemon not STD's pic.twitter.com/WNdOVmuuow

— natalie? (@natalieiguessss) July 14, 2016
Again, as Kotaku previously pointed out, this is not a first. At many academic institutions, Pokemon has used to raise awareness about sexually transmitted diseases and infections.
This is my STD bulletin board this month @CollegeSecrets1 #Pokemon #ResLife pic.twitter.com/c8xUJJwKcQ

— Travis Dasher (@TDash717) October 9, 2013
Each Pokémon card represents an STD pic.twitter.com/tMm0NMUIkg

— Danny Young (@trplrdPapichulo) March 9, 2014
Why is this in a college health center...? #Pokemon #STD pic.twitter.com/Acj8UKbPww

— Silly Pupper (Jay) (@JaytheWuffy) May 10, 2016
@TayGryph my uni did a Pokemon themed std awareness poster a few years ago with the same theme. pic.twitter.com/GJNfhqmLW2

— Francis @SnackFalcon (@FluffyFrancis) July 15, 2016
My floor's theme this semester is Pokemon and our safety theme is STD prevention pic.twitter.com/VG5jNEkKNc

— Bradley Blecker (@BradleyBlecker) March 15, 2016
Pokemon themed STD awareness at my school #goRichmond pic.twitter.com/NTb9uymUU3

— Marc (@_maaarc) September 15, 2015
Hahaha STD Pokemon pic.twitter.com/44V7Q4Tj

— [email protected]? (@LattMash) November 5, 2012
Educate yourselves via my Pokemon STD awareness wall. pic.twitter.com/2fWUmCI9uD

— Tia Ross (@brave_tia) October 9, 2013
@kevinmurray95 Pokemon themed STD poster. Thought you'd like it. #gottacatchemall pic.twitter.com/OymL5uUmnd

— J Stan (@jstan009) September 10, 2013
Lmfaoo today I noticed the Pokemon theme std awareness poster things in my school's hallway pic.twitter.com/1VS4MtN086

— sol y sol (@_cacarot) January 28, 2015
STD's arent Pokemon dont catch em all. pic.twitter.com/fQS6SvPN

— Fuck clothes. (@Charmster_Yo) January 6, 2012
STD Pokemon... pic.twitter.com/vsgXOHYPNu

— *BURGERS* (@Universe_Cafe) December 30, 2014
STD's pokemon reference?
CB#:
419-889-2980 pic.twitter.com/z1AIwftlwE

— Mike II (@captainpatton1) October 29, 2014
Large Bulletin board! Done! #Floor7FluffyTown @MacEwanResLife #Pokemon #STD's pic.twitter.com/irvf4GvJnS

— Brandon Stewart (@StewArtistry) September 29, 2013
"@alli_srmek: My RA decorated this Pokémon board in our hall referring to STD's? pic.twitter.com/liPVkpPV3Q" I helped him cut out syphilis

— Mikayla Brett (@mikmay8) October 16, 2014
S/o to my hall for turning Pokemon into STD's pic.twitter.com/iME7kKmlQp

— Kaitlyn (@thatradnomad) September 2, 2014
USD just compared Pokemon to STD's pic.twitter.com/HAjwa304Pd

— Jaden (@JadenVanDike) February 5, 2014
Pokemon themed STD board... pic.twitter.com/ojMAi334WO

— Mackenzie Emerson (@mackenziemerson) January 29, 2014
My RA has a "don't catch em all" poster in the middle of our hall & every Pokemon card is a different std... pic.twitter.com/fUKvAmsJrr

— Jake Metzger (@jmetzzzz) October 10, 2013
Pokemon and STD. Who would have thunk. pic.twitter.com/eaVEIeWj7V

— Mama Mack (@MelisssaMcAtee) June 29, 2013
BG uses pokemon to talk about std's pic.twitter.com/kubQA9piaH

— Matthew Krafcik (@kraftybucks) October 6, 2013
If you're in the US and want more info about free STD checks, have a look at the organisation's official site.