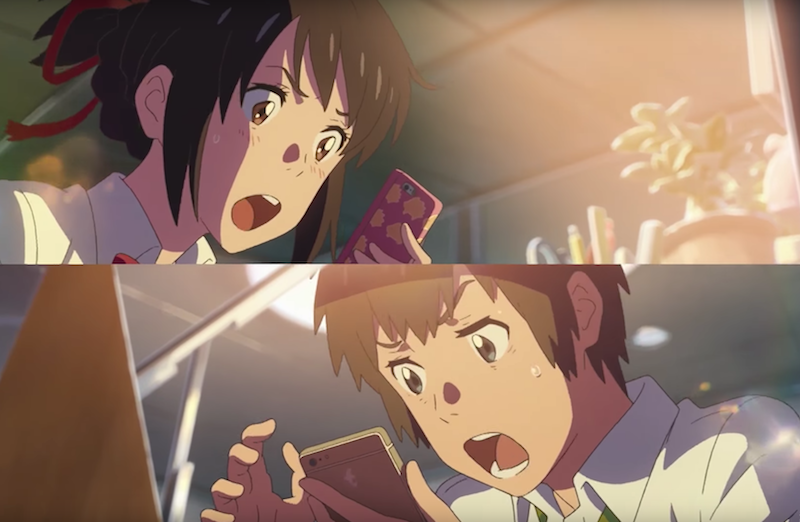 Your Name, already the world's highest-grossing anime movie ever at the box office, is rolling out in U.S. theatres on April 7. In Japan, it was a smash hit that played sold-out theatres. It's an instant classic that deserves a place next to Spirited Away and Princess Mononoke in the roster of anime masterpieces with mainstream appeal. Not many anime films have challenged Studio Ghibli's western monopoly on the brand of anime that even your non-otaku friends will like. Your Name is paving the way for more.
It's a tale of body-swapping and clumsy teenaged romance. Mitsuha splits her time between her isolating high school life and tending a shrine. She lives in a far-flung, grassy mountain town called Itomori. Unsatisfied, Mitsuha complains that she'd much prefer life as a handsome boy in Tokyo. Cue Taki: An impulsive, hard-headed Tokyo boy who works part-time in an Italian restaurant.
At first, Mitsuha believes that Taki is a boy she simply dreamed of. But when she wakes up the next morning, her friends greet her with trepidation, reminding her that, the day before, she wasn't herself: she got lost on the way to school, dressed clumsily, even forgot her own name. In her school notebook, she discovers a simple note asking, "Who are you?" It's from Taki, whom, she eventually realised, had been swapped into her body. And she hadn't been dreaming of being him; she actually was him for a day.
Over the next few months, the body swaps continue. Mitsuha forces a bit more empathy and kindness into Taki's life, changing how others perceive him. The two grow close, even though they have never met. Once disaster threatens everything they have become for each other, they risk losing even the memory of each other's names. Seamlessly and with increasing emotional intensity, it moves from a slice-of-life to a high-stakes fight for survival.
You don't think this movie will make you cry until it does. In no moment was I taken out of it. Your Name's director and writer Makoto Shinkai also directed the drama 5 Centimetres Per Second, famous for its vignettes of slow-moving life. Here, too, it's the small details, like Mitsuha braiding her hair or Taki serving a pizza, that draw you into their lives. Those are also the details that baffle them and, eventually, draw them to each other. Taki can't keep braiding Mitsuha's hair; Mitsuha has no idea how to wait a table.
Its top-notch animation only benefits its granular storytelling, too. The movie's bright palette makes every little detail stand out in the way I'm sure they would have to Mitsuha and Taki as they explored these unfamiliar worlds. Each slice-of-life moment made me more invested in the movie's final, thrilling minutes. When a new wrinkle is thrown into the plot that raises the stakes, my heart rate skyrocketed. You know when a movie gets dark and you don't think anything, even in real-life, will ever be ok? Your Name does that in full force.
I was most excited that Your Name breaks most of the conventions of body-swapping teen movies in that the supernatural aspect doesn't end with the switching of personas. Often, with these types of movies, I'm distracted by the fact that body-swapping takes place in a world where everything else is completely normal. Here, Mitsuha's grandmother, who leads the family shrine, puts the body-swapping phenomenon into context, making it almost believable.
Where Your Name does not break convention here is its use of gender as a plot device. Taki, upon waking up in the morning in Mitsuha's body, can't help but grope "his" breasts. And Mitsuha's feminine qualities are a draw for those in Taki's life. It's not distracting so much because it's what we've come to expect. But Your Name more than makes up for it in its final moments.
Kotaku's editor in Japan Brian Ashcraft has pointed out that the themes of duality in Your Name extend beyond the simply body-swap trope: "This is a powerful, deeply spiritual film that deals with a whole host of themes: the contrast in Japan between rural and urban, religion and science, male and female as well as traditional and modern."
Those big themes come through by the end, but moment-to-moment, Your Name is grabby and fun — until the dreamy drama of its first hour becomes a hair-raising nightmare. I'm grateful that I'll have another mass-appeal, palate-teasing anime movie in my back pocket nestled alongside all these Ghibli Blu-rays.