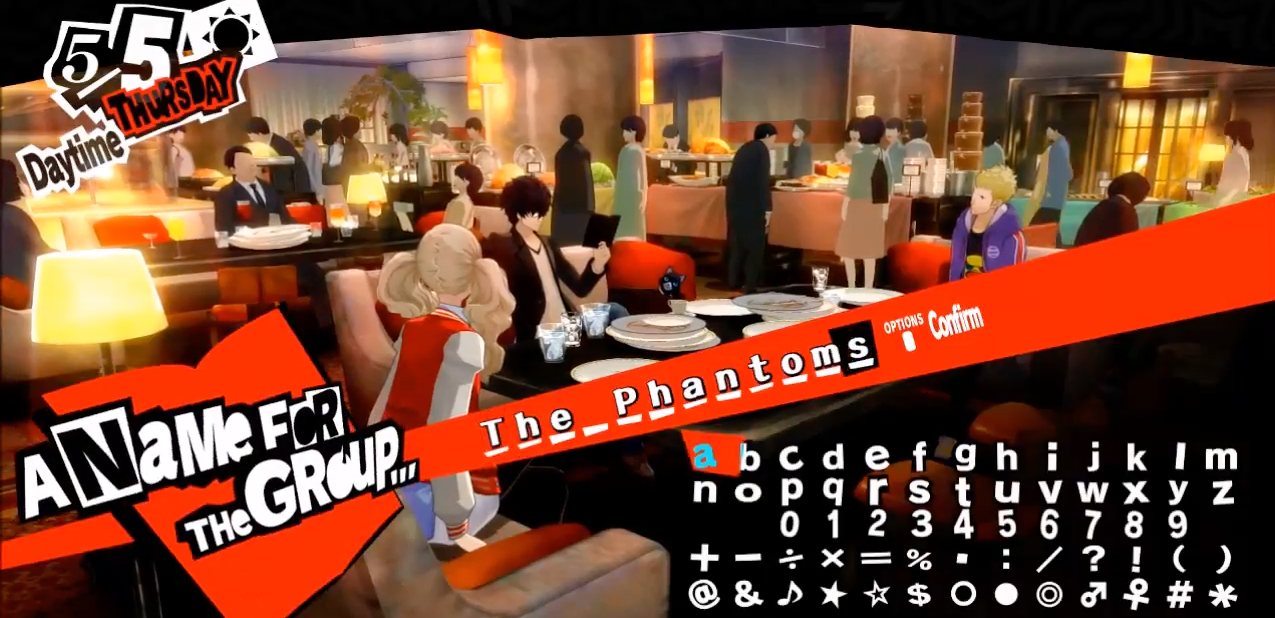 Canonically, the group of charming burglars in Persona 5 is dubbed the Phantom Thieves of Hearts. Persona 5 also allows players to give the group a custom name that occasionally shows up in dialogue and is viewable to friends with Persona 5's network features. I named my team Semiotecs, because I'm a nerd, but other people are going in wilder directions.
Surprise! People on the internet are mostly horny:
Behold! My Phantom Thieves organization name! #Persona5 pic.twitter.com/3iXQgd3GaJ

— Mayor McCheese (@QuicksandBuddy) April 9, 2017
As you all descend upon Persona 5 tomorrow, remember that I have already taken the best group name for myself pic.twitter.com/pVAY2GuYYk

— Kris Ligman (@KrisLigman) April 3, 2017
I'm really proud of the name I used for my Persona 5 team. pic.twitter.com/tOGCHnSpdl

— Miserable Panda (@miserable_panda) April 8, 2017
you can name your team in persona 5 pic.twitter.com/m6GEhNSjLm

— Yoshi (@Yoshishishu) April 6, 2017
Our own Heather Alexandra has a pretty choice team name.
SELL OUT WITH ME
OH YEAH SELL OUT
WITH ME TONIGHT pic.twitter.com/t167zudTkL

— Heather Alexandra (@transgamerthink) April 10, 2017
The best part about this is that your custom name will rarely turn up in dialogue, but when it does, it can be a doozy.
OH NO I WAS HALF ASLEEP WHEN I NAMED MY GROUP AND I FORGOT ABOUT THIS pic.twitter.com/hXrIwLnaP0

— Gredlen (@Gredlen) April 8, 2017
GOrO pic.twitter.com/zFJIX8OC4z

— Gab (@gabbomatic) April 9, 2017
Thanks for your concern, Morgana, but I've never doubted the power of the Gay Agenda.