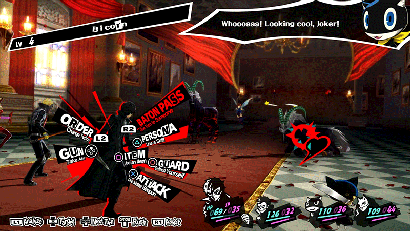 GIF: Kotaku
If you've been pining to hang out with your demon slaying, dimension travelling high school buddies, here's where you can get Persona 5 on the cheap in Australia.
---
Amazon isn't selling digital codes for Persona this time around, so there's no real advantage to be had here unless a mate from the US buys it for you and ships it on for nothing, for whatever reason. International shipping delays, a price that's higher than local retailers? No thanks.
---
Buying from Ozgameshop usually carries a tacit understanding: you pay less, but you make up for it in the long shipping delay. This time around, Australians cop it hard on both fronts. No thanks.
---
As posted in their catalogue for the week, Target is hitting $79. Fair enough price if you considering you'll probably be playing Persona for 80 hours or more.
---
Shipping is reportedly around $6 or $7, which isn't too bad. But you might as well buy from a local retailer, unless you specifically want to support Play-Asia.
---
JB's got a "mega gaming sale" on right now, but that doesn't extend to Persona. $79 it is.
---
Big W: $79
This one comes courtesy of Press Start. Big W's latest online catalogue doesn't have Persona 5 in it, but the former is reporting that Big W will fall in line with a launch price of $79.
---
If you live nearby and want to support a local business, go ahead. If you want to save money, however, there are better deals.
---
Nope. You can price match, of course.
---
Not really competitive here.
---
Higher price than others, and more stock won't arrive until Friday. Hard to recommend unless you can walk into the store and pick it up.
---
So that's our round up of the cheapest Persona 5 copies in Australia. Will you be picking the game up this week, and if so, from where?