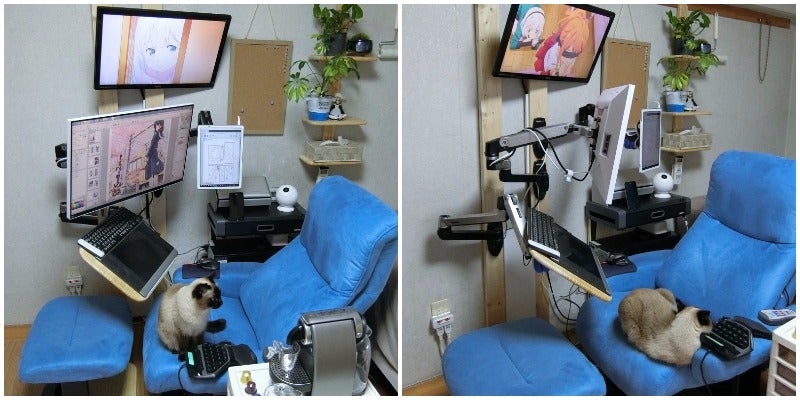 [Image: Yoshimisato]
Who needs a desk when you can work from an easy chair? That seems to be the logic behind this manga-artist created workstation. 
Yoshimi Sato created this set-up after some trial and error, which the artist says, "It pretty much turned into a dentist [office]."
試行錯誤していた仕事場が完成しました。ほぼ歯医者になりました。漫画家の仕事場ですが。 pic.twitter.com/CnnaJaG46o

— 里好@踏切時間②5/12発売 (@satoyoshimi) May 21, 2017
Looks comfy! Not sure how conducive it is to work, but to each his or her own.
This isn't the first time Sato has changed up the work environment. Previously, the artist had workout equipment off to the side!
「絵描きさんの作業環境」みたくおしゃれじゃないけど。僕の仕事机は強制運動モードに変身します。 pic.twitter.com/KG0hq2Atk8

— 里好@踏切時間②5/12発売 (@satoyoshimi) March 2, 2016