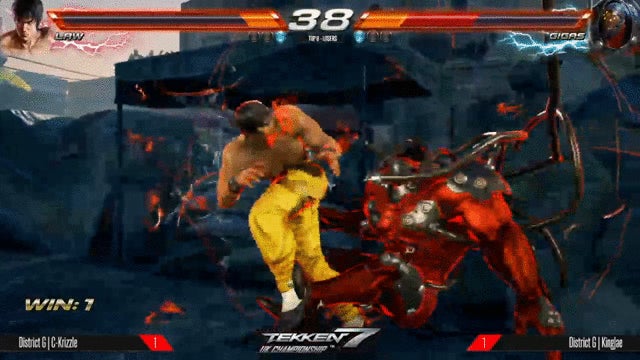 Justin "King Jae" Nelson's third place finish in Sunday's UK Tekken 7 Championship Birmingham Qualifier won him a spot in the upcoming finals at MCM London Comic Con. But because of alleged collusion between him and Charmel "C-Krizzle" Miedji Koloko during their match in the third round of the loser's bracket, both players were banned from the UK Championships.
Gif via Twitch
C-Krizzle was already qualified to appear in the UK Championship finals, having already made it into the top three at the previous UK Championship qualifier on April 29. In addition, both C-Krizzle and King Jae are part of the same gaming league, Distinct G, so they know one another and are colleagues.
The match between the two does indeed look unusual. C-Krizzle appears to move with hesitation and slowness towards the end of the match, missing clear chances for potential hits and combos. The commentators take note of this erratic behaviour during the match itself, and the Twitch chat archive shows fans speculating that the match is "rigged" or could be evidence of "collusion" between the two players.
Today, Bandai Namco UK issued a statement via Facebook banning both players from the Tekken 7 UK Championship finals:
Unfortunately, during the event two players have been suspected of collusion in order to manipulate the results of the tournament. Bandai Namco Entertainment does not condone such anti-competitive behaviour therefore we have come to the decision to revoke the qualification spots for District G | King Jae and District G | C-Krizzle.
The statement also reads, "We will amend the rules to have a clear clause on collusion as a result of this event," suggesting that there were no prior rules in place regarding collusion or match-fixing ahead of this situation. We reached out to Bandai Namco UK, but had not received any comment at time of writing.
In an email exchange with us, King Jae denied colluding with his fellow player: "In the tournament I had to fight 10 people to get to 3rd place. The tournament structure allows people to pre-emptively think collusion will happen because whoever has qualified before hand is allowed to re-enter the tournament to place again. Me vs C-Krizzle was a match where if I won, I would have a better chance of qualification in the final Tekken 7 tournament."
According to King Jae, Bandai Namco did not approach him to discuss the circumstances surrounding the ban or the alleged collusion: "Bandai Namco UK responded in a harsh manner and didn't even approach me for my side of the story." He described the ban as "a clear witch hunt to assassinate my name and my brand, which I'm extremely unhappy about because my morals and integrity doesn't collide with cheating".
C-Krizzle did not respond to a request for comment. When asked about the ban, tournament organiser Justin Xavier of Electronic Dojo sent along a screenshot of a message he had drafted to post publicly on Facebook which began, "Kotaku doesn't have a great rep amongst the FGC community," but didn't otherwise comment on the allegations of collusion or Bandai Namco's ban.
Kotaku has covered fighting games for years. A look through our own archives will show that we've been covering the good and bad of fighting games for quite some time.