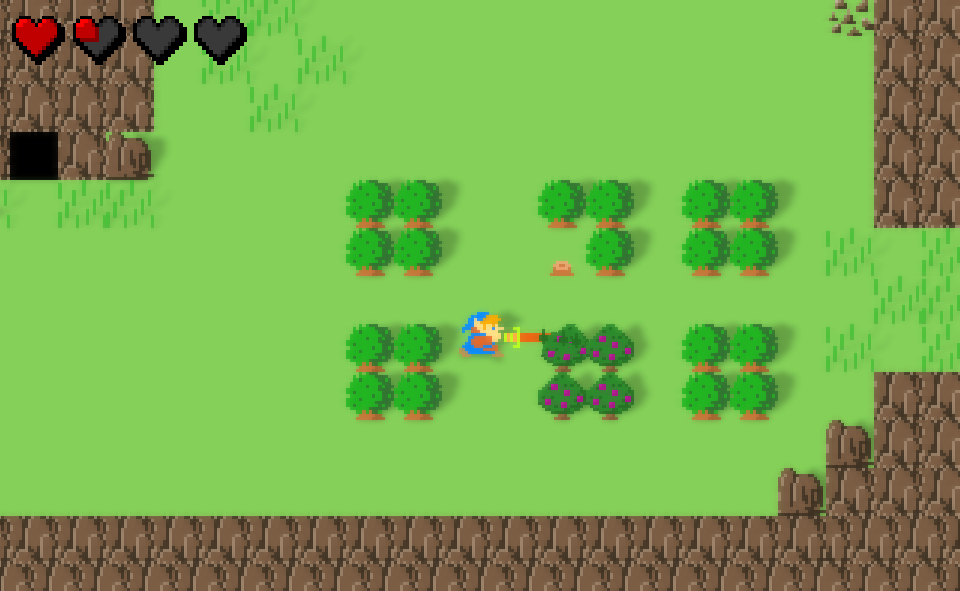 It was only a matter of time before Breath of the NES caught the eye of Nintendo and got pegged with a take-down notice. According to its creator, however, the game will live on.
Winter Drake, the developer who once sought to bring to life the vision for a top-down version of The Legend of Zelda: Breath of the Wild rendered in the style of the original NES game showed off by Nintendo at this year's GDC, has decided to continue by making the project more original. By stripping it of its connection to material created and copyrighted by Nintendo, Winter hopes to be able to finish the game free from legal worries.
@aDragonX @NintendoAmerica Hah. The project isn't dead but I'm going to make it more original than that.

— WinterDrake (@WinterDrakeDev) April 30, 2017
The take-down notice was posted to itch.io, the distribution platform that hosts Winter's work, earlier today, replacing the game's page with the notice sent from an attorney representing Nintendo of America that claimed Breath of the Wild was copyright infringement and against the site's terms of service.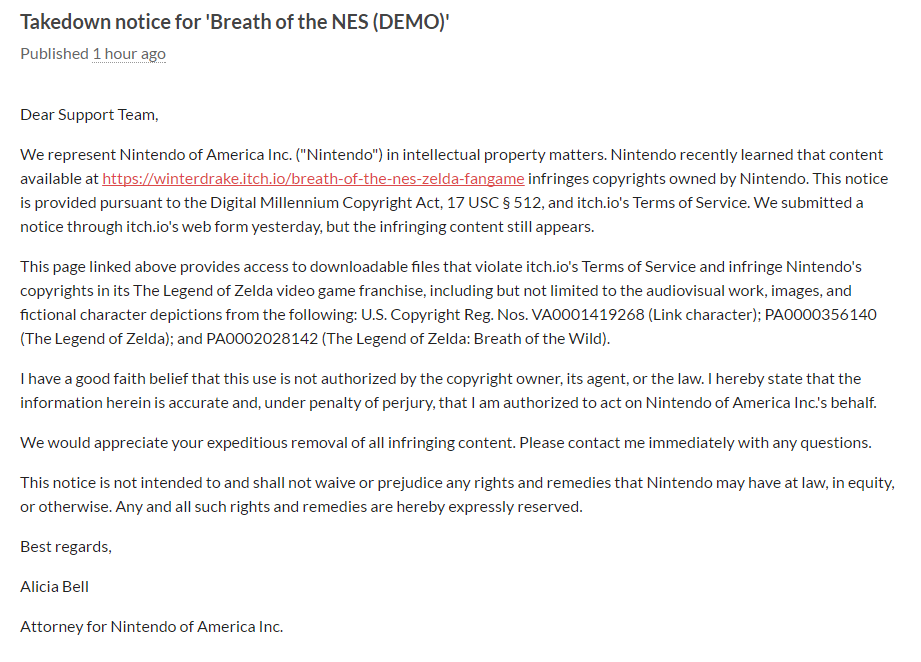 Nintendo has always been extremely protective of its products and brand, becoming notorious in recent years for hounding YouTubers who try to review Nintendo games, stream let's plays, or incorporate game footage in their videos in anyway. So it was never much of a question whether the company would bring the hammer down on fan-project that tried to re-create the spirit of Breath of the Wild inside the look and feel of The Legend of Zelda.
@RickSnyder3 (1/2)I'm no longer legally able to distribute Breath of the NES. But any donations you made will be spent working on the game!

— WinterDrake (@WinterDrakeDev) April 30, 2017
@RickSnyder3 (2/2) The game isn't dead, I just won't be using the Zelda characters. It will live on! ?

— WinterDrake (@WinterDrakeDev) April 30, 2017
But as much as Winter was always prepared for this possibility, telling Kotaku last week that "If Nintendo asks me to stop using their IP, I do plan to continue development with my own original characters," they still found the notice disappointing. "It stinks that Nintendo treats fan games this way," Winter said in an email earlier today, while still stressing that Nintendo had every legal right to protect its characters. "It's unfortunate that this came so soon, as I won't be able to release the massive update that was planned for this week."
As for what Breath of the NES's spiritual successor will look like, Winter is planning on 32-bit sprites working with musicians to put together a rich soundtrack. Substituting improved gameplay and originality for the 8-bit nostalgia powering the original project won't be easy though, meaning we probably won't see a new trailer or playable demo for some time. "Ideally I'd like to make the final game a big cross-platform release on Steam," Winter said. "I may even start a Kickstarter once I can show off what the new game will have to offer."