E3 is always important in the gaming calendar not just for what games and hardware were announced – but for the ones that weren't. You've seen the major announcements, but what about the things that weren't at E3?
The Last of Us Part 2
One of the most anticipated announcements in Sony's conference was The Last of Us Part Two, but the conference came and went without any mention of Ellie and Joel. Naughty Dog didn't go unrepresented though, with Uncharted: The Lost Legacy and some of their lineage in the Crash Bandicoot remaster.
Neil Druckmann, creative director on TLOU 2, explained through Twitter (during the Sony conference) that it was Uncharted's time to shine.
Believe me, we're super excited to show you more of Ellie and Joel's 2nd journey, but right now it's Chloe and Nadine's time to shine.

— Neil Druckmann (@Neil_Druckmann) June 13, 2017
Given that TLOU 2 is in development, chances are we'll see a teaser or trailer for the game at either Gamescom or the PlayStation Experience later this year. Just not at E3.
Xbox and VR
Image: Kotaku
There was some chatter as to whether Microsoft would make some kind of VR announcement in conjunction with the Xbox One X. The console certainly should be powerful enough, and Microsoft is building their own mixed-reality headset, not to mention the work being done on HoloLens.
But while there was some hope that the XBX itself would have VR support, Microsoft's conference came and went without a whisper about VR. I'm told the company also had nothing to say about the technology afterwards in interviews, which is telling. Maybe Microsoft still doesn't know what they want to do with VR yet.
Red Dead Redemption 2
Image: Rockstar
The internet was ready to bet the house on Red Dead Redemption 2 being shown off at at least one of the conferences this year; one of the more persistent rumours was that Microsoft would use RDR 2 to tout the XBX's 4K capabilities.
But even though the game is due out next year – after getting delayed, like every Rockstar game in recent times – it didn't get pride of place during any of the E3 conferences. It wouldn't be surprising if Rockstar doubled down on how RDR 2 was announced, through a livestream or an event of their own.
Star Citizen
Image: Xanvast
The PC Gaming Show is always a little cringey and a bit weird, but there are typically some games you can bank on. For the first time, however, one game didn't show up: Star Citizen. There's still some hope that Squadron 42, Star Citizen's singleplayer component, will launch before 2017 comes to a close.
There was a brief cameo in the showcase's B-roll with Chris and Sandi Gardner, but not for the crowdfunded space epic itself. It wasn't on the E3 show floor either, although that's not out of form for Cloud Imperium Games, as they've not had an E3 booth in the past. Amazon has a presence at E3, and their Lumberyard AAA engine is a modified Crytek engine which Star Citizen has been using.
Still, CIG also holds their own events and livestreams to promote Star Citizen. They did make a big splash at Gamescom last year though, and they have a constant dialogue with their community through their website, social media, Twitch and YouTube.
Smash Bros. on the Switch
Image: Supplied
Nintendo have been making more of an esports play with the Switch, but the hybrid console is still lacking the company's most appropriate esports title: Smash Bros. Their Spotlight didn't mention hide nor tail of what was happening to the series, or when it might be coming to the Switch.
On one hand, it's interesting because Nintendo is obviously comfortable with letting fans know that a project is in development – even if there's nothing to show from that project, like Metroid Prime 4 and the "core Pokemon game" for the Switch. But Nintendo has also held directs for games like ARMS and Splatoon 2 before, and Smash Bros would be well suited to the same treatment.
That said, it's possible Nintendo might ignore the game altogether for a while. The FGC community has been enraged before by Nintendo's lack of support and sometimes outright refusal to acknowledge their existence. If Nintendo is going to make a splash in esports, they need Smash to do it – and winning over a bemused community, which has grown almost exclusively without Nintendo's support, would be a good way to start.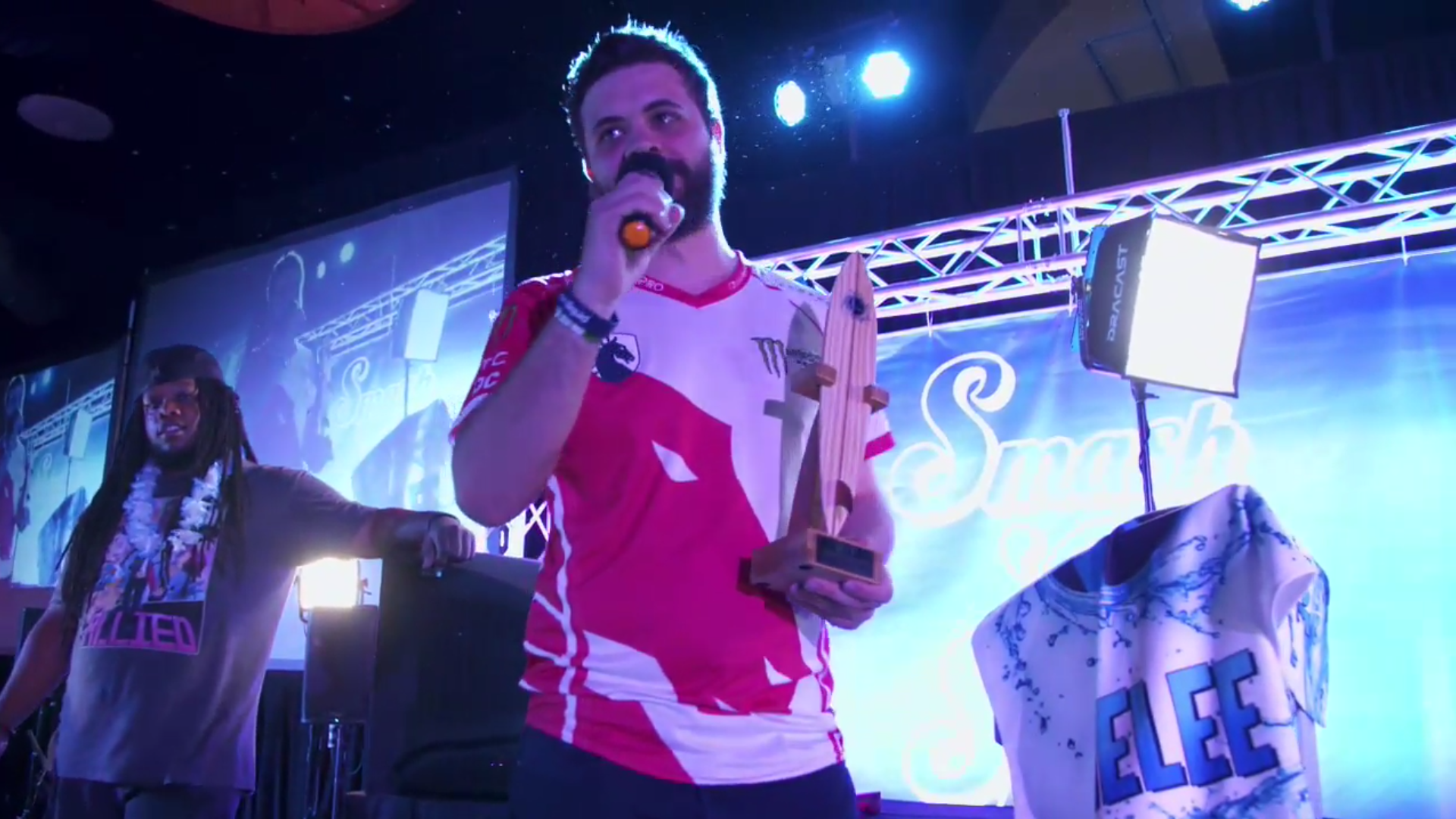 Juan "Hungrybox" Debiedma had just come off a long tournament run of beating some of the best in Super Smash Bros. Melee when he took to the stage for a winner's interview. Debiedma used the opportunity to hold an impassioned rally for the grassroots that makes Smash happen, with choice words for a "certain company".
Read more
Death Stranding
Image: Youtube
This isn't a surprise, given it was confirmed that Death Stranding wouldn't make an appearance at E3. The game could be two or three years away at least, given how lofty Kojima's visions are.
The future of Halo
Image: Kotaku
343 Industries are working on a new Halo, but it wasn't until after the Xbox conference that the studio's founder and head revealed that the game wasn't ready for a reveal:
@MG_Grilo Team back at 343 heads down on next big Halo-it is good, but not ready to announce yet. New HW2 in Daily Show tomorrow.

— Bonnie Ross (@PlutonForEver) June 11, 2017
Ross followed up on Twitter by telling a fan "yes" when they asked if their next Halo FPS would have LAN support. I wouldn't hold my breath for that, although Halo 5 came a long way on PC over the last year.
Square's Final Fantasy VII remake
Image: Square Enix
The last news about the Final Fantasy 7 remake was that Square had moved the game's development in-house, having previously worked with CyberConnect2. The split is still a touchy subject apparently, but you can't imagine switching developers would result in the game being developed faster.
Media Molecule and Dreams
GIF: Kotaku
Media Molecule have been a cornerstone of Sony's E3 press conferences for a long time, mostly because they create things that are just different. They also create games that cater to a completely different crowd than, say, Destiny or Call of Duty. It's good business for a publisher to have products like that in their roster.
So, what's happening to Dreams?
The company announced on Twitter – again, towards the end of Sony's conference – that they would share more about the game later this year. That could mean Gamescom or, as is increasingly the case, PlayStation Experience towards the end of the year.
Good luck to all at #E3 this week! No E3 for us as we are busy tapping away, getting ready to share more about #DreamsPS4 later this year!

— Media Molecule (@mediamolecule) June 13, 2017
Regardless, Dreams has been in production for a fair while. The game was first revealed four years ago, and a beta was supposed to be made available last year until it was bumped to 2017. Hopefully we get some news about that soon: it's been a while since we played a game with Media Molecule's name on it.
System updates
Image: Sony / PlayStation Blog
For those who already own a PS4 or Xbox One, bad news: neither Sony or Microsoft had any news about how your current console might get any better. Microsoft has typically reserved a little slot for executives and talking heads to announce upcoming features or dashboards to the console.
The one announcement on that front was backward compatibility for original Xbox games, but that was it. Sony had even less to say: their conference was, for the most part, the flashiest back-to-back trailer reel you've ever seen. Which is cool if all you want to see is games, but it'd be nice for current PS4 owners to hear about how their day-to-day experience is getting better.
Battlecry
Image: Bethesda
Battlecry has pretty much been permanently put on ice since Bethesda first announced the game almost three years ago. The publisher made a huge splash at PAX Australia by announcing the beta would be available to Australia and New Zealand first, but the publisher never followed through and it became clear that the game was in deep, deep trouble.
Just after EB Expo a couple of years ago, Bethesda confirmed that they had "concerns/" about the game and the project was being re-evaluated. Bethesda officially confirmed development on the game was suspended last year, and the only games listed on BattleCry Studios' website are three DLC packs for DOOM. Put simply, don't expect to see Battlecry again.
Nintendo's online service
Image: Kotaku
What's happening with the Virtual Console games? We don't know.
The Switch has been out since March. It's been in development for years.
Get it together, Nintendo.
---
What did you miss from E3 this year?