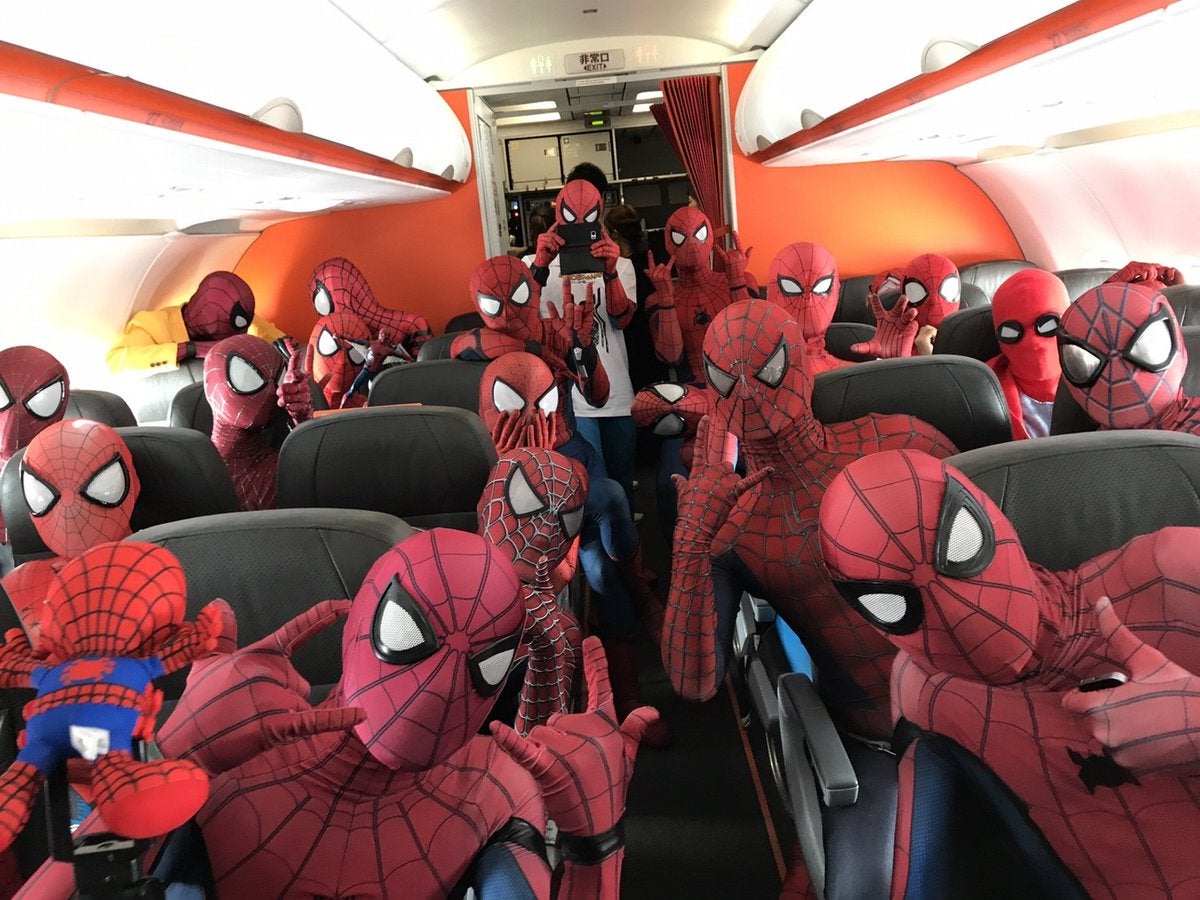 Budget carrier Jetstar unveiled a Spider-Man themed plane in Japan and filled it with Spider-Man cosplayers.
[Image: bar_rest245]
This is part of Jetstar's winter campaign, which is tied to the release of Spider-Man: Homecoming.
わらわらスパイダーマンが!#SpiderManHomecoming #スパイダーマンホームカミング #スパイダージェット pic.twitter.com/QbP4FFhS0k

— NAOKI (@NAWOQI) June 20, 2017
The Spider-Man plane isn't so amazing, but look at all these friendly neighbourhood cosplayers on this motherfucking plane taking off from Tokyo bound for Osaka.
#新しいプロフィール画像 pic.twitter.com/E9XjxHZ60Q

— るぱん@245 (@bar_rest245) June 21, 2017
Folks applied to ride the Spider-Man plane's maiden flight, with one of the stipulations being that they had to be in Spider-Man costumes.
#スパイダージェット わずー pic.twitter.com/TugoGOdFYv

— じゅん (@spa_jun) June 21, 2017
#スパイダージェット その2 pic.twitter.com/zRiYFSWqXn

— じゅん (@spa_jun) June 21, 2017
#スパイダージェット 初フライトに行ってきましたぁ?

飛行機の中スパイダーマンだらけwww pic.twitter.com/fP1SGKjowz

— るぱん@245 (@bar_rest245) June 21, 2017
今日はとてつもなく楽しいショートトリップをしてきた。インスタのストーリー見て欲しい。#スパイダージェット pic.twitter.com/klLI7uNAmA

— 瀬戸あゆみ (@setoayumi) June 21, 2017
とりあえず終わりの速報!
さいっっこうやった!#SpiderManHomecoming #Spidey #スパイダーマンジェット #スパイダージェット #スパイダーマン pic.twitter.com/SBL7cZTTn9

— うっでィ (@g36kcostom) June 21, 2017
#スパイダージェット #SpiderManHomecoming #SpiderMan
飛行機内〜✨ pic.twitter.com/BzK5ipRwyv

— るぱん@245 (@bar_rest245) June 21, 2017
#スパイダージェット 初フライト行ってきました!
総勢40名のスパイダーマンがジェットスターに✨

っというわけで本日も元気にオープンしております?
さぁ、私はどれでしょう???#bar245 pic.twitter.com/Qavj1QCZpe

— BAR 245@阪神尼崎 (@bar_rest_245) June 21, 2017
取り敢えずちょっと落ち着いたので…!
スパイダージェットお疲れ様でした!!!
後でまた載せます☺️?#スパイダージェット#スパイダーガール#スパイダーマン#spidergirl pic.twitter.com/U87dI2Ftek

— るあ@スパイダーガール?? (@Rua_0430_xoxo) June 21, 2017
関空到着しました#スパイダージェット#SpiderManHomecoming pic.twitter.com/wTJzJxJl4f

— yumi (@yumi_yummyyum) June 21, 2017